Geared for Growth: GreenSpark Solar Shines Bright Atop 2023 Greater Rochester Chamber Top 100 List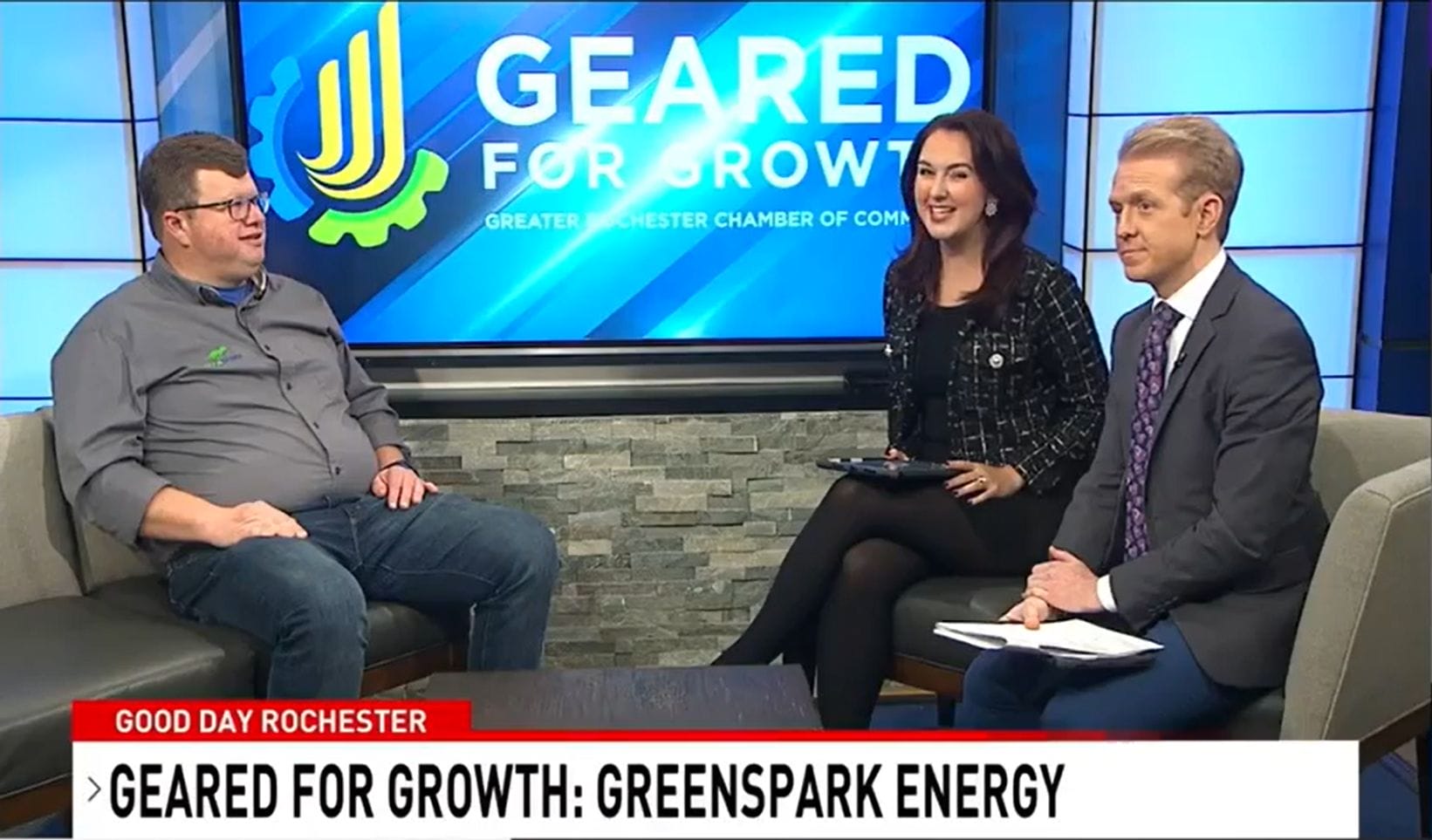 GreenSpark Solar is a beacon of growth in our community, earning the number one spot on the 2023 Greater Rochester Chamber Top 100 list of fastest growing companies. Their CEO Kevin Schulte was featured on Geared for Growth on Wednesday, November 8th as part of Greater Rochester Chamber's ongoing partnership with 13WHAM. Schulte shared the organization's roots, what their presence in the Greater Rochester community looks like, and what exciting opportunities are on the horizon for them.
GreenSpark Solar is the leading solar provider in the Greater Rochester region, and they work with residential and commercial customers throughout New York State. Their work includes installs both at the site
of business and in community solar farms with over 10,000 panels in a field. Kevin shared the exciting news during his interview that in 2024, "[the company] will venture beyond New York State borders, chasing the projects when they come to us."
Kevin explained that their projects are all throughout the Greater Rochester community, and people might not even realize. In the City of Rochester, GreenSpark has solar arrays on Lexington Ave at General Motors, 270 on East apartments, Turner Engineering on South Ave, and more. "A lot of our work in the city is more hidden because it's on flat roofs. We have panels all throughout the city," Kevin shared. Looking at the broader Greater Rochester region, as you travel into the suburbs it becomes more clear; many homeowners have panels on their roof and often proudly display yard signs with GreenSpark's logo to get their name out in the community. "We have several thousand residential customers in the area," he noted.
GreenSpark is growing rapidly, earning them the number one spot on the 2023 Greater Rochester Chamber Top 100 list of fastest-growing privately-owned companies in the region. Kevin explained how this growth was propelled by many individuals coming together for the planet. "Our business was founded as a solution to climate change, and solar is an opportunity for anybody to take control of their own carbon footprint. It's important for a lot of people acting individually," he explained. As they continue to grow and expand, GreenSpark will be opening a new office in the City of Rochester in the coming years to support their sustained growth.
Be sure to tune into FOX Rochester again next Wednesday, November 15 at 8:45 to hear another Greater Rochester Chamber member growth story on Geared for Growth!