Nationally-recognized CLIMB young professional leadership program returns for 6th year – Applications open now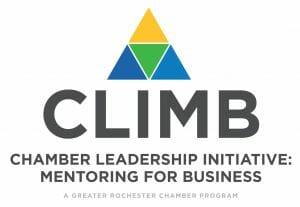 Greater Rochester Chamber of Commerce has issued a call for applications for the 2023-2024 CLIMB (Chamber Leadership Initiative: Mentoring for Business) Young Professional Leadership cohort. This program, in its sixth year, will run from September 2023 through August 2024. The deadline to apply is June 30, 2023.
CLIMB is an original program from Greater Rochester Chamber of Commerce that has been emulated both locally and nationally, receiving recognition from the Association of Chamber of Commerce Executives (ACCE) for its originality and the value that it delivers to young leaders.The CLIMB program differs from other young professional leadership programs with a focus on business leadership/strategy, corporate social responsibility, and personal growth.
The program provides young professionals with education, peer connections, and resources to help them ascend to new heights of leadership and success within their organizations and community. At monthly day-long events, participants undergo an in-depth exploration of the regional economy, receive personalized development training, and are matched with an executive from the business community for a one-to-one mentoring relationship. Upon successful completion of the program, CLIMB graduates are asked to join the Future Leaders Advisory Council (FLAC) to provide key insight and engagement with Greater Rochester Chamber leadership.
Shannon Ealy, Director of Communications & Marketing at Greater Rochester Chamber said, "We are excited to bring the CLIMB program back for its sixth year, with a fresh and relevant curriculum to maximize the value of this cutting-edge program. Greater Rochester Chamber Talent Strategy Partner Melanie DellaPietra will be taking the reins going forward to lead our young professionals through their exploration of innovation and growth within our organizations, their peers, and themselves. We are so excited to meet the next great CLIMB cohort!"
Bob Duffy, President & CEO at Greater Rochester Chamber said, "At the heart of every thriving community lies a strong foundation of visionary leaders, and we are proud to be continuing to build that foundation in our region. The CLIMB program equips our young leaders with the skills, knowledge, and experience to drive innovation, spur growth, and build a better future for Greater Rochester. We encourage our local businesses to invest in their young leaders by participating in this impactful program." 
The CLIMB Program is open to Greater Rochester Chamber members at a discounted rate and non-member companies. To learn more about the program and apply today, please visit the CLIMB page here.