CLIMB will returning better than ever in Summer 2023! Applications will open in Spring 2023.
Interested? Email CLIMB@GreaterRochesterChamber.com to sign up for information updates!
Designed for outstanding young leaders to take their success to the next level.
CLIMB (Chamber Leadership Initiative: Mentoring for Business) is a 10-month program that brings together the most talented young members of the Rochester/Finger Lakes business community to learn and grow together, making connections and acquiring insight that will help them ascend to new heights of leadership and success within their organizations and community.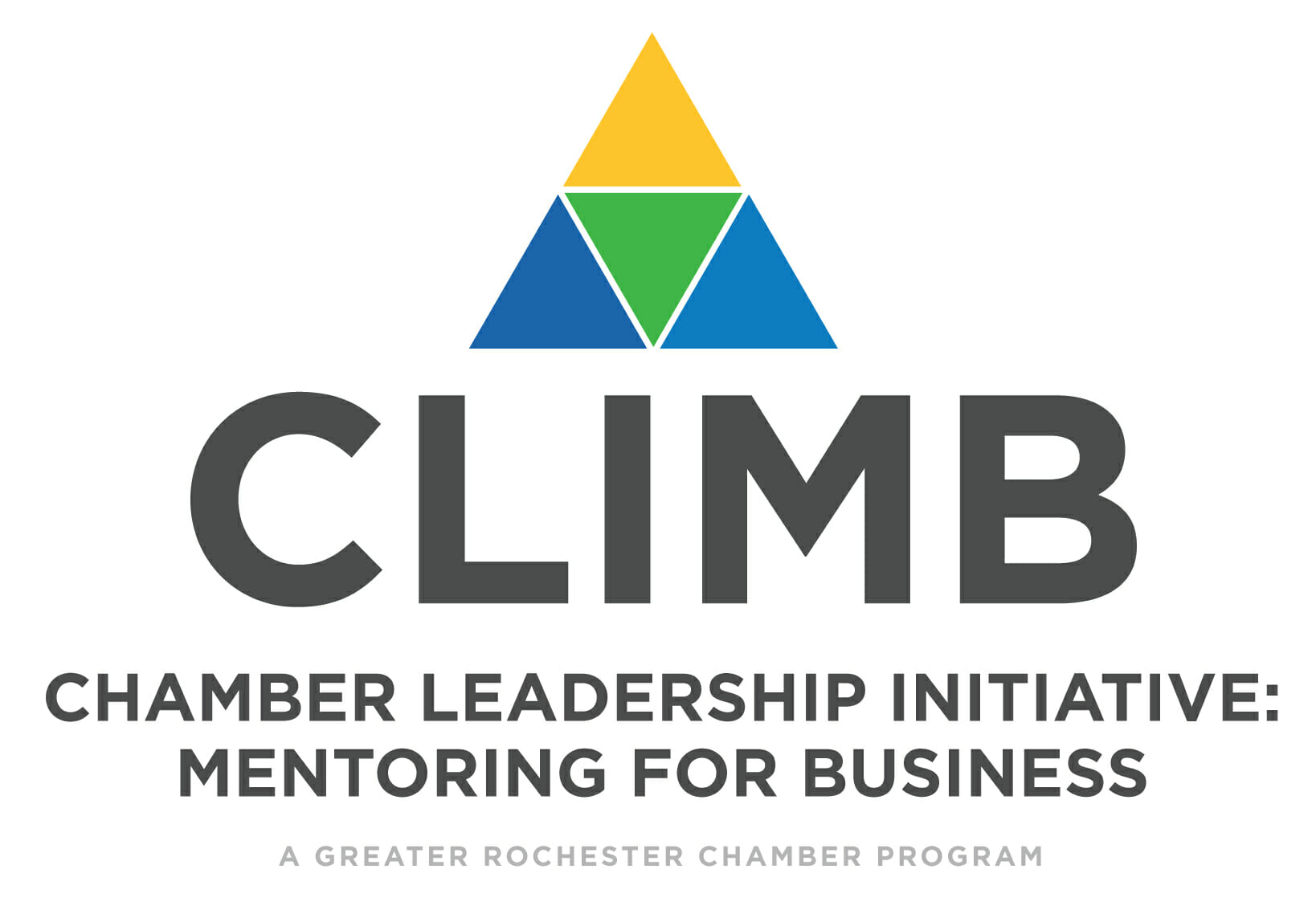 Program Components:
1. Experiential Learning - Through an in-depth exploration of the regional economy, including intimate conversations with star CEOs and executive teams, participants learn the strategies that fuel the success of these organizations, and better understand the opportunities and challenges in the regional and global marketplace.
Participants are also joined by community and political leaders to discuss crucial issues facing this region, and invited to become a part of the solution.
2. Personalized Leadership Development - Participants receive yearlong personalized leadership development training from Andrew Brady of The XLR8 Team, focusing on the critical internal foundation that allows great leaders to motivate and inspire.
3. One-on-One Executive Mentoring - Participants are matched with an executive from the business community, forming a partnership designed to explore specific leadership challenges and foster a two-way dialogue between seasoned and emerging leaders in the Rochester/Finger Lakes region.
4. Upon successful completion of the program, CLIMB graduates are asked to join the Future Leaders' Advisory Council (FLAC) to provide key insight and engagement with Rochester Chamber leadership. FLAC members are afforded opportunities to make a difference on issues like equity, education, health care, economic development, and talent strategy – and to provide ongoing key insight to Rochester Chamber leadership.
"Through the CLIMB program, I was given a more realistic gauge of my strengths and weaknesses. I was able to see how other leaders in the community handle and tackle their companies, especially in adverse circumstances, all with differing and unique styles. I have since been able to adapt my style and tried new tactics of leading and managing."
Chelsea Conway, CEO, Beam Mack Sales & Service (CLIMB '17-18)
(Former Greater Rochester Chamber FLAC Co-Chair, 2021 Greater Rochester Chamber IGNITE Award Finalist)
"I feel that I grew as a true leader in the community. I gained confidence through this program and I am very grateful to have been a part of it. I also found value in networking with other young professionals. As an entrepreneur, so much of my time is spent growing my company and this was a good experience to commit to exploring other companies, leaders, and people in our community. I have made many professional connections as a result of the CLIMB Program that have directly impacted my business in a positive way."
Michele Liddle, CEO, The Perfect Granola (CLIMB '17-18)
Are you ready to CLIMB?
The CLIMB program accepts the best and brightest young leaders (age 21 - 40) from the business community, who would benefit from an enhanced network and valuable resources within the Rochester and Finger Lakes region, and who could contribute to Greater Rochester Chamber as a voice of progress and leadership.
Do you or a young leader you know display the qualities of:
Leadership
Vision
Impact
Integrity
Stay tuned for details regarding the 2023-24 program in the coming months or email CLIMB@GreaterRochesterChamber.com to sign up for information updates.