Geared For Growth: Building Timber Dreams with New Energy Works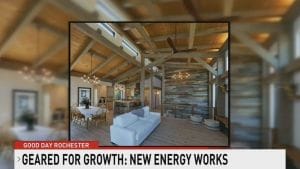 On last week's Geared for Growth, aired live on Wednesday, October 11, 2023, New Energy Works took center stage as Head of Design Kyle Barber and Head of High Performance Panelization Bryan Bleier shared insights into the Farmington-based woodworking and residential construction company, spotlighting their rich history in the industry.
Beginning their journey in the 80s, New Energy Works has been a pioneer in heavy timber frame and post construction, specializing in all things wood-based residential construction. The company operates as a design-build entity, engaging with clients across various spectrums to deliver tailored services. Whether clients arrive full of ideas or are unsure where to begin, New Energy Works acts as a guiding force.
Said Kyle Barber, "Some people bring binders full of inspiration…some people don't even know where to start and they want our help in that process. It kind of varies, but no matter what, we help them through that process, and we're their guide through the complicated process of building a house."
New Energy Works prides itself on being more than just a construction company; it's a partner in the journey of creating homes that resonate with the unique visions and needs of their clients. From local projects to those spanning across the United States, their comprehensive approach to architectural services reflects a commitment to excellence and personalized craftsmanship.
As we delve into the heart of Greater Rochester's growth and innovation on "Geared for Growth," New Energy Works stands out for their focus on on collaboration, sustainability, longevity, and intent. As an ESOP (Employee Stock Ownership Plan) company, they embody dedication to craft, sustainable practices, and a vision that extends far beyond construction.
Mark your calendars to tune into FOX Rochester next Wednesday, October 18th, at 8:45 AM for the next segment of Geared for Growth!