Greater Rochester Chamber Members Discuss Talent with Bagels, Brew, & Bingo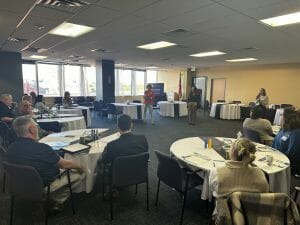 Greater Rochester Chamber of Commerce recently hosted its latest WORK together ROC event, a morning filled with bagels, bingo, and engaging conversations centered around challenges and opportunities in recruiting, retaining, and connecting talent in the region. WORK together ROC is a Greater Rochester Chamber of Commerce talent strategy initiative dedicated to strengthening the local talent pipeline through the power of collaboration.
The day kicked off with a lively game of 'Talent Strategy Bingo', where participants engaged in an exploration of the key elements shaping the talent landscape in their Greater Rochester organization. Participants marked their cards with topics including hiring international students, embracing neurodivergent hiring, and conducting town halls, and a lucky few took home some awesome swag, including CampusROC Igloo coolers.
One of the central themes of the event was candid conversations about the challenges in hiring and retaining talent in today's competitive landscape. Through shared insight, participants learned how to better equip themselves and their organizations with the knowledge and tools needed to thrive and make a meaningful difference in their community. Attendees delved into several pressing issues, including:
Retention Strategies: The event highlighted the importance of employee retention, with attendees sharing their needs for keeping top talent within their organizations.
Matching Skills: Employers expressed their concerns about finding talent with the right skillset to meet the demands of their organizations.
Workforce Motivation: The ongoing challenge of motivating individuals to join the workforce was a topic participants shared along with their insights into addressing the changing expectations of potential employees.
Overall, strategies for fostering an environment where younger talent feels valued and empowered, as well as addressing concerns about salary expectations to attract and retain the best candidates were all topics of the conversation.
Greater Rochester Chamber of Commerce's WORK Together ROC events will continue to bring together professionals and business leaders to address the critical challenges and opportunities in talent strategy.
For more information on Greater Rochester Chamber's talent strategy programs and to stay updated on future events, please visit https://www.greaterrochesterchamber.com/talent/.