Bagels, Brew, and Bingo: Unleash Your Talent Superpowers with Greater Rochester Chamber

Hello, change-makers and community enthusiasts! If you've ever wanted to be part of something bigger, something that's all about driving positive change for your organization and the Greater Rochester community, then you're in for a treat. Greater Rochester Chamber of Commerce is hosting an exciting event you won't want to miss!

Presenting WORK Together ROC: Bagels, Brew, and Bingo!
On September 27th at 8:30 am, we invite you to join us for an engaging morning of 'Bagels,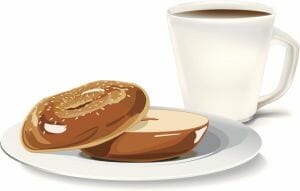 Brew, and Bingo' at the Greater Rochester Chamber office. It's not just about having fun; it's about winning big when it comes to getting involved and making a difference.
Wondering what's in store for you at this in-person event? Here's the scoop:
1. Bingo Challenge: Think you've got the luck of the draw? Put your Bingo skills to the test and win some fantastic prizes while you're at it!
2. Exclusive Insights: Get the inside scoop on the latest strides within Greater Rochester Chamber's talent strategy initiatives. Discover how we're fostering collaboration, driving change, and making a real impact.
3. Be a Catalyst for Change: Dive deep into the community's needs and challenges. Learn how you can contribute to the solution and make a lasting impact on behalf of your organization.
But that's not all! At WORK Together ROC, you'll have the chance to equip yourself and your organization with the tools and knowledge needed to thrive while making a meaningful difference in the community.

Reserve Your Spot Today!
Our event seats are limited, so make sure you secure your spot by registering before Friday, September 22nd. Don't miss this golden opportunity to connect with like-minded individuals, exchange ideas, and become an active force for change in Rochester.

About WORK Together ROC:
WORK Together ROC is not just events; it's a movement. It's Greater Rochester Chamber's talent strategy initiative dedicated to strengthening the workforce pipeline for our region. We believe in the power of collaboration, innovation, and community spirit to drive positive change.

Get Involved!
Do you want to make a difference on behalf of your organization and become part of our exciting talent strategy initiatives? Register here and let's start working together to build a brighter future for our community.
Greater Rochester Chamber of Commerce is on a mission to transform our community, and we want you to be a part of this incredible journey. Join us for Bagels, Brew, and Bingo on September 27th, and let's make change happen together! We can't wait to see you there.