Geared for Growth: Mountain House Media Ascends to New Success with Top-of-the-Line Production Technology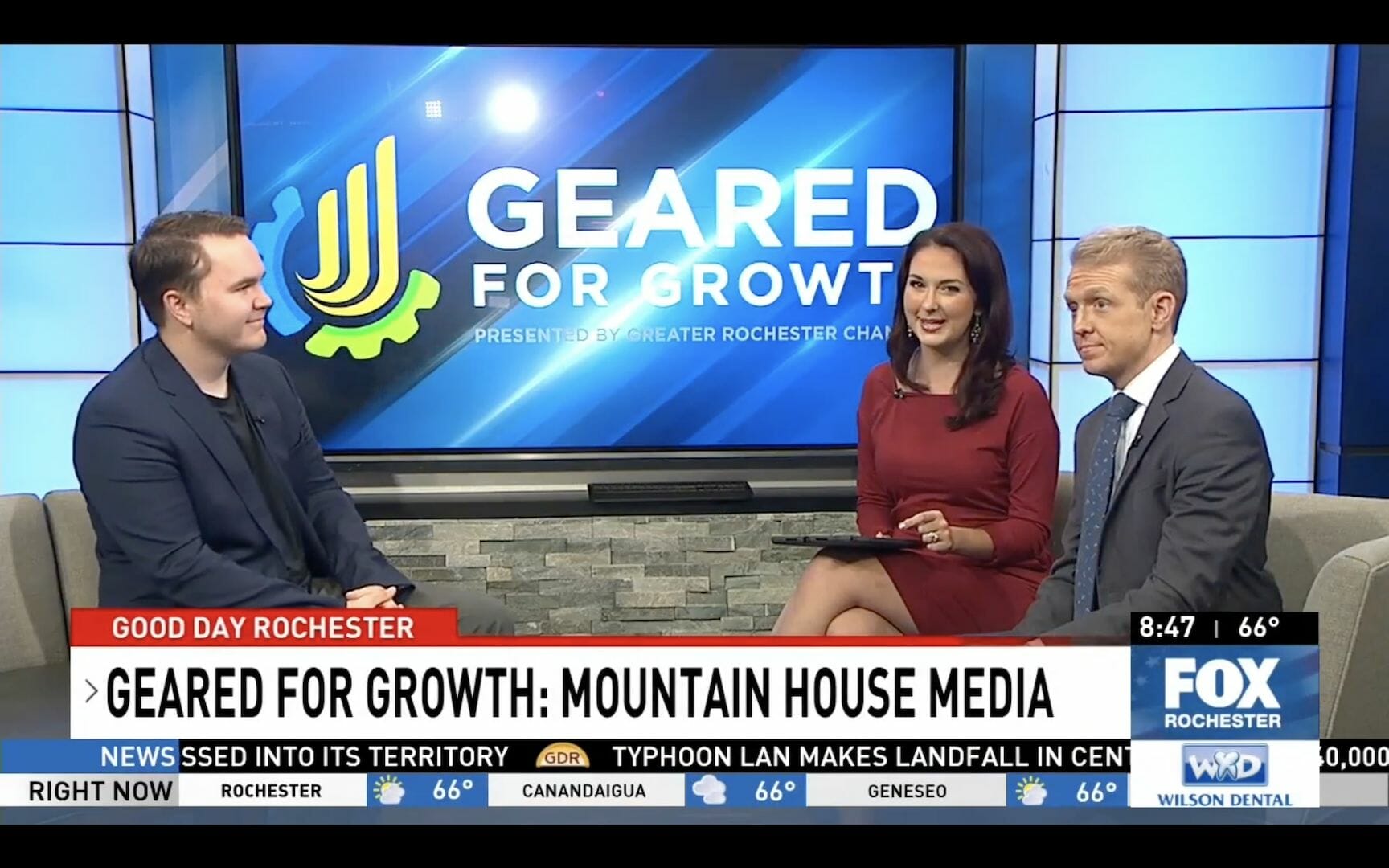 Jeremiah Gryczka, Founder & CEO of Mountain House Media, was featured on "Geared for Growth" on Wednesday, August 16th as part of Greater Rochester Chamber's ongoing partnership with 13WHAM. Mountain House Media is a commercial video production company specializing in new cinema production technologies including virtual production and cinema robotics. Gryczka discussed the cutting-edge technology that they use, the clients they work with locally and nationally, and the resources in the Greater Rochester community that helped them grow.
Mountain House Media utilizes state-of-the-art technology to offer video production techniques to their clients that other firms are unable to provide. Gryczka
described their high-speed robotic camera for use capturing slow-motion video, sharing that it moves the camera at a very high speed to capture detailed shots in unique perspectives. "You can get repeatable, accurate moves every single time. It's a lot easier to do that with a robot than by hand," he explained. He also noted that they have a virtual production stage, a new technology that was popularized by the TV show "The Mandalorian," and that they are the only company between New York City and Toronto to have this technology.
Jeremiah and his team at Mountain House have worked with national brands including Doritos, Mountain Dew, the Buffalo Bills, the PGA Tour, and more. When asked about how he connected with these clients, Gryczka noted that "we've done a really great job of building their name and getting word to New York City and LA." He also shared that their brand partnerships with Western New York brands have helped create relationships on the national level, citing their work with the Bills getting them in contact with the NFL.
Gryczka also talked about other reasons that make the Greater Rochester region a great place to keep his business. He noted that their growth and the reason they invested in such high-tech capabilities was due to his involvement in the Gap Year Fellowship program through RIT's School of Individualized Studies. When asked about his hopes for the future, Jeremiah also emphasized that Rochester is a great place to live and work, saying that "it's been a great home since [he] graduated from RIT" and noting that his goal is to "grow the team here in Rochester."
Tune into FOX Rochester next Wednesday, August 23rd at 8:45 AM to catch our next segment of "Geared for Growth!"