$150 Million New York Forward Loan Fund 2 Available for Small Businesses and Nonprofits
Governor Kathy Hochul has recently announced the launch of the New York Forward Loan Fund 2 program, which aims to provide flexible loans and support services to qualifying small businesses and nonprofit organizations. This initiative represents a commitment to bolstering the growth and prosperity of our state's entrepreneurial ecosystem. Here's a few key details: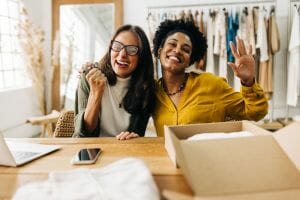 It's designed to empower Small Businesses and Nonprofits.
The New York Forward Loan Fund 2 program has been expanded to include even more small businesses and nonprofits. Now, qualified recipients with fewer than 100 employees and less than $5 million in gross annual revenue can apply for loans of up to $150,000 with affordable, fixed-rate interest rates. This enhanced fund, part of New York's broader State Small Business Credit Initiative efforts led by Empire State Development, will be available for the next eight years. Its primary focus is to assist small businesses and nonprofits, particularly those in low-income and historically underbanked communities, as well as rural areas, in gaining access to flexible working capital. This capital can cover a wide range of expenses, from essential payroll and marketing efforts to much-needed facility renovations.

NYS has committed to provide support and expert guidance.
Governor Hochul has expressed her dedication to the success of small businesses across the state. She emphasized the critical role these enterprises play in fueling New York's economy and the need to provide them with the necessary resources to grow and thrive. The New York Forward Loan Fund 2 was designed to fill the gaps in access to affordable credit options that many smaller businesses faced, especially during the pandemic.
One of the essential aspects of the program is the collaboration with Community Development Financial Institutions (CDFIs), which will facilitate the distribution of an initial $150 million in funds. These CDFIs will work towards the broader goal of investing in underfunded businesses, with a particular focus on supporting people of color, women, veterans, and members of the LGBTQ+ community.

There's a pre-application process and advisory services available.
If you're interested in applying for a loan under the New York Forward Loan Fund 2 program, you can pre-apply at NYLoanFund.com. The program has partnered with several loan providers, including Accion Opportunity Fund, Ascendus, NDC's Community Impact Loan Fund, Pursuit, and TruFund Financial Services.
Even if you don't currently qualify for a loan, you can benefit from the free advisory services offered by New York's Entrepreneurship Assistance Centers (EACs) and Small Business Development Centers (SBDCs). These experienced advisors can help you develop a solid business plan, improve profitability, and position your business for future credit opportunities.

At Greater Rochester Chamber of Commerce, we encourage our members to take advantage of this fantastic opportunity. Explore the NYLoanFund.com website for more information and to start your pre-application process today. 
Read the Governor's official release here.