Geared for Growth: Corn Hill Navigation Sets Sail with New Riverie Boat in Downtown Rochester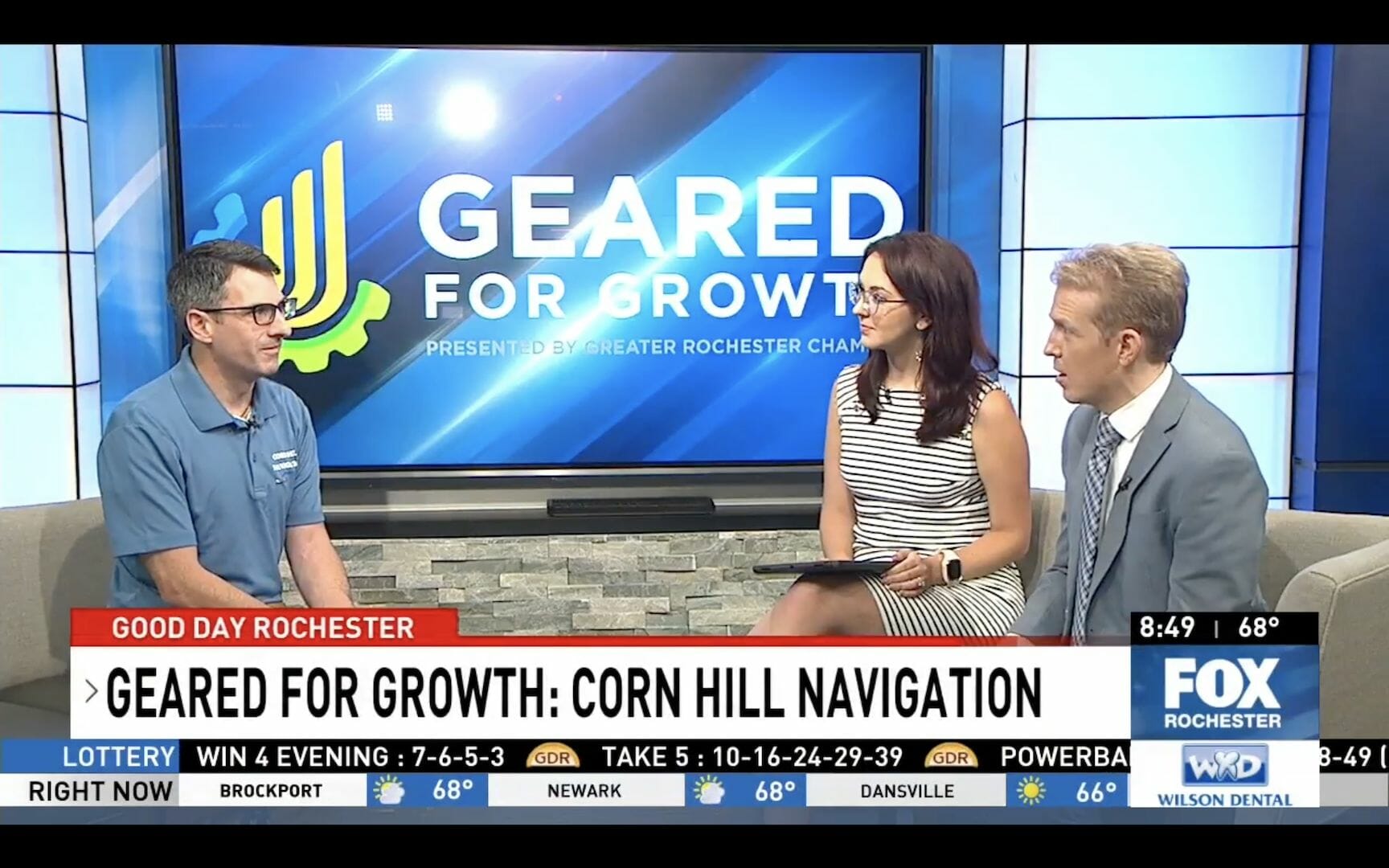 Patrick Russell-Walsh, Executive Director of Corn Hill Navigation, was featured on "Geared for Growth" on Wednesday, July 26th as part of Greater Rochester Chamber's ongoing partnership with 13WHAM/Fox Rochester. Russell-Walsh discussed the new Riverie tour boat in downtown Rochester, the company's history, and their involvement in the Greater Rochester community.
Corn Hill Navigation was founded 33 years ago in Rochester's Corn Hill neighborhood, originally offering tours of the Genesee River. In 1991, the company launched the Sam Patch which now is based in Pittsford and has been giving tours of the Erie Canal. Last month, the company returned to Corn Hill Landing with the launch of their new Riverie tour boat, which is the first vessel to offer tours of the Genesee River in ten years since Corn Hill Navigation retired their last boat on the river. "We're really excited to be back in Corn Hill where we started, especially since Corn Hill has changed so much since 1991," Patrick noted.
The Riverie is currently scheduled to run three trips a day on Thursdays, Fridays, and Saturdays, in addition to private charters. The boat has hosted birthday parties, surprise parties, wedding showers, corporate team-building, and more. "There's so much to see along the river," Patrick said when asked about the renovations along the shoreline. He noted that most of their trips are 90-minutes and head all the way to the Erie Canal past Mount Hope Cemetery, the South Wedge, Plymouth-Exchange, the University of Rochester, and Genesee Valley Park before turning around.
Corn Hill Navigation also works with the Rochester City School District to get students out in the community and between when the Riverie launched in June and the end of the school year, they were able to transport 480 fifth-grade students in 25 trips onto the Genesee for citizen science learning, including collecting water samples for data analysis later in the classroom. "The most exciting part of this was our science trips and getting Rochester city kids out on the water," Patrick shared, "Most of them had never been on the Genesee before, many of them had never been on a boat before, so it was a big deal for a lot of them. They were very engaged in the science."
Be sure to tune into FOX Rochester next Wednesday, August 2nd at 8:45 AM for another "Geared for Growth" interview!