WoodSpring Suites Hotel Rochester to Celebrate Grand Opening in Greece, NY
ROCHESTER, NY - WoodSpring Suites, a leading extended-stay hotel brand, is pleased to announce the grand opening of its first location in New York state, the WoodSpring Suites Hotel Rochester. To commemorate this occasion, a grand opening event will be held on June 13, 2023, from 12:00 pm to 3:00 pm at 145 Bellwood Drive, Rochester, NY 14606.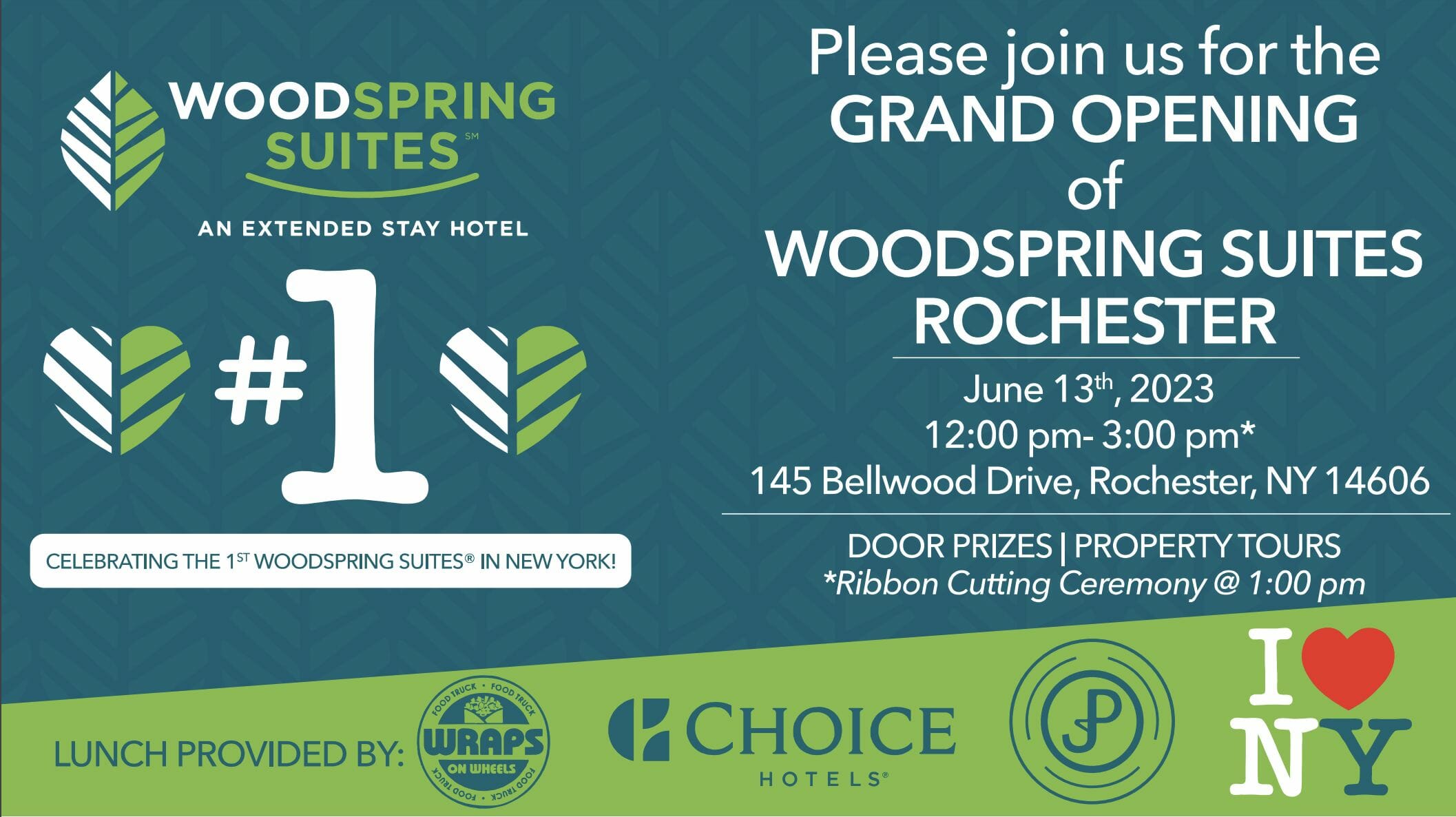 The WoodSpring Suites Hotel Rochester is an extended-stay hotel that provides an apartment-style experience with the conveniences of hotel living. It offers the comfort of a home away from home perfect for government contractors, military personnel, corporate visits, traveling nurses or tourists at an affordable rate. Enjoy furnished accommodations, including an in-room kitchen, microwave, full-size refrigerator and freezer, 2-burner cooktop and prep sink. Additional amenities include free WiFi, free parking and an onsite laundry facility.
The grand opening event will feature a range of exciting activities and opportunities for attendees. Guests will have the chance to win fantastic door prizes, take guided property tours to explore the hotel's facilities, and witness a special ribbon-cutting ceremony at 1:00 pm. There will also be lunch provided by Wraps on Wheels.
The grand opening event is open to the public, and all community members, local businesses, and media representatives are cordially invited to attend. This is an excellent opportunity to discover the new WoodSpring Suites Hotel Rochester and learn more about its offerings.
About WoodSpring Suites
WoodSpring Suites is a trusted name in the extended-stay hotel industry, offering clean, comfortable, and affordable accommodations for travelers staying for an extended period. With over 250 locations across the United States, the brand is committed to providing exceptional value, friendly service, and a home-like atmosphere to its guests.