Visions Celebrates 10 Years with Ty Muse, President/CEO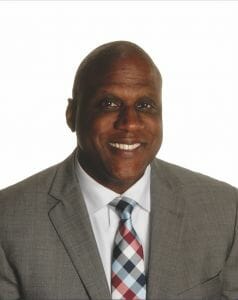 Endwell, NY – This May, Visions Federal Credit Union celebrated the 10th anniversary of Tyrone E. Muse becoming Visions' President/CEO. Visions' employees, Board of Directors, and Muse used the milestone to recognize the credit union's growth and impact over the last ten years and to establish their vision for the next ten.
When he first became President/CEO in May of 2013, Visions was on the brink of major expansions and innovation after merging with credit unions in New Jersey and Pennsylvania. To handle the increasing membership, Muse's focus turned to business performance, technology, and scalability. He says, "We don't sit around and wait. We invest time and resources in the ways we'd like to see the business go and grow."
Over his first ten years, he and his leadership team grew Visions' assets by over $2.3 billion. Visions now employs over 900 employees, who serve more than 250,000 members through their bilingual Contact Center, digital banking, hundreds of ATMs, and more than 50 branches throughout their three-state footprint in New Jersey, New York, and Pennsylvania.
Another significant change during Muse's tenure has been the reshaping of Visions' mission. "I knew our focus needed to be on community, helping people have better lives," said Muse. "This is how we make Visions matter. Every day, we create value by impacting our members in a positive way through services, education, and being active in the community. We also create value by doing things that support our peers, employees, and coworkers."
Since Muse coined "Make Visons Matter" as Visions' mission, the organization has given over $10 million in donations and grants to community organizations; integrated financial literacy and internship opportunities into more than 10 public school districts with the Visions Business Academy; and improved employee benefits and workplace culture within the organization.
Muse plans to remain in his role for another ten years to guide and oversee Visions' continued growth. He says, "I can see Visions serving half a million to a million people that can't wait to tell their family and friends about this great credit union they belong to. And we're here for them, supporting their financial well-being and doing what we can to help them live their best lives."
Muse currently serves on the Board of Directors of CUNA Mutual Group, Excellus Lifetime Care, Filene Research Institute, Greater Binghamton Chamber of Commerce, Binghamton University Foundation, and the Community Foundation for South Central New York. He is a recipient of the Greater Binghamton Chamber of Commerce 2019 Civic Leader of the Year Award and the Broome County 2018 Distinguished Citizen Award from the Boy Scouts of America. In 2022, he was inducted into the CUES Hall of Fame and received the Pete Crear Lifetime Achievement Award from the African-American Credit Union Coalition.
About Visions Federal Credit Union
Visions Federal Credit Union is a nonprofit financial institution completely owned by its members. Established in 1966, Visions proudly serves more than 250,000 members in communities throughout New Jersey, New York, and Pennsylvania. Services include banking as well as auto, home, personal, and business loans. Visit www.visionsfcu.org for more information.