'Revolutionary' company Frintz announces launch
Frintz = free prints + innovative advertising; honored with the Grand Champion Award from USPS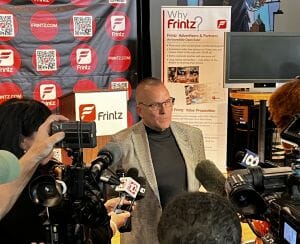 ROCHESTER, N.Y. — The "revolutionary" and "powerful" company Frintz officially launched today from its headquarters city of Rochester, N.Y. — the birthplace of popular photography. Frintz offers an engaging experience of photography and innovative advertising, powered by patented technology.
Frintz delivers free prints from consumer's phones to their home mailboxes — with the photos attached to advertisement along a finely perforated seam. Consumer excitement related to receiving their personal photos essentially guarantees a 100 percent open rate, with hands and eyes on every ad.  By comparison, most direct-mail campaigns garner an average 1 percent open rate. Even prior to launch, Frintz was honored by the United States Postal Service for innovation.
"Frintz was recognized with the Grand Champion Award in our 2021 Next Generation Campaign Awards for introducing a powerful new advertising option for direct mail," said Sheila Holman USPS Vice President of Marketing.
Frintz provides consumers who download the IOS or Android Frintz app with an access code per geographic region, to ensure relevant ads are shared. Rochester's access code is ROCVIP.
"Frintz is helping small and large businesses navigate the cluttered advertising landscape," said Bill Testa, Frintz founder and CEO. "We are connecting businesses with their communities and customer delight with business messages. Consumers literally hold a billboard in their hands while they also enjoy their personal photographs."
Frintz partners
National partners launching campaigns this summer include Sky Zone, Eagle One, American Cancer Society, and the National Independent Soccer Association (NISA).
"The National Independent Soccer Association is excited to partner with Frintz, a revolutionary company that will elevate our clubs through unique marketing opportunities, while allowing soccer fans to capture their memories through free printed photos," said Joshua J. Prutch, NISA's executive vice president of expansion.
Small businesses and organizations in Rochester aligned with Frintz include the ROC Star Academy, Compass One, Special Olympics, YWCA, and Three Heads Brewery, as well as the Greater Rochester Chamber and Greece Chamber of Commerce. The summer launch markets for Frintz include Buffalo, Syracuse, Oswego, Miami, and Nashville, as well as targeted campaigns for national brands, including several represented by EagleONE.
"Bill Testa and Frintz align with Eagle One's values, where people come before profits," said Mike Hutzel, CEO and co-founder of Eagle One. "I have been in marketing for 33 years and have not seen a product so innovative where everyone wins — the consumer wins, the advertiser wins, and our program partners win. It's easy to get behind the platform when everyone involved is winning. Frintz is a unicorn company that will have a profound impact on small, large, and enterprise business."
As Frintz expands across the country, three preferred printers will be used for regional fulfillment: the Kodak NexPress and Canon and Konica Minolta printers. All of Frintz's printed materials are recyclable and Frintz is partnering with PrintReleaf for sustainable printing practices, whereas trees are planted to reforest paper consumption.
Who is printing photos?
We all have devices filled with stored photos. An interesting fact: today, more pictures are taken every two minutes than were taken during the entire 1800s. Last year, 1.4 trillion photos were taken, and that number will rise to 1.6 trillion in 2023. Those new images are in addition to the 9 trillion photos we collectively have in storage.
At present an estimated 40 billion of those photographs are being printed for paying consumers. In fact, the photo-printing market has increased in the last five years, with 40 percent of Generation Z (those ages 10 to 25) printing photos last year. Shutterfly alone printed 26 million orders last year, equating to hundreds of millions of images.
The formation of Frintz
The story behind Frintz is a combined vision of an inventor and an entrepreneur printer. The inventor, and creator of Frintz's patents, is Gustavo Paz-Pujalt, Ph.D, who holds more than 100 U.S. and international patents. The bulk of his career was with Eastman Kodak Co., for which he led digital-imaging technologies and is an inductee of Kodak Distinguished Inventors Gallery.
Bill Testa, a businessman who has worked in the printing industry for 37 years, is the founder and CEO of Frintz, and is an expert in production, color technologies, and direct mail. Committed to the Rochester community, he has served as president of Greece Rotary, on the boards of Greece Chamber and Northwest YMCA branch, plus as a longtime youth soccer coach.
In addition to receiving the top USPS honor in 2021, Frintz was granted the Emerging Tech Company Award by Digital Rochester in 2018 for excellence and achievement in technology and  outstanding growth potential.
The Frintz team is dedicated to philanthropy and is organizing its efforts locally and nationally through The Frintz Fund. Learn more at Frintz.com.