Visions Hires Hanna Mitchell as Community Development Manager
Endwell, NY – Visions Federal Credit Union is excited to announce the hire of Hanna Mitchell as Community Development Manager.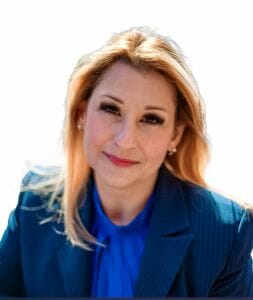 As Community Development Manager, Mitchell will lead the Visions Cares team, which plans and executes Visions' philanthropic programs and charitable giving. "I'm honored to be part of the Visions Cares program and foster deeper connections in our communities," says Mitchell. "We're poised to make a tremendous impact towards a more sustainable, resilient, and inclusive future by working with local leaders, businesses, and organizations."
Mitchell brings with her three decades of experience from companies around the globe, including military, finance, and community service. During her time working for the U.S. Air Force, Mitchell most recently served as a Program and Human Resource Coordinator for major commands and civilian personnel. Before that, she worked in financial risk management and regulatory compliance at People's First Community Bank of Florida and management at Bank of America in Okinawa, Japan, where she served over 30,000 military and civilian personnel across the Army, Air Force, Navy, and Marine Corps. She also served in education administrative operations for the Ft. Bliss Army Base, Holloman Air Force Base, German Air Force Contingent, and White Sands Missile Range. When needed for disaster relief, Mitchell continues to volunteer for the American Red Cross for U.S. Department of Defense as a caseworker and volunteer coordinator, providing emergency communication and services on behalf of military aid societies.
In her free time, Mitchell enjoys spending time with family, diving, hiking, and lending a helping hand. Mitchell also volunteers with autism advocacy groups, Vestal Central School District, Boy Scouts of America, and veteran organizations.
About Visions Federal Credit Union
Visions Federal Credit Union is a nonprofit financial institution completely owned by its members. Established in 1966, Visions proudly serves over 250,000 members in communities throughout New Jersey, New York, and Pennsylvania. Services include banking as well as auto, home, personal, and business loans. Visit www.visionsfcu.org for more information.