New "100 Things To Do in Rochester" book released
From the obvious to the obscure, a soon-to-be-released new book will help you discover—and rediscover—Rochester!
Greater Rochester Chamber member The Kinetic Pen (Robin L. Flanigan) has put together a comprehensive list of the best attractions plus hidden gems in the area's new go-to guide, "100 Things To Do in Rochester Before You Die." The book is out now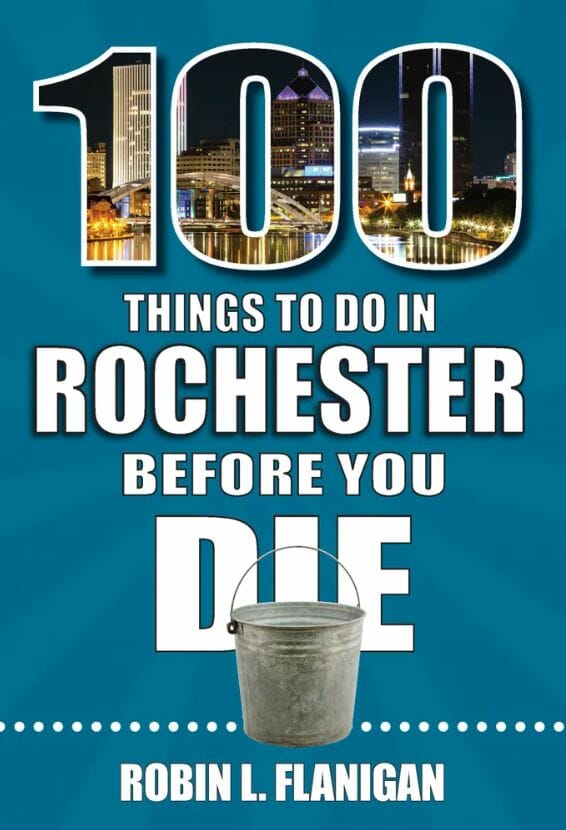 .
From publisher Reedy Press:
"Rochester is known as the cultural capital of Western New York because of its world class museums, music, and more. Take your own tour of this affordable, accessible gem with 100 Things to Do in Rochester Before You Die, a local's lowdown on what makes this place so remarkable no matter the month or the weather.

Explore the arts scene by learning how the city became the birthplace of amateur
photography or by dancing at one of the world's largest jazz festivals. Get playful at the world's largest toy store or thumb through the largest vinyl record collection in the Northeast. The picture-perfect canalside villages along the Genesee River provide the ideal landscape for adventure and contemplation whether it's by the 96-foot waterfall or the Erie Canal along the city's southern border. Follow in the footsteps of historical icons like Susan B. Anthony and Frederick Douglass. Round out your visit with some of Rochester's best food, maybe even the iconic, celebrity-endorsed "Garbage Plate," which is as messy as it sounds.

With insider tips and suggested itineraries by subject and season, freelance journalist and author Robin L. Flanigan takes you on a whirlwind tour—from the obvious to the obscure—of the place she proudly calls home. From the heart of the city all the way to Lake Ontario, this guide to Rochester will have you planning your next visit right away."
"100 Things To Do In Rochester Before You Die" is a great way to welcome and reward clients, employees, and students; raise money for your organization; and more. 160 pages, $18.00. Bulk pricing is available.
Opportunities exist for:
Companies (onboard/recruit/retain employees)
Businesses (client incentive promotions)
Universities & colleges (welcome students & staff)
School districts (fundraising)
Nonprofits/organizations (fundraising)
Real estate agents/mortgage loan officers (client gifts)
Hotels & AirBnB/VRBO owners
Offices with waiting rooms
Book clubs
Contact Robin to purchase at robin@thekineticpen.com or visit 100thingsinrochester.com.
About the Author
Robin L. Flanigan is a national award-winning, freelance journalist for magazines and newspapers around the country, and author of the children's book M is for Mindful. She was a beat reporter for 11 years in newsrooms including Rochester's Democrat and Chronicle. Her essays have appeared in The Sun and other literary magazines and anthologies, and in 2009 she authored a coffee-table book titled Rochester: High Performance for 175 Years.