Focusing on the Future of the Agriculture Industry in New York State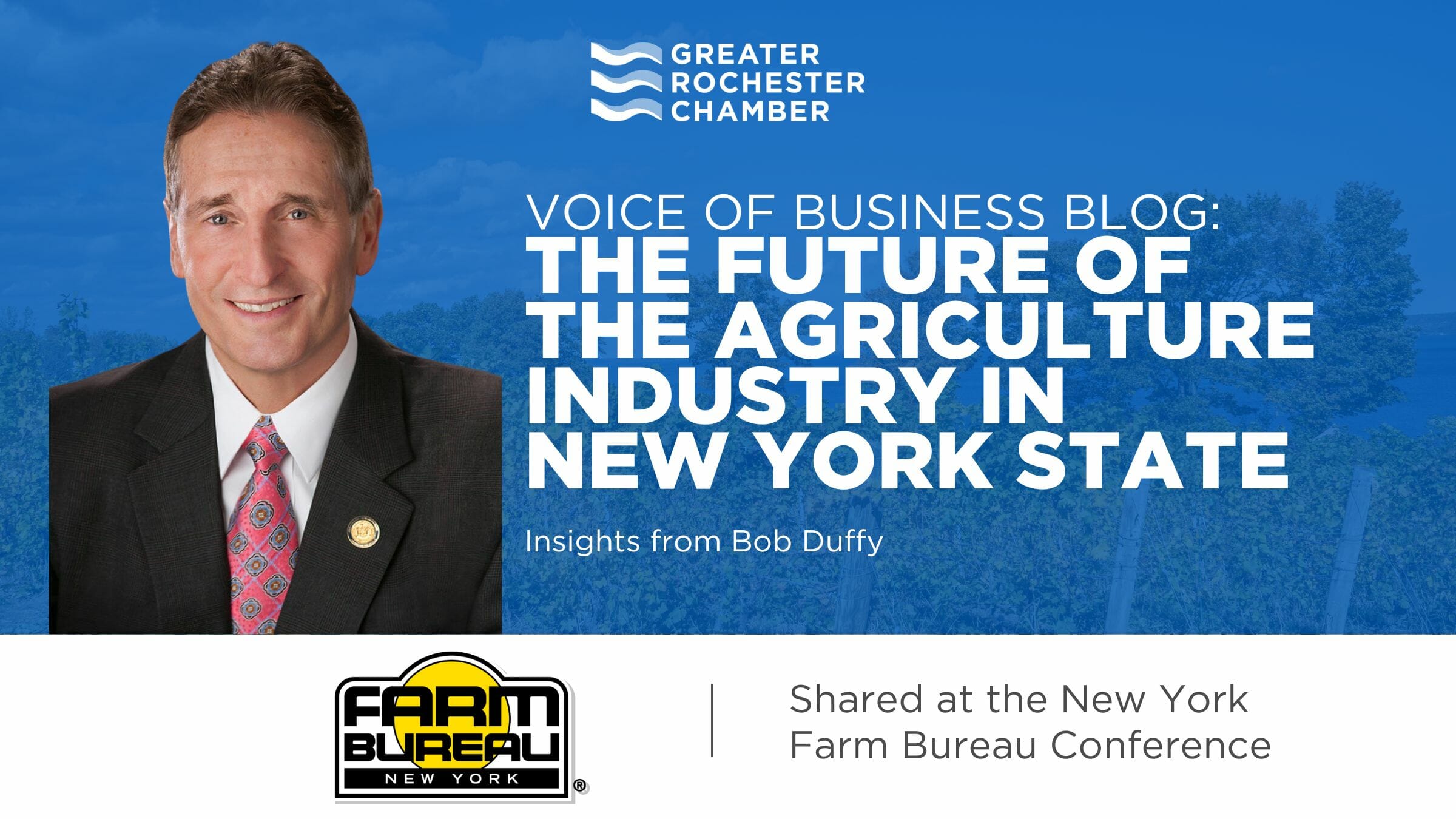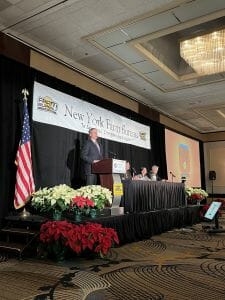 Last week, Greater Rochester Chamber of Commerce President and CEO Bob Duffy spoke at the "Adapt, Advance, Achieve – Focusing on the Future of Northeast Agriculture" conference hosted by the New York Farm Bureau. The conference brought members, agricultural experts, and thought leaders together to look at major challenges and opportunities facing agriculture including business and market trends, environmental issues, and regulatory reforms. Duffy delivered an overview of the agriculture industry and business climate in New York State over the next ten to fifteen years. If you missed the conference, keep reading our Voice of Business blog to hear key points:
1. New York is a leading agriculture state
In 2017, New York State had over $5.75 billion in revenue in the agriculture industry from 33,438 farms employing 55,363 individuals. When looking at all sectors for agriculture, including processing, the industry collectively employs close to 200,000 people in New York State. Of the 33,438 farms, 98% are family owned and operated, with farmers providing their workers with housing, meals, transportation, and good paying jobs.
2. It is critical to engage experts in the decision-making process for legislation
In all industries but especially crucially important industries such as agriculture, it is important for experts to be consulted to determine the impact of legislation. Cornell University issued an important paper on this topic in November 2021 and found that if a 40-hour overtime rule were implemented, two-thirds of farmers indicated they would move out of dairy production, "direct future dairy investment to other states, invest outside of dairy, or exit agriculture entirely" and had similar results for produce farms. The study also found that over 70% of workers indicated that they would consider going to another state without capped hours when this law went into effect. Many people take New York's farmers for granted, but farm groups need to be part of the discussion when legislation affecting them is proposed.
3. Farms need different rules than factories
Greater Rochester Chamber was disappointed by the implementation of the 40-hour overtime law going into effect despite these findings. Our team advocated on behalf of our farmer members and tried to express to lawmakers that farmers need different rules than factories. While we commend Governor Hochul for including funding in her 2023 budget to help offset the adverse impact of this new law, but it is important to note that this funding may not be there indefinitely. Duffy noted that "I have always found it odd that companies who agree to come for a fixed period of time are given millions and millions of dollars in subsidies, credits, and grants, yet farms do not get the same treatment despite the fact that they have no choice to stay here forever."
4. Climate change and related legislation will be a big thing to think about heading into 2023 and beyond
With the passage of New York's Climate Leadership and Community Protection Act, the cost of energy increasing, and new taxes, it's more important now than ever to consult industry experts about how these legislations will impact their industry even when it isn't directly about that industry. Farmers have the opportunity to have a large impact on the environment and create meaningful changes through compost and reduction of greenhouse gas emissions.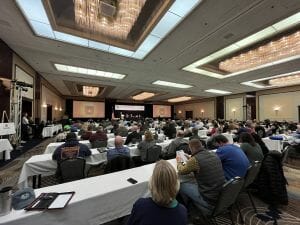 As we move forward, Greater Rochester Chamber will continue to advocate on behalf of our members and fight for the nine-county Finger Lakes region with many wineries, dairy farms, and produce farms. It is important to fight on behalf of these groups and ensure that New York's lawmakers from all over the state including the City understand the interests of these crucial parts of our state economy. To learn more about Greater Rochester Chamber's advocacy efforts, view our Advocacy Agenda.