Governor Hochul Announces Transformational Projects for Rochester as Part of $10 Million Downtown Revitalization Initiative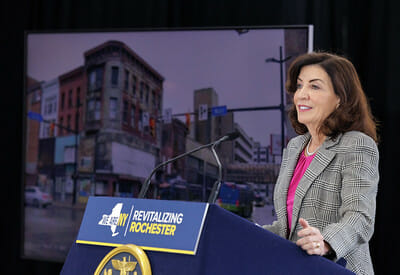 Governor Kathy Hochul has announced five transformational projects in the City of Rochester as part of the $10 million Downtown Revitalization Initiative Award. The Awards will leverage the community's significant redevelopment investments with new infill projects and redevelopment of historic properties. Renderings of the Rochester revitalization projects are available here.
"Through the Downtown Revitalization Initiative, we are helping ensure our local partners have the resources they need to enhance New York's downtowns," Governor Hochul said. "With this $10 million award, we are ushering in a new era for Rochester and creating more opportunity for residents as we make the community a better place to live, work and play."
The City of Rochester's revitalization is focused on creating an enhanced sense of place with renewed activity and liveliness. The Awards will transform the Downtown Revitalization Initiative by adding housing, lodging accommodations, commercial spaces and public infrastructure improvements.
The investments are part of the Governor's ongoing efforts to revitalize the economy and create more opportunities within the Finger Lakes Region. The Downtown Revitalization Initiative is led by the Department of State providing technical assistance as each participating community develops a Strategic Investment Plan identifying specific projects with a unique vision for the revitalization of the downtown area.
The specific projects to be funded through the Downtown Revitalization Initiative include:
Transforming the Main and Clinton Corner - DRI Award: $4,000,000
Redevelop four, historic mixed-use buildings that have been a blight on the urban landscape for nearly four decades. This is an extensive historic renovation that will also strive for carbon neutrality and will create middle-income housing units and modern storefronts on a prominent corner of Downtown.
Redeveloping the Historic Edwards Building - DRI Award: $1,750,000
Combine a certified historic rehabilitation of the long vacant Edwards Building with the creation of a district geothermal cooperative under the adjacent parking lot. A total of approximately 114 new housing units and ground floor commercial space will be added.
Developing Alta Vista - DRI Award: $1,385,000
Construct an approximately 6-story, 76-unit mixed-income building on four vacant lots in Downtown Rochester. The project includes supportive housing units for survivors of domestic violence and space for the Landmark Society of Western New York. This project will also make improvements to the adjacent St. Joseph's Park. New lighting, pathways, and structural improvements will enhance this public and outdoor event space.
Constructing Main Street Commons - DRI Award: $1,300,000
Create a new outdoor public space in the heart of Downtown and improve pedestrian connections between St. Paul Street and Clinton Avenue. This project will divide the existing 600-foot-long superblock into two more walkable urban block lengths.
Creating the Kresge Building Hotel - DRI Award $1,265,000
Redevelop the three-story Kresge building into an approximately 28-room boutique hotel with anchor food and beverage establishments on the ground floor facing Main Street, Division Street, and the proposed Main Street Commons.
New York Secretary of State Robert J. Rodriguez said, "Creativity and imagination are key components to bringing our downtowns back to life. The projects announced today as part of the Downtown Revitalization Initiative are a great example of Rochester's robust plan to reimagine how communities connect through public spaces, mixed use buildings and cultural opportunities. Congratulations to the project winners."
Empire State Development President, CEO, and Commissioner Hope Knight said, "These targeted, community-led Downtown Revitalization Initiative investments in Rochester's center city will further fuel the economic engines needed to support local businesses and foster economic growth. The five transformational, inclusive projects will work to infuse new life into the city's downtown area, creating dynamic spaces and places that will benefit both current and future generations of Rochester residents."
Homes and Community Renewal Commissioner RuthAnne Visnauskas said, "New York's Downtown Revitalization Initiative is developing new economic opportunities, increasing our housing stock, and improving livelihoods in neighborhoods across our state. We are thrilled that today's announcement will support the creation of more than 190 new homes in downtown Rochester, building upon our successful efforts to deliver more housing opportunities to the city and ensuring that Rochester's growth benefits everyone regardless of income."
State Senator Jeremy Cooney said, "These five diverse downtown revitalization projects are a crucial investment in Rochester's economic growth and vibrancy. These awardees will help ensure communities are connected and have an enhanced quality of life by preserving our city's history while creating accessible and sustainable spaces to live, work, and play. I congratulate the award recipients and am grateful to Governor Hochul, Empire State Development, and the FLREDC for their support."
Assemblymember Harry Bronson said, "Each of these five projects represents Rochester's bright new future. Thank you Governor Hochul for prioritizing the Downtown Revitalization Initiative in our state budget and helping us to deliver $10 million to Rochester. As Chair of the Assembly's Economic Development Committee, I know how vitally important our city landscape is to attracting new businesses and breathing life back into Rochester's historic downtown. These five projects focus on creating affordable housing, improving green spaces, and building out our downtown community. As construction begins on these local projects, local labor will be leading the way to ensure this funding helps to create an equitable and inclusive economy for all."
Assemblymember Demond Meeks said, "I am thankful to Governor Hochul for her continued support of the Greater Rochester community. We are in need of transformational investments in the heart of our city. Ambitious projects such as these are essential in bringing new life back to our downtown area. They will redevelop important pieces of our historic infrastructure to serve the members of our community, including opportunities for employment and housing. I am hopeful these initiatives represent part of a greater commitment to our neighborhoods and families for generations to come."
Assemblywoman Sarah Clark said, "Today marks an incredibly exciting day for the Rochester community, one of historic investments into downtown revitalization projects that will enhance the lives of residents of the greater Rochester region for generations to come. From creating desperately needing affordable housing and specialized housing for survivors of domestic violence, to developing additional downtown event space, food and beverage, and lodging to boost our local economy- each of these projects bring unique opportunities to our region. Thank you to Governor Hochul, the Finger Lakes Regional Economic Developmental Council and all of our partners in government and community stakeholders for the collaborative efforts to bring the Downtown Revitalization Initiative to the city of Rochester."
Assemblymember Jen Lunsford said, "These investments will truly transform downtown Rochester in a way that will pay dividends to the surrounding neighborhoods. The renovations at Main and Clinton, in particular, which serve as a gateway to our city, will be critical to the economic development of our downtown sector. I am thrilled to support these projects."
Monroe County Executive Adam Bello said, "Downtown is the heartbeat of Rochester - and Rochester is the heart of Monroe County. This critical funding complements ongoing projects to revitalize downtown, and fuels further economic growth that will help our community thrive. Thank you, Governor Kathy Hochul, for once again prioritizing Monroe County's economy and neighbors."
Rochester Mayor Malik Evans said, "The projects selected for Rochester's Downtown Revitalization Initiative will return much needed vibrancy to the core of our Center City and accelerate the incredible momentum we are making to create a Downtown where everybody can live, work and play. I want to thank Gov. Hochul and the Empire State Development Finger Lakes Forward Initiative for supporting Rochester with this investment in our city. These funds will advance our efforts to create a hope-filled city with a prosperous future."
Finger Lakes Regional Economic Development Council Co-Chairs Bob Duffy, President and CEO, Greater Rochester Chamber of Commerce, and Dr. Denise Battles, President of the State University of New York Geneseo said, "The FLREDC is incredibly proud to continue our support for the City of Rochester and its exciting future through the Governor's Downtown Revitalization Initiative. These five selected, community-driven projects will benefit both residents and visitors alike, promoting economic growth and creating a more vibrant downtown, a place where people will want to live, work, and play for generations to come."
About the Downtown Revitalization Initiative
New York State's Downtown Revitalization Initiative, a cornerstone of its economic development program, transforms downtown neighborhoods into vibrant centers that offer a high quality of life and are magnets for redevelopment, business, job creation, and economic and housing diversity. Led by the Department of State with assistance from Empire State Development, Homes and Community Renewal and the New York State Energy Research and Development Authority, the Downtown Revitalization Initiative represents an unprecedented and innovative "plan-then-act" strategy that couples strategic planning with immediate implementation and results in compact, walkable downtowns that are a key ingredient to helping New York State rebuild its economy from the effects of the COVID-19 pandemic, as well as to achieving the State's bold climate goals by promoting the use of public transit and reducing dependence on private vehicles.  More information on the Downtown Revitalization Initiative is available here.