IDEX Health & Science Champions Giving Back to Local Communities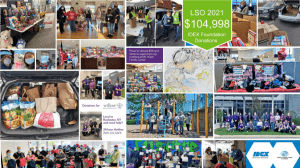 Rochester, New York – IDEX Health & Science's Life Science Optics Team—comprised of units in Rochester, NY Lima, NY and Carlsbad, CA—donated $104,998 in 2021 to local organizations (surpassing their initial goal of $100k). Working in conjunction with the IDEX Foundation, a charitable organization made up of customers, employees,and shareholders, participants consistently strive to create value and improve the communities where their teams live and operate. IDEX Health & Science aims to "see a need and fill it," like with the dual monetary donation and goods donation drive for the Willow Domestic Violence Center.
"[IDEX's] generous donation supports Willow's life-changing, and life-saving, programs and services," wrote Meaghan de Chateauvieux, President & CEO of Willow Domestic Violence Center. "It is donors, like you, who ensure that Willow can support survivors of domestic violence when they need us the most."
In 2021 alone, the Life Science Optics (LSO) Team was able to support food banks, holiday toy drives, rebuilding of shelters for those who are homeless, and the backpack donation drives for local students (to name a few). Notably the LSO Team, partnered with the IDEX Foundation, donated almost $29.9K to the Boys & Girls Clubs of Rochester to support educational programs with new equipment, software, supplies, additional staff, field trips, and the opportunity for a weekly STEM class with an engineer from their Rochester facility.
After receiving just under 500 backpacks filled with supplies, Assistant Principal Tiffany Lee said: "On behalf of Roberto Clemente School #8, thank you for the generous donation of book bags and supplies. We are so appreciative!!!"
"Mt. Hope Family Center is blessed to have IDEX as a community partner," said Lori Stevenson, of Mt. Hope Family Center. "We are so grateful for the support IDEX provides as we serve children and families who have experienced trauma."
Other LSO donation recipients included: Foodlink, Mt Hope Family Center, Jacob & Cushman San Diego Food Bank, St Joseph's House of Hospitality, Rochester Childfirst Network, Kids in Need Foundation, Boys & Girls Club Rochester, Willow Domestic Violence Center, Boys and Girls Club Carlsbad, Open Door Mission, and the Kade O'Brian Toys for Tots Project.
"Thank you to the hundreds of LSO team members for your active involvement through selflessly giving your time, talent, and donations," said Dina G. Vazzana, Vice President and General Manager of Life Science Optics. "The generosity from each of you, and the IDEX Foundation, has made a positive [and tangible] impact on countless lives during challenging times."
IDEX Health & Science understands the importance of investing in the communities they work in and looks forward to discovering new, impactful ways to give back in 2022. As Deb O'Brien, Director of the Kade Project, noted: "We cannot do what we do, without people like the IDEX employees - THEY make this happen."
Learn how you can join us in giving back to these well-deserving organizations here: https://www.idex-hs.com/news-events/give-back-2021/
About IDEX Health & Science, LLC
IDEX Health & Science, LLC is the global leader in life science fluidics, microfluidics, and optics, offering a three-fold advantage to customers by bringing optofluidic paths to life with strategic partnerships, solutions, and expertise. As one of the few companies in the world with component, sub-system, and application level experts, IDEX Health & Science helps instrument developers solve the most demanding fluidic and optical challenges in a wide array of applications. At IDEX Health & Science we believe partnership will change the way the world innovates, leading to new technologies that improve our health, protect our planet, and enrich our lives. For more information visit: www.idex-hs.com