IP Attorney Bryan Smith Joins Bond, Schoeneck & King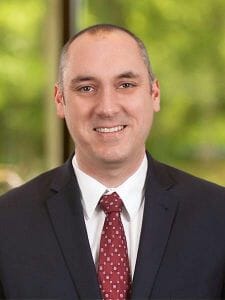 (Rochester, NY): Bond, Schoeneck & King is pleased to announce that Bryan C. Smith, an experienced intellectual property attorney, has joined the firm in its Rochester office as Senior Counsel. Prior to joining Bond, Smith was an IP attorney with Troutman Pepper in Rochester, New York.
Smith is a registered patent attorney with a degree in physics whose practice includes managing patent portfolios as well as intellectual property litigation. Smith has experience preparing and prosecuting patent applications, including re-issue applications, focusing on optical technologies, electrical components, mobile and smart phone applications, imaging devices and mechanical systems. In addition, he conducts patentability, infringement and invalidity studies.
Smith is also an experienced intellectual property litigator with experience in patent, trademark and trade dress cases. He also has experience in appeals to the Federal Circuit on patent-related issues. In addition, Smith represents both patent owners and petitioners in inter partes reviews (IPRs) and post-grant reviews before the Patent Trial and Appeal Board (PTAB). He has served as lead counsel and has worked on dozens of IPRs involving a broad range of technologies including semiconductors, optical scanning devices, web technology, and medical devices.
"Bryan is a versatile IP attorney and we are thrilled to have him join our growing IP team," said Jeremy Oczek, chair of Bond's intellectual property practice. "In particular, Bryan's post-issuance practice and experience as lead counsel on IPRs significantly adds to our IP group's bench strength."
Smith is a graduate of Boston College Law School (J.D., 2006) and Hamilton College (B.A. in Physics, magna cum laude; Phi Beta Kappa, 2002).
Bond continues to expand its intellectual property team, having recently welcomed Terria P. Jenkins, the former chief trademark counsel and division counsel for Eastman Kodak, as Senior Counsel to the firm's Rochester office. In addition, Bond recently welcomed Hye Jin Lucy Song, a patent attorney with experience working as an engineer at Samsung Electronics, as Senior Counsel to the firm's Albany office.
Bond's intellectual property team represents some of the most recognized technology companies and brands in the world, as well as research universities, entrepreneurial start-ups and midsize to Fortune 100 technology companies, all forging frontiers in a variety of technologies and industries.
Bond, Schoeneck & King PLLC is a law firm with 250 lawyers serving individuals, companies, nonprofits and public sector entities in a broad range of practice areas. Bond has nine offices in New York State as well as offices in Boston, Kansas City, Naples, Florida, and Red Bank, New Jersey. For more information, visit bsk.com.