Premium Mortgage Corporation, GreenSpark Solar, and AmBuild Lead 2021 Greater Rochester Chamber Top 100 35th Annual List of Fastest-growing Privately Held Businesses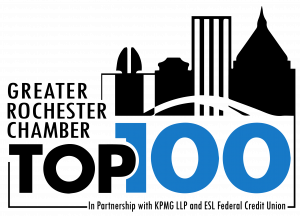 Premium Mortgage Corporation, a mortgage lending company based in Brighton, Monroe County, took the number one spot on the 35th annual Greater Rochester Chamber Top 100 list of fastest-growing, privately held businesses in the Rochester and Finger Lakes region.  Solar energy company GreenSpark Solar and construction management firm AmBuild rounded out the top three.  Greater Rochester Chamber of Commerce accounting partner KPMG LLP determines Greater Rochester Chamber Top 100 rankings based upon dollar and percentage revenue growth over a three-year period, which allows companies large and small to compete on a level playing field.
Click here to view the full rankings list within the 2021 Greater Rochester Chamber Top 100 Magazine
Greater Rochester Chamber President and CEO Bob Duffy said, "The Greater Rochester Chamber Top 100 program serves as the perfect illustration that Rochester has indeed moved from a company town of a few major employers to a place made up of industry from every sector. This year we are excited to see a strong cross-section of well-established companies and startups competing for a coveted spot on the list. The 2021 Greater Rochester Chamber Top 100 companies employ close to 45,000 people and reported total revenue of over $14.5 billion in the most recent fiscal year. The economic impact generated by these businesses has real and lasting influence on our community, and we are proud to have them in our region."
To be eligible for the Rochester Chamber Top 100, businesses must be independent, privately held, headquartered in the nine-county Finger Lakes region, and have revenue of at least $1 million in each of the three most recent fiscal years.  The program recognizes Rochester's reputation as a region of innovation spurred by a strong entrepreneurial spirit.
The service industry led the way with 27 companies landing on this year's Greater Rochester Chamber Top 100 list.  Following service companies, the list features 19 construction companies, 16 manufacturing firms, 15 technology businesses, nine financial service companies, eight wholesale and distribution companies, four retail companies, and two e-commerce businesses.
The nomination process for the 2022 Greater Rochester Chamber Top 100 begins in February. For more information, contact Greater Rochester Chamber Events Director Susan George at Susan.George@GreaterRochesterChamber.com.