Bob Duffy Statement on Constellation Brands Move to Downtown Rochester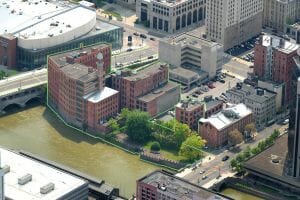 Greater Rochester Chamber of Commerce President & CEO Bob Duffy offered the following statement on the news that Constellation Brands, a leading beverage alcohol company, plans to move its global headquarters from Victor, N.Y., to the Aqueduct Building campus located at 50 East Broad Street, downtown Rochester, N.Y.
"Constellation Brands' decision to move its corporate headquarters to Downtown Rochester is a game-changer, and will have an array of positive economic reverberations for years to come. This move is a direct result of the leadership of Constellation Brands' Chair and Greater Rochester Chamber Board Chair Rob Sands, who has taken a strong leadership role in revitalizing and growing our Center City and regional economy. This investment in a thriving city center is more than just financial. It is a commitment to locate their best and brightest talent here as part of the fabric of our burgeoning urban core.
I also want to thank Constellations Brands' CEO Bill Newlands, Governor Kathy Hochul, County Executive Adam Bello, Mayor Lovely Warren, and all of our economic partners for their leadership, collaboration, and investment, which made this wonderful announcement and move possible."