CampusROC 2023 Annual Event Recap: Bridging Talent and Opportunity in Greater Rochester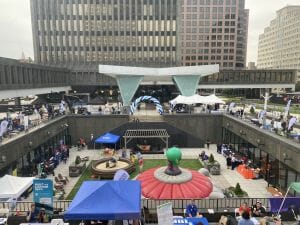 Greater Rochester Chamber of Commerce had the pleasure of hosting one of the most exciting events for college students and recent graduates this year – our CampusROC Annual Event 2023. Held on Saturday, September 23, 2023 at the vibrant Innovation Square in downtown Rochester, the third year of our CampusROC Annual Event welcomed over 600 students and 150 employers and community organizations. The CampusROC Annual Event is the yearly signature event for Greater Rochester Chamber's CampusROC student engagement program, which aims to improve the retention rate of graduates from our 19 area colleges and universities. CampusROC is supported in part by the Greater Rochester Chamber Foundation.
Barb Egenhofer, Greater Rochester Chamber Director of Talent Strategy, said, "The CampusROC Annual Event serves as a bridge between the region's top talent, our college students, and the businesses and organizations eager to harness their potential. It's a day of connection, collaboration, and celebration. The event brought together students from various colleges and universities in the region, and their enthusiasm was palpable. Whether students were searching for internship opportunities, seeking guidance on their career paths, or simply exploring and enjoying the vibrant Rochester business community, the CampusROC Annual Event offered something for everyone."
Highlights from the CampusROC Annual Event 2023 included: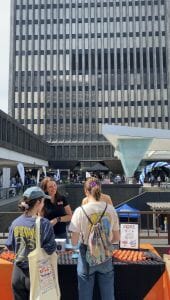 Engaging Employer Workshops: The CampusROC Annual Event featured an array of insightful workshops led by industry experts. These sessions provided employers with valuable insights into different ways to hire talent and a chance to engage in meaningful conversations. Among the workshops was one focused on hiring neurodiverse candidates, highlighting Greater Rochester Chamber's commitment to fostering diversity, equity, inclusion, and belonging (DEIB) among our business community.
Employer Tables: There were numerous employer booths representing a wide spectrum of industries who were eager to connect with students and share their career opportunities, including internships, micro-internships, co-ops, and full-time employment.
Networking Opportunities: One of the core aspects of the CampusROC Annual Event is networking. The event facilitated numerous interactions between students and employers, creating an environment where meaningful connections were forged.
Exciting Giveaways: The CampusROC Annual Event 2023 also featured exciting giveaways and raffles that added an element of fun to the event. Prizes included everything from gift cards, a gaming chair, iPad, to other tech gadgets, making the day even more memorable.
Unforgettable Activities: This event wasn't just about professional growth; it was about having fun too! Students had a blast riding the mechanical bull, engaging in epic laser tag battles, and making their own swag at the merchandise printing table. It also included an array of amazing local food trucks.
Greater Rochester Chamber President and CEO Bob Duffy said, "As we reflect on the CampusROC Annual Event 2023, we are reminded of the vibrant talent pool that exists in our region and the bright future it promises. It serves as a reminder that when we come together to support this talent, our community thrives. We extend our heartfelt thanks to everyone who made this year's CampusROC Annual Event a success – from the students who brought their enthusiasm, to the employers and vendors, and of course, the sponsors who make these important events possible."
Special recognition goes out to our top sponsors, including Constellation Brands (who also sponsored our CampusROC Annual Event Eve employer happy hour!), Rochester Regional Health, ESL Federal Credit Union, Wegmans, Greater ROC, and Innovation Square.
Thank you to everyone who made CampusROC Annual Event 2023 an incredible success! We look forward to continuing to bridge the gap between talent and opportunity in Greater Rochester through events like these.
Want to get more involved in Greater Rochester Chamber's talent strategy efforts, including CampusROC? Join us for our "Work Together ROC: Bagels, Brew, & Bingo" event on Wednesday, September 27 at 8:30 AM. Register here!