Greater Rochester Chamber's Committee for a Strong Economy Offers Endorsements for 2023 Election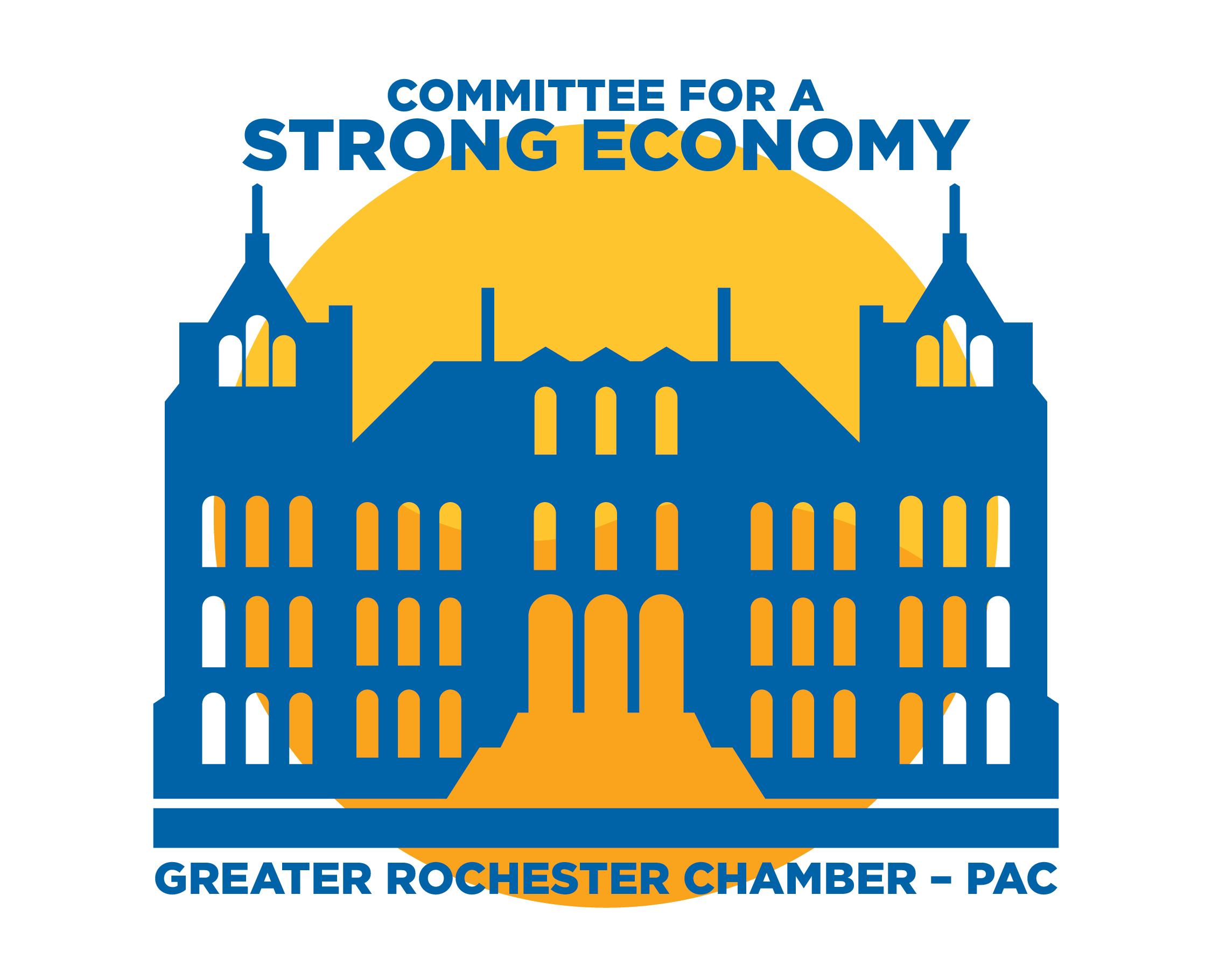 The Committee for a Strong Economy is dedicated to ensuring the voice of business throughout the Finger Lakes region is heard at every level of government. To that end, we are pleased to announce the following endorsed candidates for Monroe County Executive, Monroe County District Attorney, the Monroe County Legislature, and the Rochester City Council.
Each endorsed candidate has demonstrated a commitment to working with Greater Rochester Chamber of Commerce and its more than 1,300 members on enhancing opportunities for growth and expansion, building upon workforce and economic development initiatives, and creating a climate in which individuals and businesses have the chance to thrive.
As the Committee for a Strong Economy is a separate entity from Greater Rochester Chamber, so too is the decision-making process. Endorsements made by this Committee were made independently by volunteer committee board members and according to the process as conveyed to the candidates.
Committee for a Strong Economy Chair Tim Mason said, "As representatives of Greater Rochester's business community it was critical for our committee to stress to each candidate – Republican or Democrat – the importance of their attention to three critical areas: public safety, workforce development, and support for local businesses both new and existing. Successful businesses drive job creation and economic growth, which helps communities grow and prosper. But over and above it all, public safety remains a huge topic of concern that needs the attention of public officials at every level of government. We are excited to endorse those candidates who support these important initiatives."
Monroe County Executive
Adam Bello (D)
Monroe County District Attorney
Sandra Doorley (R)
Monroe County Legislature
District #1: Blake Keller (R)
District #2: Jackie Smith (R)
District #3: Tracy DiFlorio (R)
District #5: Rick Milne (R)
District #6: Sean McCabe (R)
District #7: Kirk Morris (R)
District #8: Mark Johns (R)
District #9: Paul Dondorfer (R)
District #10: Howard Maffucci (D)
District #11: John Baynes (D)
District #12: Steve Brew (R)
District #13: Michael Yudelson (D)
District #15: Frank Ciardi (R)
District #16: Dave Long (D)
District #17: Rachel Barnhart (D)
District #18: Sean Delehanty (R)
District #20: Robert Colby (R)
District #21: Santos Cruz (D)
District #22: Mercedes Vazquez Simmons (D)
District #23: Linda Hasman (D)
District #26: Yversha Roman (D)
District #28: Ricky Frazier (D)
Rochester City Council
South District: LaShay Harris
Northeast District: Michael Patterson
Learn more about the Committee for a Strong Economy here: https://www.GreaterRochesterChamber.com/advocacy/Committee-for-a-Strong-Economy-PAC/