Greater Rochester Chamber Chief of Staff Marc Cohen featured on industry podcast

Greater Rochester Chamber of Commerce Chief of Staff Marc Cohen recently appeared on the Chamber Chat podcast to discuss the role of chambers in public policy and advocacy. This podcast hosts chamber professionals from across the country to share ideas and best practices among industry leaders. Greater Rochester Chamber is proud of our role as a powerful and effective voice of advocacy on behalf of Greater Rochester/Finger Lakes businesses.
Marc discusses the many forms of advocacy, navigating local, state, and federal relationships and policy, the Advocacy Coalition of Rochester Area Chambers (ACRAC), Committee for a Strong Economy PAC, and more.
Listen to Marc's episode here.
Marc Cohen, Chief of Staff, Greater Rochester Chamber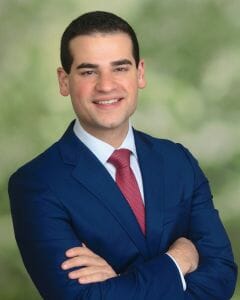 Marc Cohen became Chief of Staff at Greater Rochester Chamber in December 2018. In his role he directly oversees government relations, legislative affairs, advocacy, and is the primary policy advisor to Greater Rochester Chamber's President and CEO, Bob Duffy. Marc is charged with identifying process improvement opportunities, best practices, cost-saving measures, working with partners to promote and enhance regional workforce/economic development efforts, serving as Mr. Duffy's and Greater Rochester Chamber's representative at outside forums and on community work groups, and overseeing the daily operations of the Chamber's executive office.
Prior to joining Greater Rochester Chamber, Marc served as a Trustee for the State University of New York and as President of the SUNY Student Assembly, elected to represent the 1.4 million students across SUNY's 64 campuses. Marc grew up in Amherst, NY and graduated summa cum laude from the University at Albany before completing his Master of Public Administration from UAlbany's Rockefeller College.