Climate Solutions Accelerator Celebrates Graduation of Inaugural Color Your Organization Green Cohort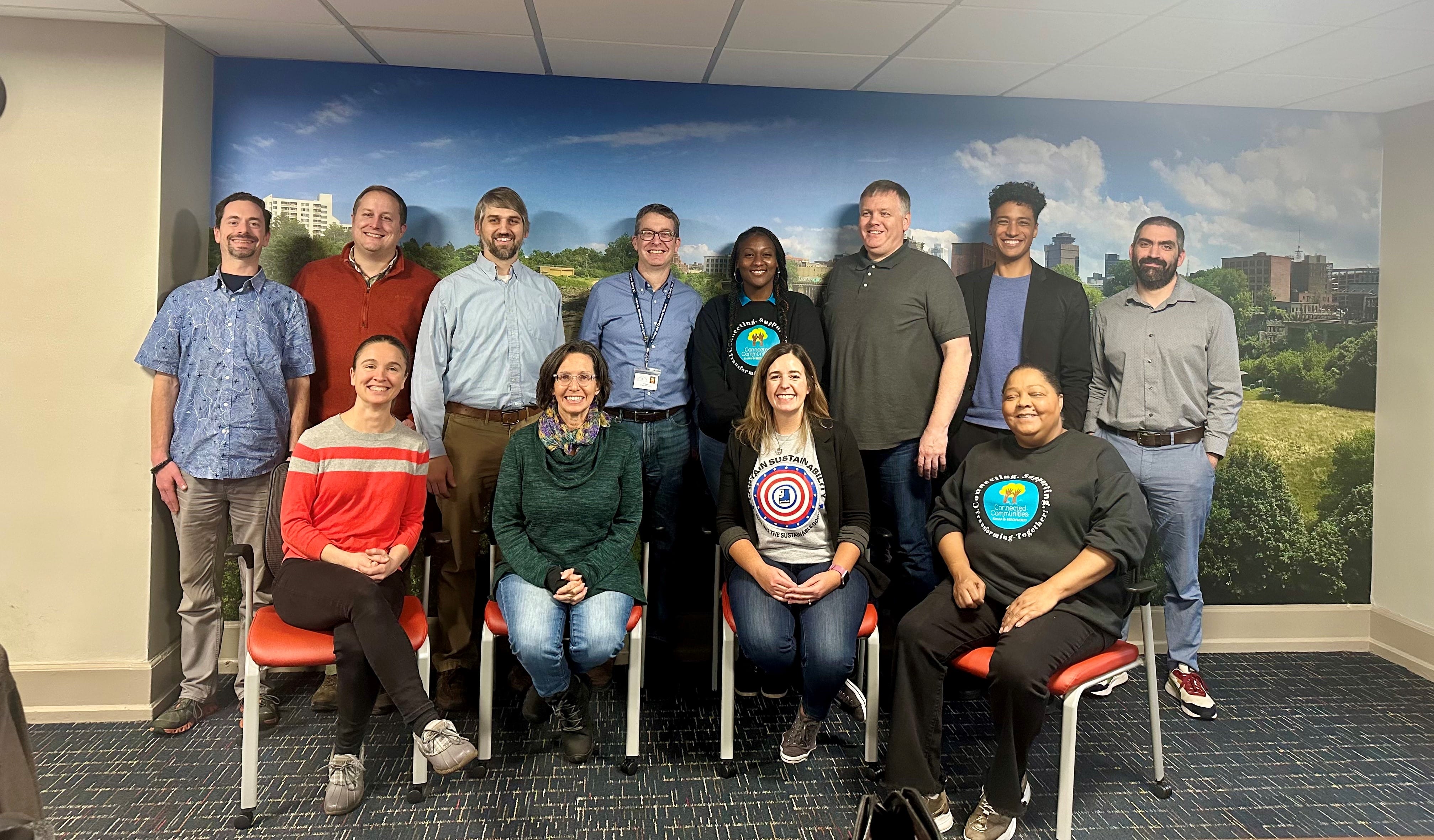 ROCHESTER, NY (November 21, 2023) The Climate Solutions Accelerator of the Genesee-Finger Lakes Region is proud to announce the successful completion of its first cohort of Color Your Organization Green, a course to guide organizations toward environmental responsibility and sustainable practices. The graduation ceremony celebrated the achievements of Goodwill of the Finger Lakes, Connected Communities, Catholic Charities Family and Community Services, Ibero American Action League, and American Fashion Network who have demonstrated a commitment to climate action in their organizations.
Color Your Organization Green is designed to help organizations discover their unique path to improve resilience, equity, and sustainability. It is a year-long course that offers a starting point for organizations to develop a Climate Action Plan while connecting to a network of like-minded organizations.
"As an organizational participant in the inaugural cohort of the CYOG Program, we participated to discover our unique response to the climate crisis and plan for our organization's transition to sustainability," said Janielle Crocker, Chief Impact Officer at Connected Communities. "The CYOG course helped to enhance and inform the work of our organization around sustainable practices and planning for climate-friendly solutions. We accomplished our internal goals through the course which primarily centered around establishing a commitment to organizational learning in the climate crisis and its impact on the community we serve."
The first cohort identified and committed to prioritizing goals to reduce overall energy consumption and vehicle miles traveled and pursue internal and external opportunities for energy efficiency, including electric vehicles and waste diversion.
"Caring for creation is one of our business's core values, but knowing where to start paralyzed us," said Marcus Ebenhoe, Director of Advocacy and Parish Social Ministry, Catholic Charities Family and Community Services. "The Color Your Organization Green program has allowed us to break the process down into easy to handle steps which allowed us to create a Climate Action Plan that we can utilize for years to come."
For organizations interested in taking action on climate and exploring what Color Your Organization Green has to offer, please visit climategfl.org/cyog. The course will run from January-November 2024, including a kickoff meeting, the Climate Solutions Summit, a summer social, seven online workshops, and a course completion celebration. Applications will close on Friday, December 8th at 5 p.m.
About the Climate Solutions Accelerator:
The Climate Solutions Accelerator is an inclusive, nonpartisan 501(c)(3) nonprofit organization dedicated to inspiring and facilitating a large-scale climate mobilization in the nine-county Genesee-Finger Lakes Region. Our mission is to create a healthier, more equitable, and regenerative community by catalyzing local efforts to eliminate greenhouse gas emissions and address the effects of climate change. Our vision is to achieve a thriving region on a healthy planet, accomplished through bold, systemic climate solutions that promote prosperity and security for all. Our work revolves around inclusivity, nonpartisanship, solution-focused strategies, collaboration, scientific rigor, transparency, and a deep commitment to social, racial, economic, environmental, and intergenerational justice.