Growing Innovation: $3 Million in Prize Money Awarded to Food, Beverage, and Agriculture Startups at Grow-NY Summit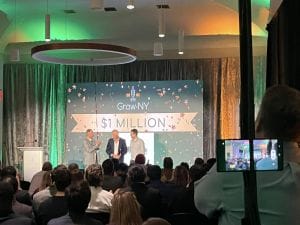 Greater Rochester Chamber of Commerce proudly joined the excitement at this year's Grow-NY food and agriculture business competition in Binghamton, NY, where twenty groundbreaking startups in the food, beverage, and agriculture sector competed for a total prize pool of $3 million. As a program partner, Greater Rochester Chamber had the privilege of witnessing the innovative pitches and meeting the teams from all over the world, hearing from experts on the future of the industry, and celebrating the winners who are committed to operating in the Grow-NY region of Central New York, the Finger Lakes, and the Southern Tier.
Governor Kathy Hochul announced Hypercell Technologies from Peachtree Corners, Georgia, as the grand-prize winner, securing $1 million in prize money. Hypercell Technologies focuses on rapid point-of-care diagnostics for the food chain, ensuring early detection and management of biological contaminants with increased speed and accuracy.
The competition awarded $500,000 each to Crover from Edinburgh, United Kingdom, and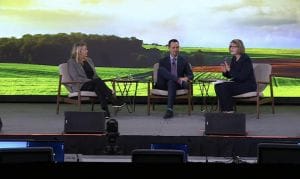 SomaDetect from Thornhill, ON, Canada. Crover uses robotic technology for efficient grain storage monitoring, while SomaDetect provides dairy farmers with cutting-edge sensors and software for automatic and reliable milk-based data. Four other startups, Cattle Scan, Clean Label Solution, MycoLogic, and Mush Foods, received $250,000 each to invest in their innovative concepts for the food and agriculture industry.
The competition also featured a "Wegmans Audience Choice" award, with Big Yield Growers of Endicott, NY, winning $10,000 for the most standout and promising pitch, as selected by the public.
All winning teams committed to operating in the Grow-NY regions for at least one year, further contributing to the economic development of Central New York, the Finger Lakes, and the Southern Tier. This commitment aligns with the goals of the Upstate Revitalization Initiative and supports the regional strategies of CNY Rising, Finger Lakes Forward, and Southern Tier Soaring.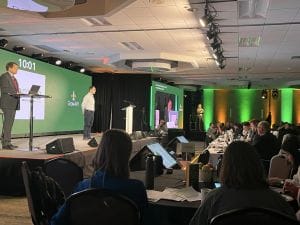 The Grow-NY competition attracted nearly 1,000 participants from 49 countries. With criteria focused on business viability, team quality, customer value, agrifood innovation, and job growth potential, the competition highlighted the diverse and cutting-edge ideas in the food and agriculture sector.
Greater Rochester Chamber of Commerce congratulates all the winners and participants of the Grow-NY business competition. As a supporter of innovation and economic growth, we are excited to see these startups make a positive impact in the Grow-NY region, fostering job growth, connecting with local industry partners, and contributing to a thriving economy. This competition underscores the importance of collaboration and entrepreneurship in shaping the future of the food, beverage, and agriculture industry in Upstate New York.