ROCChamber Text Messaging: Opt-in for a simple new way to #ConnectToSuccess
Text ROCChamber to 38316 to get started!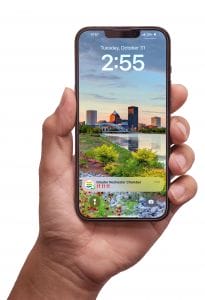 Greater Rochester Chamber is thrilled to introduce a new addition to our communication toolkit — ROCChamber Text messaging! As the region's business advocacy and resource organization, we recognize that timely access to resources and information is crucial for our members' success. We're excited to share how opting into ROCChamber Text can seamlessly connect you to a wealth of valuable resources.
Instant Access to Resources
ROCChamber Text allows us to deliver essential resources directly to your fingertips. Whether it's policy alerts, industry insights, or upcoming event details, you'll receive the information you need promptly, enabling you to make informed decisions and stay ahead of the curve.
Exclusive Offers and Opportunities
By opting into ROCChamber Text, you gain access to exclusive offers, opportunities, and valuable partnerships. Be the first to know about special promotions, networking events, and collaborative initiatives within the Greater Rochester business community.
Tailored Information to Boost Productivity
We understand that your time is precious. ROCChamber Text enables us to send targeted and relevant information tailored to your business needs. Say goodbye to email overload and hello to a streamlined, personalized experience.
Stay Informed on Chamber Initiatives
Be at the forefront of Chamber initiatives, programs, and advocacy efforts. ROCChamber Text keeps you informed about our latest activities, giving you the opportunity to actively engage in advocacy and stay connected with fellow businesses.
And here's the best part—ROCChamber Text is designed to respect your time and space. Rest assured, we will never send more than three texts a month, ensuring that you receive valuable information without any unnecessary intrusion.
Don't miss out on this opportunity to stay connected and receive the resources you need to succeed. Text ROCCHAMBER to 38316 to get started today!