Art-Craft Optical announces the return of its Melo-Ray™ sunglass lens, marrying vintage military style with modern lens technology
Offering comprehensive optical clarity and sun protection, Art-Craft's updated take on its classic emerald-grey lens will be available in select Art-Craft Sun frames beginning this fall'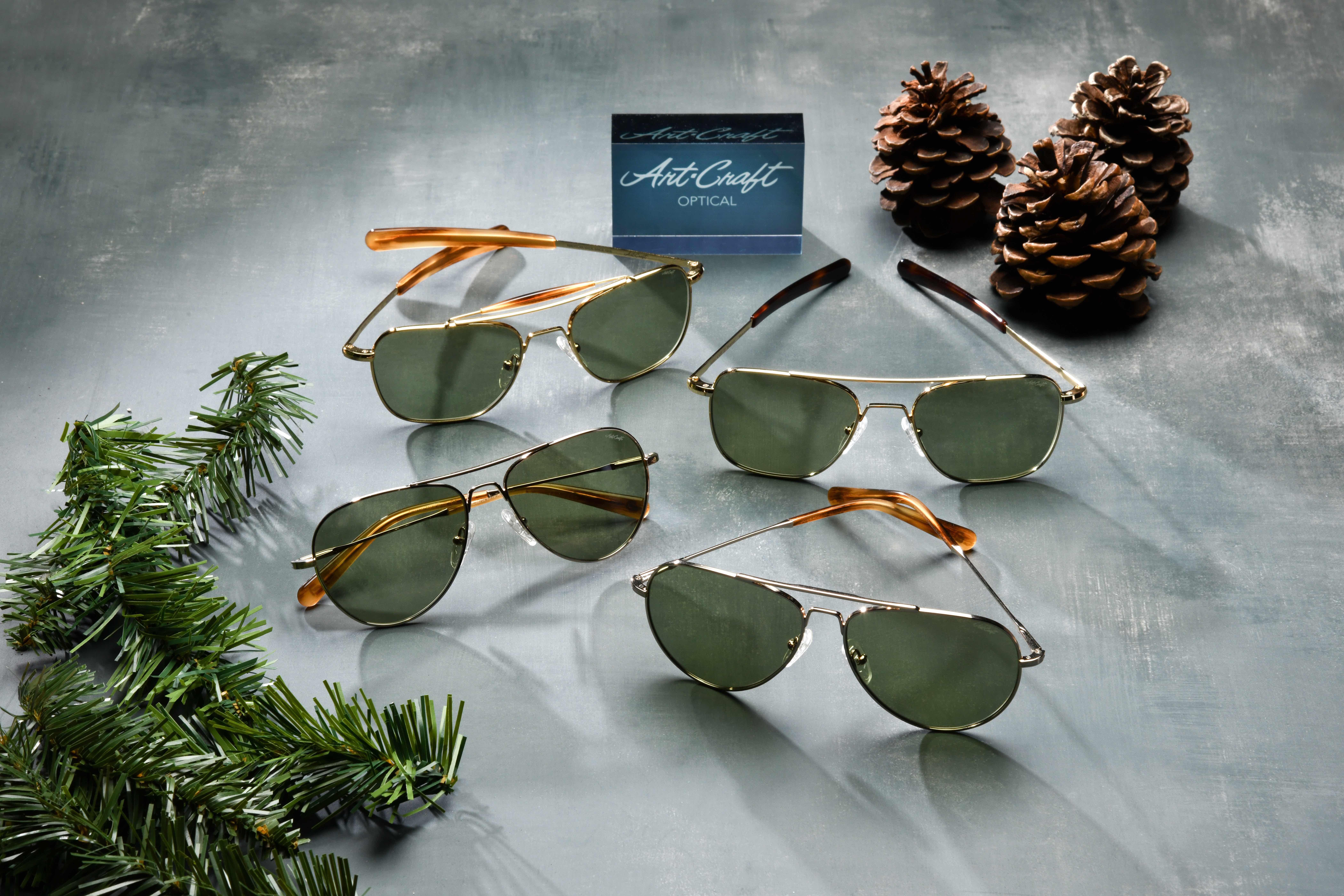 Rochester, NY (November 1, 2023) — Art-Craft Optical has announced the return of its Melo-Ray™ sunglass lens. First developed by Art-Craft in the 1940s for use in its military-issued aviator frames, the heritage style of the Melo-Ray™ Class 2 emerald-grey lens has been updated with the latest advancements in lens technology to provide comprehensive sun protection, optical clarity, and durability in all outdoor conditions.
Key features and benefits of the Melo-Ray™ lens include:
Meeting or exceeding all global standards for optics and impact protection, including drop ball testing
Filtering 70% of visible light and 100% of UVA and UVB rays
Blocking potentially harmful blue light rays via Art-Craft's proprietary BLUBLOCK™ technology
Improving visual acuity through Art-Craft's DEFEND™ anti-reflective coating, which reduces reflection by 99% while repelling moisture with hydrophobic properties
The return of the Melo-Ray™ lens — part of Art-Craft's range of NYOLITE™ nylon lenses — coincides with the launch this fall of the Rochester-based manufacturer's Art-Craft Sun collection. Inspired by Art-Craft's decades of experience as the premier supplier of sunglasses for every branch of the U.S. and NATO-aligned military, Art-Craft Sun combines the heritage and authenticity of Art-Craft's American-made, heirloom-quality sunglasses with the luxury platings, modern finishes, and high-performance lenses today's customers demand.
Melo-Ray™ lenses will be offered in four Art-Craft Sun frames:
Aviator (available November 2023)
Aviator-B (available November 2023)
James (available Q1 2024)
Ashley (available Q1 2024)
"The return of our iconic Melo-Ray™ lens and the launch of the Art-Craft Sun collection marks the latest evolution in Art-Craft Optical's 105-year history," says Charlie Eagle, President of Art-Craft Optical, Inc. "Inspired by our rich history working with the U.S. and NATO-aligned military, we've dug deep into our archives to reimagine these heritage sunglass concepts for today's consumer. These 100% American-made products offer a timeless visual aesthetic alongside the benefits of modern lens technology."
For more information on the Art-Craft Sun collection and Melo-Ray™ lenses, ECPs and optical retailers can visit artcraftoptical.com/sun-collection or contact Charlie Eagle at 800-828-8288.
About Art-Craft Optical
Founded in Rochester, New York, by Charles J. Eagle in 1918, Art-Craft Optical is the oldest continuously operating eyewear manufacturer in the United States. Built on a heritage of uncompromising quality and a love for the craft, Art-Craft's legendary eyewear and innovative approach to responsible manufacturing have made it a global leader in dress, safety, and military frames. Since World War II, Art-Craft has served as the premier supplier of cockpit-approved sunglasses for every branch of the U.S. and NATO-aligned armed forces, producing more than 1.5 million frames with a 0% defect rate. Over more than 105 years of operation and five generations of family-run leadership, Art-Craft Optical has become the industry standard for high-quality, American-made eyewear and a barometer of the way we look at the world.