2023 Rochester Fringe Festival Wraps 12th Edition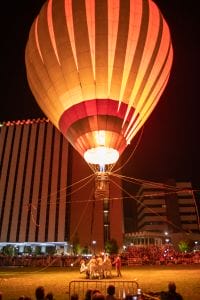 Rochester, NY—The 2023 Rochester Fringe Festival (September 12-23), lauded by The New York Times as "one of the country's more prominent multidisciplinary events," recently wrapped its twelfth festival and immediately started planning for 2024.  The non-profit festival, which like many arts organizations is still rebounding from the pandemic, saw a 39% increase in ticket sales over the 2022 festival.
"We're thrilled that our twelfth annual Fringe was the best yet in terms of audience response as well as acclaim," said Erica Fee, Festival Producer and CEO. "What we really heard from patrons, though, was their joy and the thrilling experiences they had by being part of the festival. With more than 500 performances of 200 shows, there really was something for everyone at this year's Fringe."
In addition to the shows that took place in the Spiegeltent and Spiegelgarden at One Fringe Place and at Parcel 5 in downtown Rochester, more than 30 venues throughout Monroe County presented shows as well. A total of 118 shows were free of charge, making the arts accessible to everyone—including shows at Parcel 5, where tens of thousands of people gathered to see the highly acclaimed French company Cirque Inextremiste on its U.S debut tour in a tightrope-walking, quirky, fiery performance called EXIT, featuring a hot air balloon. Free performances also drew crowds for the Rochester Fringe premiere of The Fanzinis in Ballet Poulet. The Fanzinis, a comedy street theatre duo from County Cavan, Ireland, which is Monroe County's only sister county worldwide. The Fanzinis came to Rochester as part of the first-ever artistic exchange between the counties.
Mark A. Costello, Board Chair said, "We're a not-for-profit organization that works tirelessly year-round to bring amazing, accessible art to the community for the 12 days of Fringe. I never cease to be amazed by the exceptionally talented artists who participate, and this year's Fringe was no exception; it was extraordinary."
More than 100 ticketed performances sold out completely, including comedy headliner Tig Notaro, the world premiere of Corazón by internationally acclaimed circus troupe Circolombia, Shotspeare, Silent Disco, Dashboard Dramas IX,  all Bushwhacked shows, Charming Disaster's Musical Seánce, as well as productions across the festival.
"The JCC loves opening our doors to artists and audiences as a Fringe venue! Each year we introduce thousands of new people to our community center and the flexibility of the festival allows us to greatly expand the diversity of our programming and our audiences. Fringe is one of the most exciting times of the year at the JCC CenterStage," said Ralph Meranto, JCC CenterStage Theatre Artistic Director.
A site-responsive outdoor video installation by Australian artist Craig Walsh, Monuments led us to question what monuments actually are, what they represent, and whom we should honor in this public manner. The 2023 honorees were Lisa Robbins Theuman, community organizer against hunger; Ronnie Reitter (Seneca, Wolf Clan), storyteller for Seneca culture; and Patricia McKinney, parent liaison, School No. 23. "Craig Walsh's work gave us the opportunity to recognize people right here in Rochester who have not received the recognition they deserve for their contributions to our community," said Fee. "We were thrilled to bring this special event to Rochester, and to create an immersive outdoor environment where our audiences can engage with the art."
The Rochester Fringe Board of Directors will announce the 2024 festival dates before the end of this calendar year.  The application period for shows wishing to perform at the 2024 Rochester Fringe Festival will open in February.  Festival organizers will announce the exact details and dates of the application period later this month at RochesterFringe.com.
MORE ABOUT ROCHESTER FRINGE FESTIVAL:
The 12-day Rochester Fringe Festival is the largest multidisciplinary performing arts event in New York State. Since the festival's inception in 2012, nearly 750,000 people have attended more than 5,000 performances by regional, national, and international artists, from emerging to superstar. From drama to dance, comedy to children's entertainment, music to magic, and so much more, this internationally-known powerhouse encourages creative expression while nurturing the artistic process, all while supplying new audiences to established and emerging arts venues. The Rochester Fringe Festival strives to be diverse and inclusive, and to stimulate downtown Rochester both culturally and economically.
MORE ABOUT FRINGE FESTIVALS:
In 1947, eight theatre groups showed up—uninvited—to perform at the newly established Edinburgh International Festival in Scotland. Although not listed in the official program, the groups performed anyway, at venues they found for themselves. The following year, a Scottish journalist coined the term "festival fringe" to describe these non-curated shows that began turning up annually. The Edinburgh Fringe is now the world's largest arts festival and the third largest event after the Olympics and the World Cup. Today, there are more than 250 Fringe Festivals worldwide, with nearly 50 in the United States. The Rochester Fringe Festival was the first in Upstate New York.
ROCHESTER FRINGE SPONSORS:
Sponsors include New York State Council on the Arts; University of Rochester; the City of Rochester, Monroe County; National Endowment for the Arts, Ames Amzalak Memorial Trust; Daisy Marquis Jones Foundation; Rochester Area Community Foundation; RIT; Max and Marian Farash Charitable Foundation; Nocon & Associates; ESL Foundation; Elaine P. and Richard U. Wilson Foundation; Louis S. and Molly B. Wolk Foundation; Konar Enterprises; Mary Mulligan Trust; Lake Placid Center; Golisano Foundation; Villa Albertine; Nazareth University; St. John Fisher University; Monroe Community College; The Pike Company; VisitRochester; 13WHAM TV; CITY Magazine; D&C Digital; WXXI; Fred & Floy Willmott Foundation; Wegmans; Hyatt Regency Rochester; Genesee Beer; Blue Moon; Black Button Distilling; The Rubens Family Foundation; City Blue; Aspire Transformation Services; Hamilton A/V; Wilkins RV; McCarthy Tents & Events; Broccolo Tree & Lawn Care; The Harley School; Rochester Downtown Development Corporation; Canandaigua National Bank; Boylan Code; Bond Schoeneck & King; Yelp!; and the House of Guitars.