Geared for Growth: Twisted Customs Creates Rideable Art & Expression in #GreaterROC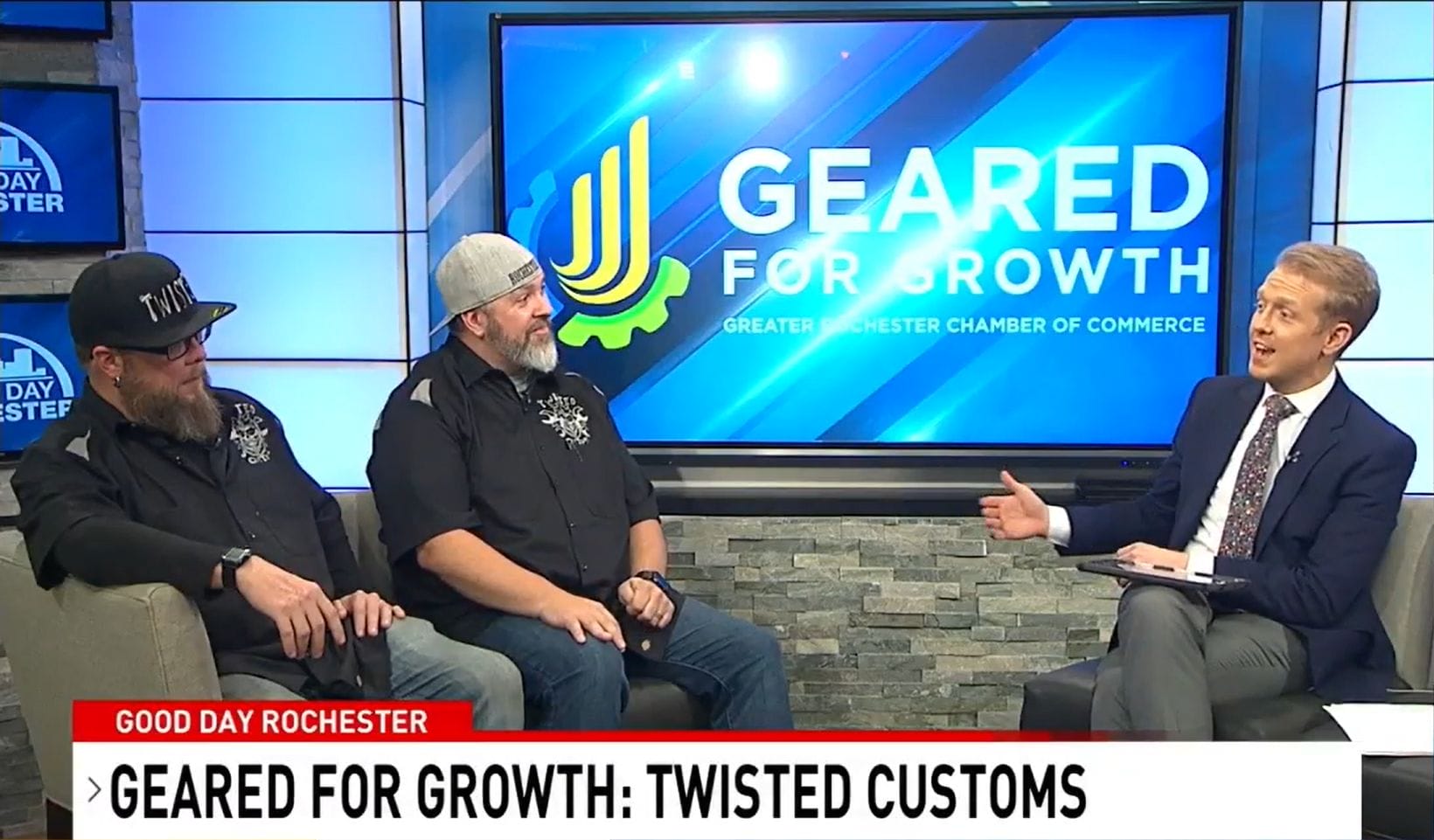 Twisted Customs is connecting with community members to bring ideas and art to life on the streets of Greater Rochester. Business partners Joshua Dibble and Eric Tompkins were featured on Geared for Growth on 13WHAM to share more about how they got started in the community, the people they work with, and their plans for the future.
Twisted Customs is a full service motorcycle shop offering mechanical and design work for motorcycle owners in the community. The business provides everything from general repair for bikes to full customization. This includes things such as paint jobs, painting metal coatings, and adding accessories to bicycles. Launched in 2021, Twisted Customs was
started based on the requests of customers of Joshua and Eric's first business, Twisted Metals which offers powder coating services. "We had a lot of people coming to us in the motorcycle community asking 'can you change the color on this?' which then became 'well, can you take it off my bike to powder coat it?' and then 'while you have my bike, can you add something to it?' and so we saw an opportunity to service Rochester," Dibble explained.
Dibble shared that getting to connect with other people in Greater Rochester and the motorcycle community are the best part of the job for him. He noted that customers and community members always push him and Eric to new levels of creativity and success they couldn't have imagined by themselves.
On the heels of their expansion in June 2022 to a new facility, Joshua and Eric don't plan on slowing down any time soon. When asked about where they hope Twisted Customs will be in five years, they explained that they hope to create a community center for bikers to come together in. "A unique place where people can go with a bar, a shop, a space for customizations, and more. That's my vision of our shop in the next five years, to really create a place for Rochester," Joshua described.
To hear another growth story from a Greater Rochester Chamber member, tune in to FOX Rochester next week on Wednesday, November 1st at 8:45 to catch the next segment of Geared for Growth.