Committee for a Strong Economy Offers Support to Candidates Committed to Regional Growth at Annual Endorsement Night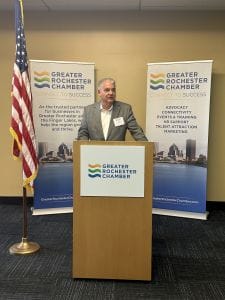 During a well-attended gathering last night at the Greater Rochester Chamber offices, the Committee for a Strong Economy set the stage for the upcoming election by officially endorsing candidates for key positions. The atmosphere was lively as members, endorsed candidates, and community leaders convened for a night that not only endorsed political figures but also celebrated shared values and a commitment to a thriving business ecosystem in the Greater Rochester/Finger Lakes region.
The highlight of the evening was the announcement of endorsed candidates for pivotal positions, including Monroe County Executive, Monroe County District Attorney, the Monroe County Legislature, and the Rochester City Council.
Committee for a Strong Economy Chair, Tim Mason, addressed the attendees, expressing the critical importance of candidates' commitment to public safety, workforce development, and local business support. Mason emphasized that successful businesses are the backbone of job creation and economic growth, key elements in nurturing prosperous communities.
It was reiterated that the Committee for a Strong Economy operates independently from Greater Rochester Chamber. The endorsements were the result of a meticulous and transparent decision-making process conducted by volunteer committee board members. This independence ensures that the Committee's endorsements are a true reflection of candidates' dedication to the region's economic well-being.
Committee for a Strong Economy Endorsement Poster | View photos from the event