Starbridge honors "Community Champion Award" recipients Patrick Staley, Brown & Brown of NY, and WXXI & Golisano Foundation's Move to Include™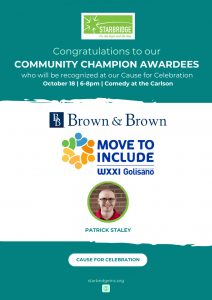 Rochester, NY – Wednesday, October 18, 2023, Starbridge will honor local community members Patrick Staley, Brown & Brown of NY, and WXXI & Golisano Foundation's Move to Include™ as "Community Champions" at its Cause for Celebration fundraising event tonight at Comedy @ the Carlson, 7pm.
Starbridge's Community Champion Awards honor individuals and organizations creating positive change in the lives of people with disabilities in the Finger Lakes region. These annual awards are presented to those who embody Starbridge's values of advocacy, inclusion, innovation, and respect. Champions show leadership and courage in making a difference in their communities. Together in partnership, Community Champions work to transform communities to include everyone – all abilities, races, ethnicities, gender identities, national origin, and other identity groups.
"We would like to express our deepest gratitude to our exceptional Community Champions. Your unwavering dedication towards advocating for inclusivity and driving positive transformation in our community has been truly remarkable. Starbridge is privileged to recognize and commemorate your invaluable contributions. We sincerely appreciate your selfless service and commitment to making a difference. Thank you for your outstanding work!" — Nikisha Ridgeway, President & CEO of Starbridge
Starbridge serves over 11,500 families annually and partners with individuals who have disabilities and their families to achieve success in education, employment, and transitional services. Starbridge is a New York State Parent Training and Information Center (PTIC), serving all of New York State except the 5 boroughs of New York City and Long Island.
"I'm grateful and thankful for the opportunities that Starbridge's "Creating a Life after High School" program has given me. I have always enjoyed sharing my journey with the new future Creating Life participants and their family members through generations. I'm also so glad to help inspire and create hope for others looking to create their own self-directed goals. I'm so honored to receive this award from Starbridge."— Patrick Staley
"Brown & Brown is proud to accept the 2023 Community Champion award. We are honored to have our work recognized in this way. We would like to thank Starbridge and Nikisha Ridgeway for giving us an opportunity to support such a worthwhile cause. Giving back to the community is a principal that we embrace at Brown & Brown. We are grateful and humbled to receive this award. Thank you."— Tarek Eldaher, Executive Vice President, Brown & Brown of NY
"It is an honor to receive recognition for the outstanding work accomplished through the Move to Include™ initiative in collaboration with WXXI. Our long-standing partnership with WXXI has been invaluable in fulfilling our mission to make the world a better place for those with intellectual and developmental disabilities, and this award serves as validation for the credibility and significance of Move to Include." — Erica Dayton, MSL, Executive Director, Golisano Foundation 
"We are honored that our "Move to Include" initiative has been recognized by Starbridge," said WXXI President Norm Silverstein. "Since 2014, we have had the privilege of partnering with the Golisano Foundation on this initiative that uses the power of public media to ensure that a diverse set of voices is heard on our air, online, and in digital and community spaces." — Norm Silverstein, WXXI President
About Starbridge
Starbridge is a 501(C)(3) nonprofit organization serving 11,500 individuals across the Finger Lakes region. Its mission is to partner with people who have disabilities, their families, and others who support them, to achieve success in education, employment, and healthy living. With a vision that every person leads a fulfilling life, we work together to transform communities to include everyone. Visit www.starbridgeinc.org for more information.