Celebrating National Support Your Local Chamber of Commerce Day 2023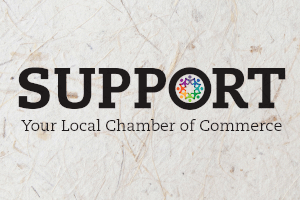 As the leaves change and the air turns crisp, today holds a special significance—it's National Support Your Chamber Day! On October 18th, we celebrate the local chambers and teams that tirelessly support businesses of all sizes - including the Greater Rochester/Finger Lakes region's largest business resource and advocacy organization, Greater Rochester Chamber of Commerce.
Did you know that the concept of chambers of commerce dates back to 1599 in France? Today there are approximately 4,000 local chambers across the United States, a testament to the diverse tapestry of businesses and communities. Learn more about Greater Rochester Chamber's nearly 140-year history here!
Whether you're already a member or not, today is the perfect day recognize the incredible power of a strong united voice in shaping our local business landscape.
Here are some of the reasons Chambers are important to their local communities:
Job Creation and Economic Development: Local chambers, especially Greater Rochester Chamber, are champions of job creation and economic development. They serve as catalysts for growth, fostering an environment where businesses thrive, creating a ripple effect that strengthens our communities.
A Collective Voice: Chambers play a vital role in enhancing the economic fabric of our community. They serve as catalysts for collaboration, fostering an environment where businesses thrive and communities prosper. Chambers amplify the needs and concerns of businesses, influencing policies that pave the way for growth.
Collaboration Across Chambers: Greater Rochester Chamber of Commerce works hand in hand with all local chambers, recognizing and supporting the unique value each brings to its members. By fostering collaboration, we create a network that enhances the collective strength of businesses, providing even more opportunities for growth and success.
Strategic Talent Development: Greater Rochester Chamber is committed to talent development, ensuring businesses have access to a skilled workforce. Through targeted programs and initiatives, we bridge the gap between businesses and the talent they need to thrive.
Driving Economic Prosperity: Economic development is at the core of our mission. We actively work towards creating an environment that attracts investment, fosters innovation, and propels the economic prosperity of the Greater Rochester region.
Advocacy and Issue Support: Our chamber stands as a strong advocate for businesses. We work tirelessly to influence policies at the local and state levels that support the interests of our members, ensuring a conducive business environment.
Human Resources Support: Greater Rochester Chamber provides invaluable human resources support, offering guidance and resources to businesses in navigating the complexities of workforce management.
Dynamic Events and Networking: Engage in a spectrum of events and networking opportunities curated to foster meaningful connections. Our events are designed to provide a platform for businesses to grow, collaborate, and succeed.
"On this National Support Your Chamber Day, I extend a heartfelt thank you to all our members. Your support propels the work we do as we navigate the intricate landscape of business growth, overcoming hurdles and seizing opportunities. Together, quietly and without fanfare, we do our best work, grounded in our passion and relationships. It's through your contributions that we continue to pave the way for the success of Greater Rochester businesses. Your commitment is the driving force behind the results we deliver, and for that, we give credit where it's due. Thank you for being the backbone of our thriving community."

- Bob Duffy, President & CEO of Greater Rochester Chamber
Happy National Support Your Chamber Day, and here's to continued success in #GreaterROC!