$200,000 Investment by KeyBank to Help YWCA Expand Options for Homeless Families in Rochester, NY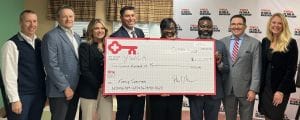 KeyBank is investing $200,000 to help Young Women's Christian Association of Rochester and Monroe County (YWCA) expand efforts to help homeless women and families find appropriate housing and improve financial stability. YWCA has been providing safe, quality housing to women in the Rochester community for nearly 140 years and is the only agency within Monroe County that provides a full continuum of housing options targeting women, from emergency shelter services to permanent housing.
Rochester has very few shelters that can accommodate families in Monroe County as licensing requirements prohibit cohabitating singles with families. Funding from KeyBank will help YWCA as it renovates a facility on Ardmore Street in Rochester that will house a licensed homeless shelter allowing homeless women and their families to stay together while seeking a more permanent housing solution.
"Our investment and support of YWCA is symbolic of KeyBank's purpose to help Rochester and all of the communities we serve thrive," said Phil Muscato, KeyBank Rochester Market President. "The work YWCA will do at this new facility will provide women and families with a safe place to live together. It will also provide them a path to permanent housing and financial stability."
"We are grateful for KeyBank and their unwavering support of our community," said Dr. Myra Henry, YWCA of Rochester & Monroe County. "This expansion of our Emergency Housing services will enable YWCA to open twelve additional units of supportive services and shelter for unhoused families here in the 19th Ward."
Each year, more than 1,200 women and children take the first and subsequent steps to getting their lives back on track as part of YWCA's Housing programs.
Since 2017, KeyBank has made more than $727 million in investments in the Rochester market, supporting affordable housing and community development projects; small business and home lending to low-to-moderate income individuals and communities, and transformative philanthropy.
ABOUT KEYBANK
KeyBank's roots trace back nearly 200 years to Albany, New York. Headquartered in Cleveland, Ohio, Key is one of the nation's largest bank-based financial services companies, with assets of approximately $195 billion at June 30, 2023. Key provides deposit, lending, cash management, and investment services to individuals and businesses in 15 states under the name KeyBank National Association through a network of approximately 1,000 branches and approximately 1,300 ATMs. Key also provides a broad range of sophisticated corporate and investment banking products, such as merger and acquisition advice, public and private debt and equity, syndications and derivatives to middle market companies in selected industries throughout the United States under the KeyBanc Capital Markets trade name. For more information, visit https://www.key.com/. KeyBank is Member FDIC.
ABOUT YWCA ROCHESTER AND MONROE COUNTY
The YWCA of Rochester & Monroe County is a powerful resource in our community. We help women and girls who are faced with personal crises including homelessness and teen pregnancy. We also work hard to dispel stereotypes and promote racial justice. Our goal is to empower women to regain control of their lives and get on the path to a healthy, successful future.