Greater Rochester Chamber Veterans Connect Program Secures Funding for 2023-2024 from Mother Cabrini Health Foundation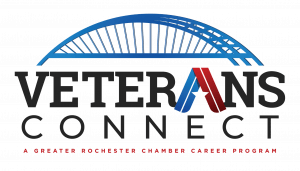 Greater Rochester Chamber of Commerce is pleased to announce that its Veterans Connect program has secured another year of funding from the Mother Cabrini Health Foundation for the 2023-2024 fiscal year. This funding has been instrumental in delivery of essential support and resources to transitioning military service members seeking to relocate into the Greater Rochester/Finger Lakes region.
Yashira Rodriguez, Manager, Talent Strategy Programs and Veterans Connect, said, "The grant funds received have played a significant role in making Veterans Connect possible. We recognize the unique challenges in reaching and assisting transitioning military service members during their last year of active-duty service. Through this generous grant, we have been able to consistently engage with service members on base, providing them with invaluable support and unique experiences."
One of the distinctive aspects of the program involves bringing service members into our region, allowing them to gain a deeper understanding of what it's like to live, work, and play in Greater ROC. This region-specific support has proven immensely beneficial in their reintegration and relocation into our community. At the heart of Veterans Connect's mission is Greater Rochester Chamber's commitment to being advocates and allies during their transition process. Providing guidance on navigating resources that align with Military family needs, among other crucial factors, is also an area of focus for the Veterans Connect Program.
Bob Duffy, President and CEO of Greater Rochester Chamber of Commerce, said, "We are deeply honored to receive another year of grant funding from the Cabrini Health Foundation. This continued support allows us to look forward to providing exceptional service to our Veterans and helping them successfully make the vital connections they need to secure post-service employment opportunities. We are proud to say that, in collaboration with local employers, we have been successful in getting transitioning military service members placed into jobs within the region. We look forward to expanding these partnerships and increasing Veteran employees within our workforce."
Learn more about Veterans Connect - A Greater Rochester Chamber Career Program here.