Buffalo, Rochester, and Syracuse Editorial Board Meetings Propel NY SMART I-Corridor Proposal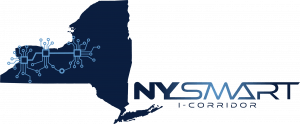 In a significant step toward realizing the potential of the Buffalo-Rochester-Syracuse region, editorial boards from prominent Upstate NY newspapers convened on Wednesday, September 20, 2023 to discuss the creation of the NY SMART I-Corridor as part of the federal Regional Tech Hub initiative.
These thoughtful discussions, hosted by key partners in the regional tech hub initiative, including ROC2025 (a coalition of Rochester economic development organizations that includes Greater Rochester Chamber of Commerce), Buffalo Niagara Partnership, Centerstate CEO, and the Oishei Foundation, are continuing the fan the flame of collaboration and ambition throughout the Upstate New York area.
At its core, the NY SMART I-Corridor initiative holds the promise of pushing the boundaries of semiconductor technology. The pooling of resources and expertise from three major metropolitan areas can unlock innovation that has the potential to revolutionize industries, enhance national security, and drive economic opportunity throughout Upstate NY.
Greater Rochester Chamber of Commerce and its partners in ROC2025 are committed to championing the NY SMART I-Corridor proposal and the shared vision for progress and prosperity that extends across the NY Thruway Corridor, and acknowledges that we are stronger than the sum of our parts.
"When we actually looked at the data, it was eye-opening and compelling. The only real way for us to compete was to go together. We recognized that the competition was out there, not in here. The three communities together are a real force to be reckoned with when we're competing with places like Austin and other target metros. We have the asset base to play in that space, as this exercise has proven beyond a reasonable doubt. We're super excited about the possibility of collaborating and competing with the world, rather than competing with one another."

Dottie Gallagher, President & CEO, Buffalo Niagara Partnership
We thank the Buffalo News, Democrat & Chronicle, and Post-Standard for actively participating in these discussions, and helping to involve the community in this vision. As for our partners in Buffalo and Syracuse, as well as Senator Chuck Schumer, Congressman Joe Morelle, and Governor Kathy Hochul, their unwavering dedication and advocacy for the NY SMART I-Corridor proposal have been instrumental in bringing this vision to life.
Stay tuned for more coverage and conversations with our Upstate NY media partners on this innovative partnership.