Rochester Fringe Festival to Honor Three Rochesterians in 2023 with "Craig Walsh, Monuments"
Rochester Community Nominated Honorees for 3D Video Projection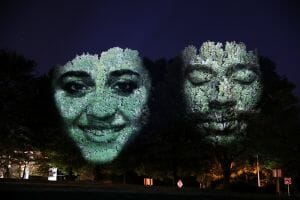 Rochester, NY—The Rochester community has selected three local, unsung heroes whose faces will be projected on downtown trees in a unique 3D video art installation coming to the 2023 Rochester Fringe Festival, September 12-23.
Beginning Tuesday, Sept. 12, Craig Walsh: Monuments, an extraordinary site-responsive, outdoor video projection event, will take place from 8 p.m. to 10 p.m. every night of the festival, on the trees at Third Presbyterian Church, 4 Meigs Street. Viewing Monuments is free.
Artist Craig Walsh endeavors to provide an answer to the question: What does it mean to honor someone with a monument…and who should be honored in such a public way? Customized for each community that hosts this work, Craig Walsh, Monuments has mesmerized audiences around the world.
"Third Church is thrilled to host Craig Walsh, Monuments," said the Rev. Rebecca Segers, Pastor of Third Presbyterian Church, "in part because it resonates so well with what we seek to do in the world: that is, humbly serve people in whatever ways we can without the hope or expectation of reciprocity."
The festival asked the community to nominate people in the greater Rochester area who deserve recognition, but who otherwise might never rise to public consciousness.
"We received nominations of exactly the people we were looking for—individuals who may be very special to a small group, a family, or an organization, but who may never be recognized in any other way," said Erica Fee, Rochester Fringe Festival Producer and CEO.
Built for the great outdoors, Craig Walsh, Monuments projects large-scale, 3D video portraits of the honorees onto live trees in a public space after dark. The projections transform the trees into sculptural monuments in gentle perpetual motion, presenting a haunting synergy between the human form, nature, and the act of viewing. A standing display at the site will provide a short biography of each honoree and their profession, volunteer work, or other reasons they were selected for this installation.
Hailing from Brisbane, Australia, Craig Walsh is a visual artist who has become internationally known over the last 30 years for his pioneering works, including innovative approaches to projection mapping in unconventional sites. Beyond trees, his site-responsive works have animated natural environments and features including rivers and mountains, as well as urban and architectural spaces. Walsh's work remains distinctive for its conceptual underpinnings and deftly woven narrative. He considers it "a great privilege to be working with this group of Rochester residents and to be able to acknowledge their contribution to this community through this installation," he said.
Craig Walsh, Monuments has received glowing reviews for its unusual presentation and its recognition of people whose roles in their community might otherwise go unnoticed. "By calling these works monuments, Walsh positions the luminescent faces in the fraught, timely debate over whom we should honor in public space—and how," said Kelsey Ables of the Washington Post. "Physically, the works resist what we think of when we think of monuments. Made of light, the diaphanous compositions are practically immaterial and as fleeting as the autumn foliage that holds them. Captured on video, the subjects are in constant motion. Even the smallest shifts in expression, rippling over hundreds of leaves, feel weighty."
The Monuments Process
The Rochester Fringe Festival Board of Directors assembled a task force to review the nominations and select six subjects to celebrate through this stunning portraiture.Three of these people will be honored during the 2023 festival, and  If funding is secured to repeat this exhibition, the Fringe hopes to honor three more heroes in this way at the 2024 festival.
Walsh creates videos of the three faces in each installation. He takes extended clips of them staring into the camera and making very subtle movements, like blinking and swaying ever so slightly. He then picks the trees, and sizes the videos so that the faces take up the entire expanse of the tree's foliage.
2023 Honorees
Liza Robbins Theuman
When Penfield resident Liza Robbins Theuman realized that the Bagel Land store in Brighton discarded its unsold bagels at the end of the day, she understood immediately that those remaining bagels could help to sustain food-insecure people in the community. She contacted several soup kitchens in town, and organized volunteers to pick up the bagels every day and bring them to Temple B'rith Kodesh (TBK), where volunteers bag and deliver them to the soup kitchens. Discovering another opportunity to redirect food that would otherwise be discarded, she arranged a similar process involving Trillium Health, an agency that specializes in providing health care to the LGBTQ+ community. Starbucks gives its leftover baked goods to Trillium at the end of each day, but the healthcare organization does not use everything it receives—so Liza's team retrieves and redistributes these extra baked goods as well. This summer, Liza also organized Black and Jewish women in the community to provide backpacks full of non-perishable food items for 55 summer campers from low-income families, every week for six weeks. Liza sought and received donations and grants for the project, made the arrangements with the receiving camp, and arranged for volunteers from both sponsoring women's groups to load the backpacks each week. The food provided was enough to feed each campers' family, not just the camper. Liza also co-chairs TBK's Thanksgiving basket project, arranging for the donation of 150 food baskets to be delivered to Baden Street Settlement, Family Promise of Greater Rochester, Brighton Food Cupboard, and TEMPRO. She is a tireless champion for people in Rochester who experience food insecurity on a daily basis.
Ronnie Reitter (Seneca, Wolf Clan)
Raised away from her home community, Ronnie Reitter did not receive the traditional cultural teaching that most young Senecas do. This gap in her knowledge led her to reconnect with her heritage as an adult, seeking out her Seneca community and immersing herself in Seneca and Haudenosaunee culture and traditions. She became an accomplished Seneca/Haudenosaunee storyteller, as well as a cornhusk artist, a traditional beader, and a seamstress, creating one-of-a-kind ribbon shirts, ribbon skirts and shawls. She shared her culture for many years with the Greater Rochester community while working at the Ganondagan State Historic Site, a National Historic Landmark at the former site of a 17th century Seneca town. Even though she has retired, Ronnie continues to play a major role in sharing Seneca and Haudenosaunee culture through storytelling, presentations, workshops and traditional arts. Ronnie's generous spirit has helped to educate both Native and non-Native people alike, including thousands of local students and teachers.
Patricia McKinney
Patricia started her career with the Rochester City School District as a custodian, but it soon became clear that she was capable of much more. With her personal experience as an RCSD graduate and opportunities and training provided by her employer, she became the Parent Liaison for Francis Parker School No. 23 in the Park Avenue neighborhood, and in no time she had become a beloved member of every student's life at school. From helping students find their classrooms on the first day of school to planning community-wide events, Patricia forms a relationship with every student and their parents,  checking in with them regularly about their children's activities in school. She sought training in therapies that she can use with the students who need extra help and attention, working one-on-one with them to improve their experience and their ability to learn. Students so enjoy Patricia's participation in their school that having lunch with her has become a treasured reward! Beyond her job responsibilities, Patricia plans special events like talent shows and presentations by students from other schools, back-to-school events, and community-based learning experiences. She even organizes the Thanksgiving basket drive during the holidays.
2024 Honorees
Ann Culbreth
Bringing fresh fruits and vegetables into urban communities has become a challenge for cities across the country. In Rochester's South Wedge, Ann Culbreth and her husband, Felton, took the lead in creating two community gardens on Hamilton and Cypress streets, with a total of 59 plots of land that residents can use to grow their own fruits and vegetables—while beautifying the neighborhood with three seasons of flowers. Ann handled the administration of these gardens, from taking applications for plots to inspections for invasive species—all while working as a teacher's aide for special needs students with the Rochester City School District, and volunteering with her church, Memorial AME Zion. The gardens, in turn, have led to stronger bonds between neighbors through their shared enthusiasm for urban agriculture. Ann and Felton retired from the gardens in 2020, but their legacy lives on in the abundance these gardens produce for city residents. "It was never about two people," she told The Wedge newspaper. "It was about a community of gardeners."
Kristin "Kat" Sweeney
Nothing motivates Kat Sweeney like an opportunity to stand up for the rights of the Rochester LGBTQ+ community. WAYO 104.3 FM listeners know her involvement in the Rainbow ROC show, where she amplifies LGBTQ+ voices and narratives, but her contributions to the community go far beyond this. She co-founded the Rochester LGBTQ+ Together group, and has been an instrumental force in the development, administration, and expansion of numerous LGBTQ+ outreach programs for more than a decade. Most recently, she serves as secretary for We Exist Finger Lakes, a new nonprofit for amplifying transgender voices. Kat has confronted oppression boldly  right here in our community, dismantling institutional discrimination involving gender identity, sexual orientation, race, disability, marital status, and health status. Kat has even confronted discrimination in her own front yard, as neighbors took issue with her displaying a rainbow flag. Rather than faltering, she demonstrated extraordinary resilience and established "Kat's Big Gay Yard," a vibrant display of LGBTQ+ pride that transformed her yard into a local beacon of inclusivity. Kat's influence on the Rochester LGBTQ+ Community is immeasurable, exemplifying the potential for positive change when met with unwavering determination and a commitment to embracing diversity.
Bruce Schaubroeck
The great, great House of Guitars is an international legend and a must-stop for visiting musicians and music lovers from all over the world—but only a handful of people know that Bruce Schaubroeck, co-founder of the HOG and owner with his brother, Armand, has supported music, musicians, and music education throughout the store's 59-year history. Growing up one of four siblings in a low-income household, Bruce knows what not having resources is like—so he has given away untold amounts of equipment and instruments to young people to help them study and make music. When a Rochester City School District music teacher contacted him for a pair of used drumsticks for a student, Bruce went into his stock and provided a dozen pairs of brand-new sticks free of charge—a deed he has repeated countless times. When the Make-A-Wish Foundation brought a young man to the store for music lessons, the HOG supplied him with a guitar and enough lessons to play a song, and then arranged for a recording session in a professional studio, and presented him with a CD of his own performance. And when musicians arrive at the Rochester International Jazz Festival, the Lilac Festival, or a benefit concert without the amplification or musical instruments they need to perform, Bruce loans the equipment as a donation. He and his family even spend Thanksgiving Day working with the Kiwanis Club at Christ the King Church  to prepare dinners and distribute them to city families.  "He is generous, kind and humble," said nominator Jeanne Colombo. "He does it for free, and he does it quietly."
MORE ABOUT ROCHESTER FRINGE FESTIVAL:
The 12-day Rochester Fringe Festival is the largest multidisciplinary performing arts event in New York State. Since the festival's inception in 2012, nearly 670,000 people have attended more than 4,500 performances by regional, national, and international artists, from emerging to superstar. From drama to dance, comedy to children's entertainment, music to magic, and so much more, this internationally-known powerhouse encourages creative expression while nurturing the artistic process, all while supplying new audiences to established and emerging arts venues. The Rochester Fringe Festival strives to be diverse and inclusive, and to stimulate downtown Rochester both culturally and economically.
MORE ABOUT FRINGE FESTIVALS:
In 1947, eight theatre groups showed up—uninvited—to perform at the newly established Edinburgh International Festival in Scotland. Although not listed in the official program, the groups performed anyway, at venues they found for themselves. The following year, a Scottish journalist coined the term "Festival Fringe" to describe these non-curated shows that began turning up annually. The Edinburgh Fringe is now the world's largest arts festival and the third largest event after the Olympics and the World Cup.  Today, there are more than 300 Fringe festivals worldwide, with nearly 50 in the United States. The Rochester Fringe Festival was the first in Upstate New York.
ROCHESTER FRINGE SPONSORS:
Sponsors include New York State Council on the Arts; University of Rochester; Monroe County; Ames Amzalak Memorial Trust; Daisy Marquis Jones Foundation; Rochester Area Community Foundation; Nocon & Associates; ESL Foundation; RIT; Elaine P. and Richard U. Wilson Foundation; Louis S. and Molly B. Wolk Foundation; Konar Enterprises; Mary Mulligan Trust; Max and Marian Farash Charitable Foundation; VisitRochester; Nazareth University; St. John Fisher University; Monroe Community College; The Pike Company; 13WHAM TV; CITY Magazine; D&C Digital; WXXI; Fred & Floy Willmott Foundation; Wegmans; Hyatt Regency Rochester; Canandaigua National Bank; Genesee Beer; Black Button Distilling; The Rubens Family Foundation; City Blue; Aspire Transformation Services; Hamilton A/V; Wilkins RV; McCarthy Tents & Events; Broccolo Tree & Lawn Care; The Harley School; Boylan Code; Bond Schoeneck & King; Yelp!; and the House of Guitars.