Dancing with The Arc Slated for Tuesday, September 5 at Innovative Field
The inaugural dance competition partners 5 Rochester celebrities with 5 people supported by The Arc of Monroe.
ROCHESTER, NY – Following a forced rescheduling due to poor air quality from The Canadian Wildfires, The Arc of Monroe will hold its inaugural "Dancing with The Arc" event on Tuesday, September 5th at Innovative Field, One Morrie Way, Rochester. Doors open at 5 pm and showtime is at 6 pm.
Five Rochester celebrities have been partnered with a person supported by The Arc of Monroe. Together, they have embarked on a magical journey to learn a fun dance. They've made their musical selections and are hard at work practicing their numbers; the duos will perform their dance for a panel of celebrity judges on September 5th. The event will be emceed by Scott Spezzano and Sandy Waters from 98.9 The Buzz. Celebrity judges include Norma Holland from the University of Rochester School of Medicine and Dentistry, Jennifer Johnson from Golisano Children's Hospital, Dino Kay from Fickle 93.3 and Dan Mason from the Rochester Red Wings.
Tickets for Dancing with The Arc are $25 each and come with a $10 food and beverage credit for September 5th at the ballpark. They can be purchased at ArcMonroe.org/Dancing or at the door.
Rochesterians can vote for their favorite dance duo by clicking on their "Vote Now" button at ArcMonroe.org/Dancing. Each vote costs $5 and all proceeds go to The Arc Foundation of Monroe – the Foundation's mission is to raise and manage funds to enhance the quality of life for those supported and employed by The Arc of Monroe.
This year's dance pairs include: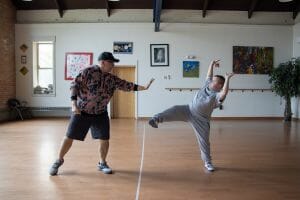 Mrs. Kasha Davis & Mike Hayes | https://arcmonroe.org/KashaDavisMike
Celebrity Dancer Mrs. Kasha Davis is not just well-known in Rochester, but across the United States. She performs her free, family-friendly program, Imagination Station, at Rochester's Blackfriar's Theater where she teaches love and acceptance and celebrates the beauty of how kindness and diversity can change the world. In 2015, she competed in the seventh season of RuPaul's Drag Race and All Stars 8. Her The Arc of Monroe partner, Mike Hayes, is a part of The Arc's Community Arts Connection (CAC) dance troupe. His favorite musical is SpongeBob The Musical and he can perform every step of the Jersey Boys Musical choreography.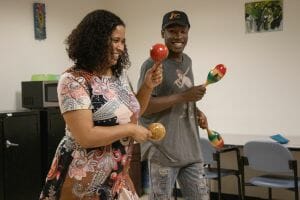 Jazzy T from WDKX & Cedric Hurell | Vote: https://arcmonroe.org/JazzyCedric/
Celebrity Dancer Jazzy T has been in the entertainment industry for most of her career, spending 3 years on News 10 NBC in Rochester as the traffic reporter and as a digital producer. In 2021, she launched the JazzCast Pros Podcast Network. She is also the afternoon host at WDKX 103.9's "Rochester's Best Ride Home!" Her The Arc of Monroe partner is Cedric Hurell. Cedric loves performing music with CAC Rhapsodies, the Community Arts Connection band. You can also catch him performing at church as well as A Moving Experience. When he's jamming, his main instrument is electric bass.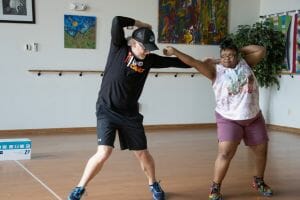 Todd Youngman from Comedy at the Carlson & Autumn Ealey | Vote: https://arcmonroe.org/ToddAutumn/
Celebrity Dancer Todd Youngman took the leap into becoming a stand-up comedian at the age of 40 when he participated in a showcase at the Rochester club Comedy at the Carlson. He got laughs… and the rest is history. Now he's a regular comic at the club where he's also the marketing guru. His The Arc of Monroe dance partner is Autumn Ealey. Autumn is a performer with A Moving Experience where you can catch her lighting up the dance floor with her favorite dance move – the twirl and strike a pose. Her favorite movie is Aladdin, and when it comes to picking her favorite Disney princess, it's Snow White all the way.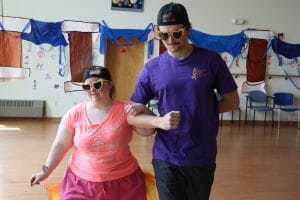 Understudy Cameron Steer from American-Scottish Foundation & Emily Ogle |
Vote: https://arcmonroe.org/EmilyCameron
Emily's partner Sam Carter, original celebrity dancer from 13WHAM, recently left the Rochester area to pursue an amazing opportunity and is asking that everyone please support his understudy, Cameron Steer, as he fills his dancing shoes. Originally from the UK, Cameron is a natural athlete and is the Engagement Ambassador and Events manager for American-Scottish Foundation. He is a legend at The Arc's Community Arts Connection program. His The Arc of Monroe partner is Emily Ogle. Emily is a performer with the Community Arts Connection dance troupe, A Moving Experience. Music is in her heart and soul, and she simply adores music from Moulin Rouge. You can call her by her nickname of Giggles because of her infectious laugh.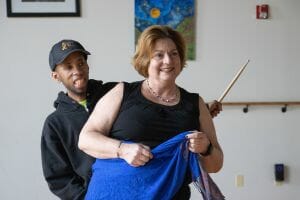 Donna Dedee from Holy Childhood & Marce Simmons | Vote: https://arcmonroe.org/MarceDonna/
Celebrity Dancer Donna Dedee is the president and CEO at Holy Childhood and Special Touch Bakery, an organization that serves children and adults with different abilities. She graduated with her bachelor's degree in communication/journalism from St. John Fisher and went on to be an anchor and reporter at News 10 NBC in Rochester and then the news director for Fox Rochester. Later, she worked in marketing and communications at the United Way, then became president and CEO for Bishop Kearney High School. Her The Arc of Monroe partner – Marce Simmons – is a performer with A Moving Experience. He also loves performing music at his church. He's a part of the CAC Rhapsodies musical group where his main instrument is drums, but he also plays guitar and keyboard. He would like to continue growing his music skills and learn the electric bass.
CAC's "Mindful Making" fiber arts class is making the dancers' costumes, while choreography is being done by CAC instructors Shelley Ball, Carly Cerasuolo and Ashley Schwartz.
For more information, visit ArcMonroe.org/Dancing.
About The Arc of Monroe
The Arc of Monroe has been working passionately for over 65 years to enhance the quality of life for people with intellectual and developmental disabilities. The Arc shines a light on the abilities of the people it supports – over 1,500 people in 40 locations throughout Monroe County. As an organization with over 800 employees, The Arc is committed to supporting the local economy by being a partner and collaborator that aids in the economic development of the Monroe County community. Learn more at ArcMonroe.org.