Fringe Street Beat Dance Competition Set for Saturday, September 23 at 2023 Rochester Fringe Festival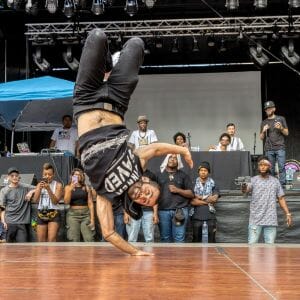 Rochester, NY—Fringe Street Beat, an all-out battle of breakdancing, street dance, krumping, popping, and more, showcasing top talent from across the Northeast, returns to the Rochester Fringe Festival for the eighth year on Saturday, Sept. 23, from 1:00 to 5:30 p.m. The competition—one of the most popular, well-attended, family-friendly FREE events at the festival—takes place at Dr. Martin Luther King Jr. Park (MLK Park), 353 Court Street. This year's competition will be amped even more than usual because it coincides with the 50th Anniversary of Hip Hop.
"We are more excited than ever for this annual competition, and to be part of the 50th Anniversary celebration in New York State as well as around the world," said Erica Fee, Rochester Fringe Festival Producer and CEO. "Street Beat is a wonderful way to celebrate what this music means to our community—the audience as well as the dancers—and to connect our festival with this worldwide hip-hop event."
Dancers thrill the crowd with their jaw-dropping moves as teams bring their A-game—and their adrenaline—to every round. The afternoon begins with preliminary trials from 1 p.m. to 3:30 p.m., and leads to the epic final dance battle beginning at 4 p.m. Finalists compete for a grand prize of $1,200.
Ithaca's own DJ ha-MEEN provides the music, and a panel of judges from New York City and beyond determines the winners of each round.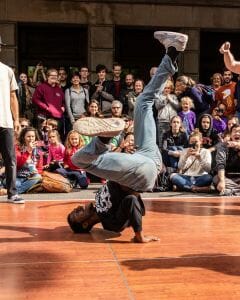 Teams of a maximum of three members have until midnight on Friday, Sept. 22 to register online at rochesterfringe.com/streetbeat, and pay a nominal registration fee of $5.00 per team. Any remaining competing teams' slots will fill starting at 12 p.m. on Saturday, Sept. 23, at MLK Park. Up-to-date news about teams, remaining slots, and other information is available on the 2023 Street Beat Facebook page at https://www.facebook.com/events/1064471647857547 .
"The Street Beat is special for the same reason the dance community at large is special: the community," said William Young, Fringe Street Beat coordinator. "There's the flashy moves, the attitudes, and the music, but above all, what I love most is the people that come together to celebrate all of it. Dancers are some of the most positive and welcoming people I have ever met, and Street Beat is a love letter to this concept; a chance to give back to a community that has given me so much. It is also a chance for dancers to compete and show how they've grown as artists and people. And most importantly, it is a chance for anyone who wants to become a dancer to become inspired."
This Year's Fringe Street Beat Judges:
Maine (Jermaine Barber), a professional Krump and Praise dancer, has taught, performed, and competed locally and across the country. Maine appeared on Season 17, Episode 2 of So You Think You Can Dance, and made it to the top 42 performers that season. When not dancing, Maine is an English teacher and track coach at Sodus Junior/Senior High School.
Nebz (Michael Nebz Narine) is a bboy from Queens, NY, whose work ranges from breaking to acting and commercial modeling. He served as cinematographer on the feature film Germaphobe (2021), and has acted in commercials, danced in music videos, worked as an entertainer for the NBA, and continues to teach at dance studios.
Poppin' Fresh (Jake Gellis) started out in street dance as a bboy in the late 1990s on Long Island and in New York City. He learned the Popping dance style in the early 2000s and loved it so much that it became his biggest focus. Since then, he has become known internationally for his support of street dance and has traveled to hundreds of street dance events and competitions all over the world. He began competing in upstate New York in 2007, and previously has been a Fringe Street Beat competitor.
MORE ABOUT ROCHESTER FRINGE FESTIVAL:
The 12-day Rochester Fringe Festival is the largest multidisciplinary performing arts event in New York State. Since the festival's inception in 2012, nearly 670,000 people have attended more than 4,500 performances by regional, national, and international artists, from emerging to superstar. From drama to dance, comedy to children's entertainment, music to magic, and so much more, this internationally-known powerhouse encourages creative expression while nurturing the artistic process, all while supplying new audiences to established and emerging arts venues. The Rochester Fringe Festival strives to be diverse and inclusive, and to stimulate downtown Rochester both culturally and economically.
MORE ABOUT FRINGE FESTIVALS:
In 1947, eight theatre groups showed up—uninvited—to perform at the newly established Edinburgh International Festival in Scotland. Although not listed in the official program, the groups performed anyway, at venues they found for themselves. The following year, a Scottish journalist coined the term "festival fringe" to describe these non-curated shows that began turning up annually. The Edinburgh Fringe is now the world's largest arts festival and the third largest event after the Olympics and the World Cup.  Today, there are more than 300 Fringe festivals worldwide, with nearly 50 in the United States. The Rochester Fringe Festival was the first in Upstate New York.
ROCHESTER FRINGE SPONSORS:
Sponsors include New York State Council on the Arts; University of Rochester; Monroe County; Ames Amzalak Memorial Trust; Daisy Marquis Jones Foundation; Rochester Area Community Foundation;; RIT; Max and Marian Farash Charitable Foundation; Nocon & Associates; ESL Foundation; Elaine P. and Richard U. Wilson Foundation; Louis S. and Molly B. Wolk Foundation; Konar Enterprises; Mary Mulligan Trust; Lake Placid Center; Golisano Foundation; Villa Albertine; Nazareth University; St. John Fisher University; Monroe Community College; The Pike Company; VisitRochester; 13WHAM TV; CITY Magazine; D&C Digital; WXXI; Fred & Floy Willmott Foundation; Wegmans; Hyatt Regency Rochester; Canandaigua National Bank; Genesee Beer; Black Button Distilling; The Rubens Family Foundation; City Blue; Aspire Transformation Services; Hamilton A/V; Wilkins RV; McCarthy Tents & Events; Broccolo Tree & Lawn Care; The Harley School; Boylan Code; Bond Schoeneck & King; Yelp!; and the House of Guitars.