Geared for Growth: The Hideaway Cooking Up New Relationships and Restaurants in Greater Rochester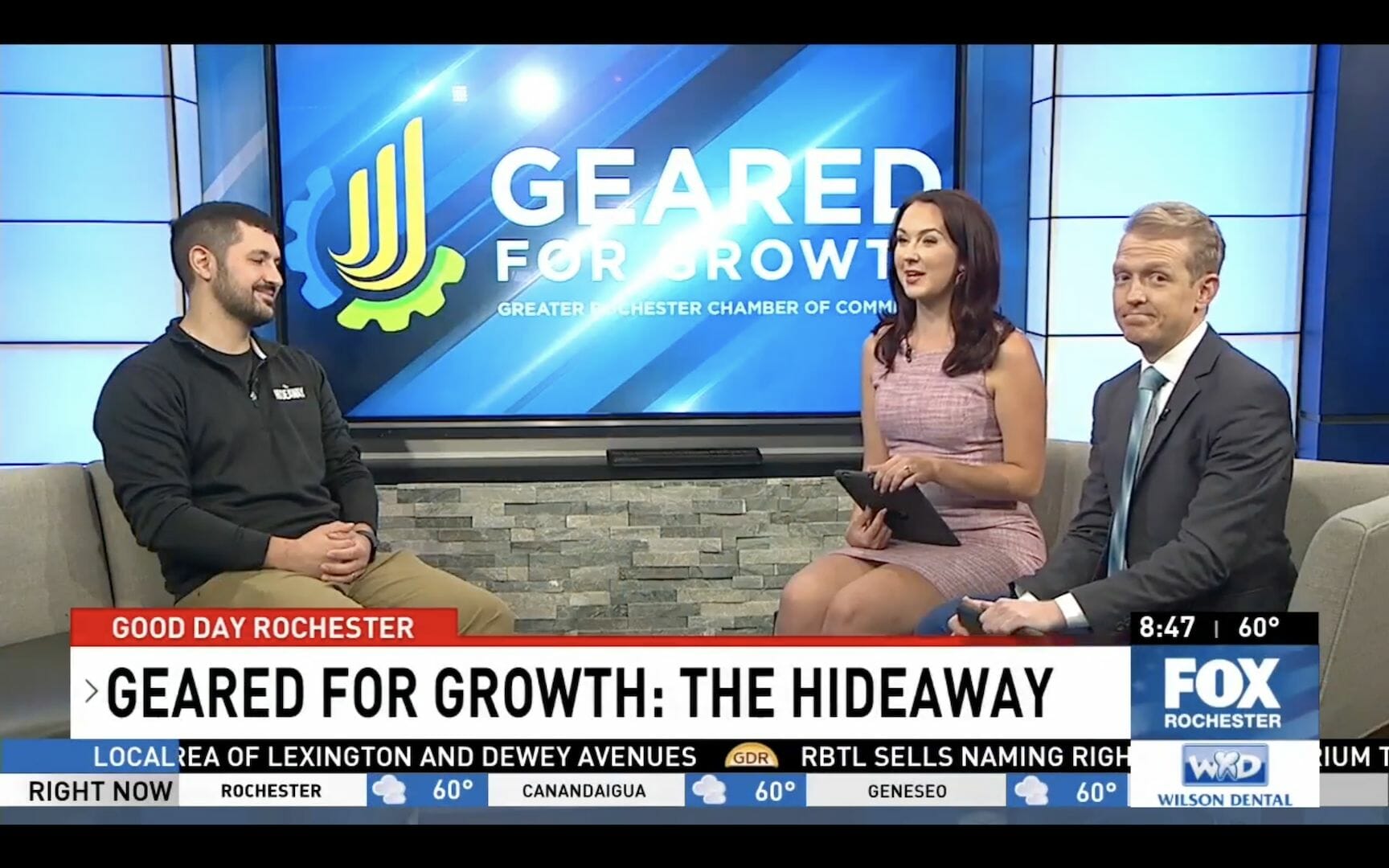 Max Gordon, President of The Hideaway, was featured on "Geared for Growth" on Wednesday, August 23rd as part of Greater Rochester Chamber's ongoing partnership with 13WHAM. Gordon discussed the company's three locations in Rochester, how they've expanded over the past five years, and what is next for the company.
Max has owned The Hideaway on Park Ave for six years and experienced growth throughout the pandemic, a testament to their flexibility and resilience garnering community support during uncertain times. Since 2018, they have also offered catering from The Hideaway offering service for "everything from corporate events to weddings, baby showers, bridal
parties, and more." Gordon noted that the catering arm of his business is his favorite because of the people he gets to work with: "When somebody comes into a restaurant, I may have 5 or 10 minutes to talk to you before I ruin your night out. With catering, I am most likely talking to you over a year, so I get to know you, and there's nothing better than that." Additionally, as of two and a half years ago, Gordon has taken over other restaurants not under The Hideaway brand including Bar Bantam in The Metropolitan building and The Penthouse at One East Avenue.
Max credits his success story to the relationships he's developed and his pulse on the community as a Rochester native. Gordon has worked in many different restaurants in the industry here including Black and Blue, Jojo, and the Blossom Road Pub. His partners at Blossom Road Pub had an agreement for him to run the restaurant, and helped him take over Hogan's Hideaway, which eventually turned into The Hideaway. "You have to continually look at the landscape and see what makes the most sense," he explained, "Look where you can continue to grow, and where the market is heading." On that note, Gordon explained that right now, the market is leaning heavily into events and catering in the post-pandemic world and that is what he sees his business focusing on moving forward.
Reflecting on his growth, Gordon shared that the biggest way he has developed as a business owner over the past six years is his comfortability admitting what he doesn't know and trusting other experts with his businesses. "Hire somebody better than yourself. I've got a great business partner and management team across the board who know way more than I do in their fields and focus on making sure they have the tools to succeed," he shared as advice for other business owners looking to grow.
Don't miss our next Geared for Growth interview on Wednesday, August 30th at 8:45 AM on FOX Rochester to hear more business growth stories in Greater Rochester!