Matt Morgan and Heidi Brucker Return to Rochester Fringe Festival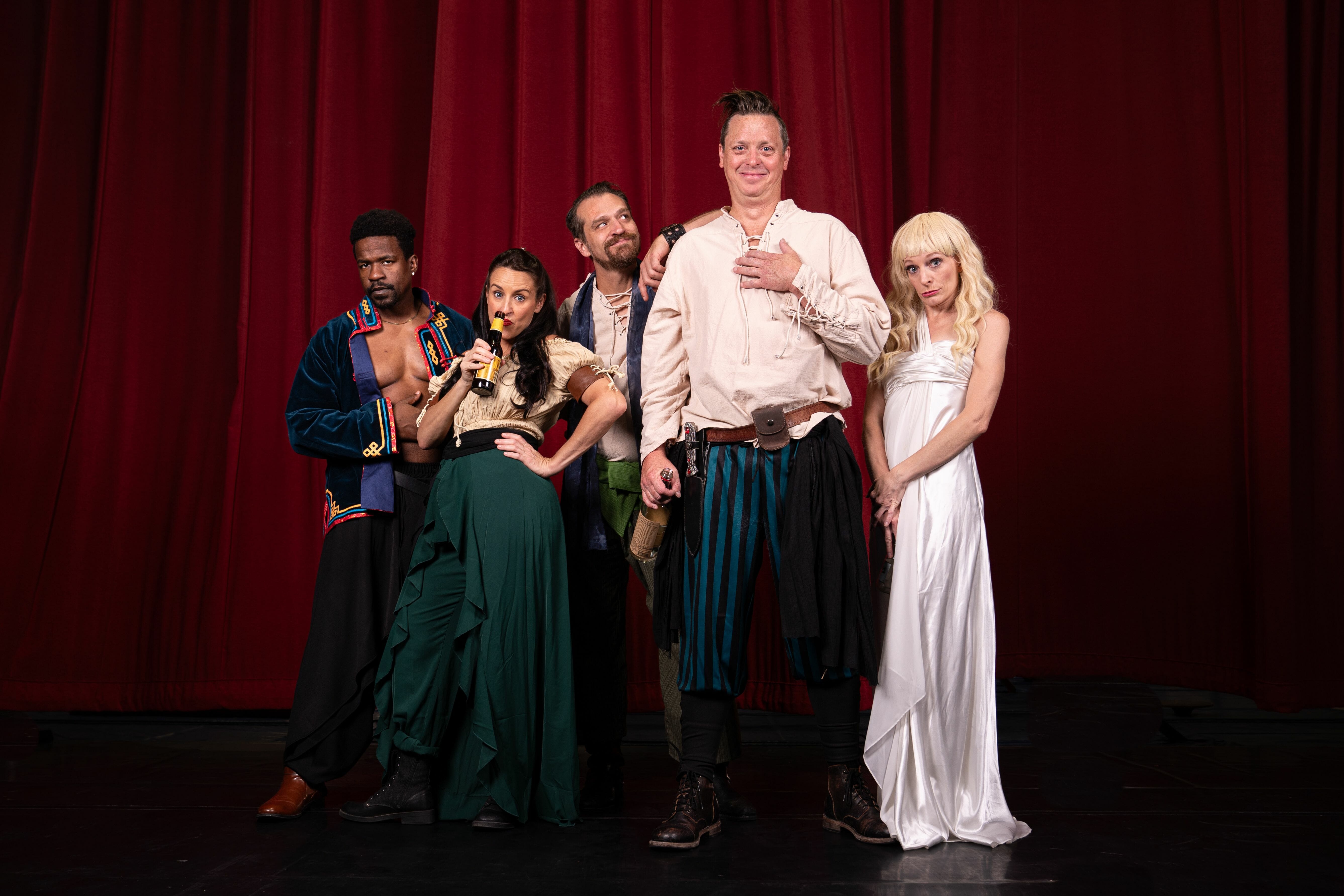 Rochester, NY—Rochester Fringe Festival favorites Matt Morgan and Heidi Brucker Morgan are returning to the Rochester Fringe Festival this year in an all-new production of Shotspeare, one of Rochester Fringe's most popular events, in the festival's sparkling Spiegeltent for a limited engagement of five nights only: Tuesday, Sept. 19 through Saturday, Sept. 23, at 9 p.m. Shotspeare features five sword-wielding actors performing a work of Shakespeare—this year, a world premiere of Othello—in a speedy, boozy 90 minutes.
In addition, Matt Morgan has also directed and stars in The Comedy Trio Happy Hour in The Meaning of Life, with long-time comedy colleagues Mark Gindick and Ambrose Martos, for three nights only (September 14, 15 and 16) in the Spiegeltent. The trio previously had a successful Off-Broadway run and performed at the Edinburgh Fringe Festival, and as solo artists, they have traveled the world with Cirque du Soleil, the Big Apple Circus and Spiegelworld. In a show that is very physical, occasionally sexy, somewhat dangerous, potentially intelligent, and always hilarious, the trio last performed together at the 2021 Rochester Fringe in the smash Cirque du Fringe: AfterParty.
Shotspeare's Othello
With rave reviews from New York City, Las Vegas, Adelaide Fringe, and Rochester media, Shotspeare takes the world's most famous playwright, soaks him in beer, flips him on his head, throws in a Wheel of Soliloquy, and even grabs an audience member to participate. "Brilliantly conceived," crows TimeOut New York, while the Australian media outlet The Clothesline calls Shotspeare, "Fun, bawdy, and completely irreverent."
Shotspeare stars Matt Morgan and Heidi Brucker Morgan created and directed Cirque du Fringe for the Rochester Fringe Festival from 2015 to 2022. Veteran actors, clowns, comedians, hosts and show creators, Matt and Heidi have appeared on Broadway at the New Victory Theater, headlined Germany's Circus Flic Flac, and spent 10 years clowning and hosting Spiegelworld's Las Vegas smash hit, "Absinthe." With Spiegelworld, they have also headlined shows in Los Angeles, Australia, and Canada. Matt and Heidi recently co-produced two large-scale productions for the Las Vegas community in a 600-seat classic circus tent from Spain: the Halloween-themed "Mr. Bizzaro's Big Top Boo Bash," and the holiday show "Dingle Bells." In early 2021, Matt and Heidi founded the Nevada Shakespeare Festival in partnership with the City of Henderson, in an open-air theater in the heart of the Water Street District.
Jamey Maurice Clay makes his Shotspeare debut with Othello. Most recently, he performed in The Piano Lesson, Skeleton Crew and An Oak Tree with A Public Fit Theater in Las Vegas, and  A Soldier's Play at the Smith Center with Broadway in the HOOD. He trained at the Susan Batson Studios in New York City and has studied with acting instructors Carl Ford, Richard Handy, and Nina Binder.
Christopher Brown has performed on stages in New York City, Chicago, Washington, DC; Nashville, and internationally. He was a Blue Man in Blue Man Group, has performed in Speigelworld's OPM, and he facilitates magic for Piff the Magic Dragon and performs the voice of Mr. Piffles. His movie and television roles include Jamis in Dune for the SciFi Channel, and he stars in the upcoming film Darkest of Lies, streaming on Tubi, Hulu and Amazon.
Jamie Carvelli Pikrone's career includes roles in Life Sucks, Mr. Burns, The Wolves and The Nether for Vegas Theatre Company, August Osage County, Small Mouth Sounds and When the Rain Stops Falling at A Public Fit,  in Titus Andronicus at the Insurgo Theater, and in Extremities at the Las Vegas Little Theatre.
Tickets to Shotspeare are on sale now:
Tuesday, Sept. 19, Wednesday, Sept. 20 and Thurs., Sept. 21, 9:00 p.m.:
Single Ticket: $28 (increases to $33 on 9/2)
NEW IN 2023: FRONT ROW Single Ticket (18 total): $33 (increases to $38 on 9/2)
VIP Booths: $156 (increases to $174 on 9/2)
Friday, Sept. 22 & Saturday, Sept. 23, 9:00 p.m.:
Single Ticket: $36 (increases to $40 on 9/2)
NEW IN 2023: FRONT ROW Single Ticket (18 total): $41 (increases to $46 on 9/2)
VIP Booth (Seats 6): $194 (increases to $209 on 9/2)
Tickets are available online: rochesterfringe.com; phone: (585) 957-9837 (additional fees apply). In person during the festival: at the door of the venue or at the One Fringe Place Box Office, corner of Main and Gibbs Streets. Please Note: This show is appropriate for audiences 21 or over only. IDs will be checked at the door.
The Comedy Trio Happy Hour: The Meaning of Life
Mark Gindick—host of Late & Live (as seen on "The Late Show with David Letterman" and "Late Nite with Conan O'Brien), and actor/comedian Ambrose Martos ("The Marvelous Mrs. Maisel" and many others) join Matt Morgan for a rollicking evening of comedy. The trio met as Ringling Brothers and Barnum & Bailey Clown College classmates. The New York Times calls The Comedy Trio's off-Broadway run "hilarious." Adds the Village Voice: "With meticulous execution, steady wit, and inventive personas, it's easy to see how Happy Hour could become a habit."
Tickets to The Comedy Trio Happy Hour are on sale now:
Thursday, Sept. 14, Friday, Sept. 15, and Saturday, Sept. 16, 9:00 p.m.
Single Ticket: $33 (increases to $38 on 9/2)
VIP Booths: $156 (increases to $178 on 9/2)
Tickets are available online: rochesterfringe.com; phone: (585) 957-9837 (additional fees apply). In person during the festival: at the door of the venue or at the One Fringe Place Box Office, corner of Main and Gibbs Streets.
MORE ABOUT ROCHESTER FRINGE FESTIVAL:
The 12-day Rochester Fringe Festival is the largest multidisciplinary performing arts event in New York State. Since the festival's inception in 2012, nearly 670,000 people have attended more than 4,500 performances by regional, national, and international artists, from emerging to superstar. From drama to dance, comedy to children's entertainment, music to magic, and so much more, this internationally-known powerhouse encourages creative expression while nurturing the artistic process, all while supplying new audiences to established and emerging arts venues. The Rochester Fringe Festival strives to be diverse and inclusive, and to stimulate downtown Rochester both culturally and economically.
MORE ABOUT FRINGE FESTIVALS:
In 1947, eight theatre groups showed up—uninvited—to perform at the newly established Edinburgh International Festival in Scotland. Although not listed in the official program, the groups performed anyway, at venues they found for themselves. The following year, a Scottish journalist coined the term "festival fringe" to describe these non-curated shows that began turning up annually. The Edinburgh Fringe is now the world's largest arts festival and the third largest event after the Olympics and the World Cup.  Today, there are more than 300 Fringe festivals worldwide, with nearly 50 in the United States. The Rochester Fringe Festival was the first in Upstate New York.
ROCHESTER FRINGE SPONSORS:
Sponsors include New York State Council on the Arts; University of Rochester; Monroe County; Ames Amzalak Memorial Trust; Daisy Marquis Jones Foundation; Rochester Area Community Foundation;; RIT; Max and Marian Farash Charitable Foundation; Nocon & Associates; ESL Foundation; Elaine P. and Richard U. Wilson Foundation; Louis S. and Molly B. Wolk Foundation; Konar Enterprises; Mary Mulligan Trust; Lake Placid Center; Golisano Foundation; Villa Albertine; Nazareth University; St. John Fisher University; Monroe Community College; The Pike Company; VisitRochester; 13WHAM TV; CITY Magazine; D&C Digital; WXXI; Fred & Floy Willmott Foundation; Wegmans; Hyatt Regency Rochester; Canandaigua National Bank; Genesee Beer; Black Button Distilling; The Rubens Family Foundation; City Blue; Aspire Transformation Services; Hamilton A/V; Wilkins RV; McCarthy Tents & Events; Broccolo Tree & Lawn Care; The Harley School; Boylan Code; Bond Schoeneck & King; Yelp!; and the House of Guitars.