2023 Rochester Fringe Festival to Honor Three Rochesterians with "Craig Walsh, Monuments"
Rochester Community Invited to Nominate Honorees for 3D Video Projection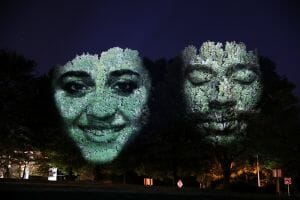 Rochester, NY—Beginning today, the Rochester community has the opportunity to select six living, local, unsung heroes, three of whom will be projected on downtown trees in a unique 3D video art installation coming to the 2023 Rochester Fringe Festival, September 12-23.
Craig Walsh: Monuments is an extraordinary site-responsive, outdoor video projection that provides an answer to the question: What does it mean to honor someone with a monument…and who should be honored in such a public way? Customized for each community that hosts this work, "Craig Walsh, Monuments" has mesmerized audiences around the world.
The public can go to rochesterfringe.com/monuments from now until Tuesday, August 29 to fill out a form to nominate someone in the greater Rochester area who deserves recognition, but who otherwise might never rise to public consciousness.
"We are looking for people who may be very special to a small group, a family, or an organization, but who may never be recognized in any other way," said Erica Fee, Rochester Fringe Festival CEO. "Perhaps there's a caregiver who is helping your family, a nurse or doctor whose work made a difference in your life, a clerk at your neighborhood grocery store whose smile makes your day, or someone whose kindness has changed your life for the better. We're looking for just three people—and we need the community to help us find them."
Built for the great outdoors, "Craig Walsh, Monuments" projects large-scale, 3D video portraits of the honorees onto live trees in a public space after dark. The projections transform the trees into sculptural monuments in gentle perpetual motion, presenting a haunting synergy between the human form, nature, and the act of viewing. A standing display at the site will provide a short biography of each honoree and their profession, volunteer work, or other reasons they were selected for this installation.
Hailing from Brisbane, Australia, Craig Walsh is a visual artist who has become internationally known over the last 30 years for his pioneering works, including innovative approaches to projection mapping in unconventional sites. Beyond trees, his site-responsive works have animated natural environments and features including rivers and mountains, as well as urban and architectural spaces. Walsh's work remains distinctive for its conceptual underpinnings and deftly woven narrative.
The Monuments Process
The Rochester Fringe Festival Board of Directors has assembled a task force to review the nominations and select six subjects to celebrate through this stunning portraiture.Three of these people will be honored during the 2023 festival. If funding is secured to repeat this exhibition, the Festival hopes to honor three more heroes in this way at the 2024 festival. The honorees will be chosen and notified by September 1, and will be announced on opening night.
When the honorees are selected, Walsh creates videos of the three faces in each installation. He takes extended clips of them staring into the camera and making very subtle movements, like blinking and swaying ever so slightly. He then picks the trees, and sizes the videos so that the faces take up the entire expanse of the tree's foliage.
Monuments has received glowing reviews for its unusual presentation and its recognition of people whose roles in their community might otherwise go unnoticed. "By calling these works monuments, Walsh positions the luminescent faces in the fraught, timely debate over whom we should honor in public space—and how," said Kelsey Ables of the Washington Post. "Physically, the works resist what we think of when we think of monuments. Made of light, the diaphanous compositions are practically immaterial and as fleeting as the autumn foliage that holds them. Captured on video, the subjects are in constant motion. Even the smallest shifts in expression, rippling over hundreds of leaves, feel weighty."
Viewing "Monuments" is free, and will be viewable from Sept. 12 through Sept. 23 from 8 p.m. to 10 p.m.  Its downtown location will be announced at rochesterfringe.com/monuments shortly before the opening of the 2023 Rochester Fringe Festival.
MORE ABOUT ROCHESTER FRINGE FESTIVAL:
The 12-day Rochester Fringe Festival is the largest multidisciplinary performing arts event in New York State. Since the festival's inception in 2012, nearly 670,000 people have attended more than 4,500 performances by regional, national, and international artists, from emerging to superstar. From drama to dance, comedy to children's entertainment, music to magic, and so much more, this internationally-known powerhouse encourages creative expression while nurturing the artistic process, all while supplying new audiences to established and emerging arts venues. The Rochester Fringe Festival strives to be diverse and inclusive, and to stimulate downtown Rochester both culturally and economically.
MORE ABOUT FRINGE FESTIVALS:
In 1947, eight theatre groups showed up—uninvited—to perform at the newly established Edinburgh International Festival in Scotland. Although not listed in the official program, the groups performed anyway, at venues they found for themselves. The following year, a Scottish journalist coined the term "Festival Fringe" to describe these non-curated shows that began turning up annually. The Edinburgh Fringe is now the world's largest arts festival and the third largest event after the Olympics and the World Cup.  Today, there are more than 300 Fringe festivals worldwide, with nearly 50 in the United States. The Rochester Fringe Festival was the first in Upstate New York.
ROCHESTER FRINGE SPONSORS:
Sponsors include New York State Council on the Arts; University of Rochester; Monroe County; Ames Amzalak Memorial Trust; Daisy Marquis Jones Foundation; Rochester Area Community Foundation; Nocon & Associates; ESL Foundation; RIT; Elaine P. and Richard U. Wilson Foundation; Louis S. and Molly B. Wolk Foundation; Konar Enterprises; Mary Mulligan Trust; Max and Marian Farash Charitable Foundation; VisitRochester; Nazareth University; St. John Fisher University; Monroe Community College; The Pike Company; 13WHAM TV; CITY Magazine; D&C Digital; WXXI; Fred & Floy Willmott Foundation; Wegmans; Hyatt Regency Rochester; Canandaigua National Bank; Genesee Beer; Black Button Distilling; The Rubens Family Foundation; City Blue; Aspire Transformation Services; Hamilton A/V; Wilkins RV; McCarthy Tents & Events; Broccolo Tree & Lawn Care; The Harley School; Boylan Code; Bond Schoeneck & King; Yelp!; and the House of Guitars.