2023 Rochester Fringe Festival Adds "Drag Me To Drinks" Show with Four Celebrity Drag Queens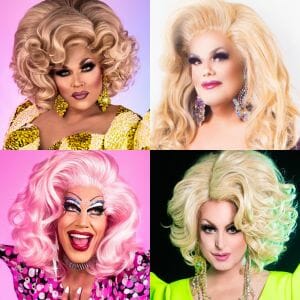 Rochester, NY—The hairspray. The outfits. The wigs. Nothing says Monday night in Rochester like cocktails and a glitzy show with four magnificent drag queens in the Rochester Fringe Festival's sparkling Spiegeltent. The Rochester Fringe announces today that the festival has added "Drag Me To Drinks," an evening of hors d'oeuvres and cocktails as the queens dish the dirt, on Monday, Sept. 18, beginning at 7:30 p.m.
The 90-minute show features four drag stars who are well known to Fringe audiences: Mrs. Kasha Davis, Darienne Lake, Aggy Dune, and Ambrosia Salad.
Glamorous, world-famous star Mrs. Kasha Davis appeared in Season 7 of the globally broadcast RuPaul's Drag Race, as well as in RuPaul's Drag Race All Stars, Season 8. She was featured in the documentary Workhorse Queen (now streaming on several premium services) as well as in Hulu's Drag Me To Dinner series and two feature films, Hurricane Bianca: From Russia with Hate and Ask Me To Dance. She is also the host of Imagination Station, a live story-hour for children of all ages, recorded here in Rochester and coming to television soon.
The spectacular Darienne Lake won the fan vote to appear on Season 6 of RuPaul's Drag Race, winning a main challenge in Episode 3, and she returned to compete this year in Season 8 of Drag Race All Stars. A lip-syncing superstar, she has been praised for her skills by IndieWire, who noted that she "lip syncs like the rent is due." In 2019, Vulture ranked Lake as one of the top 100 most powerful drag queens in America. She appears in Drag Me to Dinner (Hulu) and in the films Boys Will Be Girls, This is Drag, and Hurricane Bianca: From Russia with Hate. This year, she released her first studio album, Altered Boy, on the Comedy Dynamics label.
Stunning and stylish Aggy Dune is a legend in the Rochester drag community and a Fringe favorite, performing with Mrs. Kasha Davis as the "BigWigs!" since the festival's first year in 2012. She is a founding member of the nationally traveling show "Drag Me To Brunch," and is known best for her uncanny impersonations of some of the world's biggest singing stars—Cher, Barbra Streisand, Reba McEntire, and Lady Gaga.
The delicious Ambrosia Salad has been a staple of the Rochester drag community since 1994, when she was cast in the successful "Life's A Drag" show at Club Marcella. Ambrosia went on to become host of the popular "Salad Bar Revue", a weekly show held at Muther's nightclub, while performing at venues and Pride festivals in Buffalo, Syracuse, and Toronto. Now a cast member in "Drag Me To Brunch," Ambrosia performs at comedy clubs and casinos throughout the region and beyond.
Single tickets to "Drag Me to Drinks" are $36 (increasing to $40 on Sept. 2), with VIP booths that seat six people for $194 (increasing to $209 on Sept. 2). Tickets are available online: rochesterfringe.com; phone: (585) 957-9837 (additional fees apply). In person during the festival: at the door of the venue or at the One Fringe Place Box Office, corner of Main and Gibbs Streets. The price includes an array of tempting hors d'oeuvres. Please Note: This show contains adult subject matter and is suitable for mature audiences only.
MORE ABOUT ROCHESTER FRINGE FESTIVAL:
The 12-day Rochester Fringe Festival is the largest multidisciplinary performing arts event in New York State. Since the festival's inception in 2012, nearly 670,000 people have attended more than 4,500 performances by regional, national, and international artists, from emerging to superstar. From drama to dance, comedy to children's entertainment, music to magic, and so much more, this internationally-known powerhouse encourages creative expression while nurturing the artistic process, all while supplying new audiences to established and emerging arts venues. The Rochester Fringe Festival strives to be diverse and inclusive, and to stimulate downtown Rochester both culturally and economically.
MORE ABOUT FRINGE FESTIVALS:
In 1947, eight theatre groups showed up—uninvited—to perform at the newly established Edinburgh International Festival in Scotland. Although not listed in the official program, the groups performed anyway, at venues they found for themselves. The following year, a Scottish journalist coined the term "festival fringe" to describe these non-curated shows that began turning up annually. The Edinburgh Fringe is now the world's largest arts festival and the third largest event after the Olympics and the World Cup.  Today, there are more than 300 Fringe festivals worldwide, with nearly 50 in the United States. The Rochester Fringe Festival was the first in Upstate New York.
ROCHESTER FRINGE SPONSORS:
Sponsors include New York State Council on the Arts; University of Rochester; Monroe County; Ames Amzalak Memorial Trust; Daisy Marquis Jones Foundation; Rochester Area Community Foundation; Nocon & Associates; ESL Foundation; RIT; Elaine P. and Richard U. Wilson Foundation; Louis S. and Molly B. Wolk Foundation; Konar Enterprises; Mary Mulligan Trust; Max and Marian Farash Charitable Foundation; VisitRochester; Nazareth University; St. John Fisher University; Monroe Community College; The Pike Company; 13WHAM TV; CITY Magazine; D&C Digital; WXXI; Fred & Floy Willmott Foundation; Wegmans; Hyatt Regency Rochester; Canandaigua National Bank; Genesee Beer; Black Button Distilling; The Rubens Family Foundation; City Blue; Aspire Transformation Services; Hamilton A/V; Wilkins RV; McCarthy Tents & Events; Broccolo Tree & Lawn Care; The Harley School; Boylan Code; Bond Schoeneck & King; Yelp!; and the House of Guitars.