Embracing Collaboration for a Bright Future with the NYS Department of Labor and Teacher Ambassador Program
We are excited to share a recap of a meeting that Greater Rochester Chamber of Commerce hosted on Tuesday, August 1, 2023 in collaboration with the New York State Department of Labor (DOL) and representatives from their Teacher Ambassador program. The meeting served as a platform to discuss pressing industry needs and opportunities that lie ahead for our current and future workforce in the Rochester region.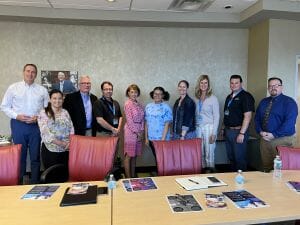 Representatives from the NYS Department of Labor expressed pride in having the Greater Rochester Chamber team as partners in their quest to meet the employment goals of job seekers and businesses in our region, as they learned about the variety of programs and efforts Greater Rochester Chamber has underway to recruit, retain, and engage top talent for the region.
The Greater Rochester Chamber team appreciated the opportunity to learn more about the Teacher Ambassador program and witness the passion and dedication to helping students make vital connections and explore the plethora of options available in today's dynamic workforce landscape.
An exciting prospect emerged during the meeting - the opportunity to promote our CampusROC program's CollegeFEST to high school seniors and engage in discussions about internships and micro-internships. We believe these initiatives will play a pivotal role in empowering our students and connecting them with real-world experiences that will shape their professional journeys. We also shared two documents created for young people to explore their options during- and post-high school, created by our City of Rochester Summer of Opportunity (SOOP) intern Ahnasti.
One of the teachers in attendance shared their thoughts on the meeting, stating, "All great information to take back to our classrooms and schools. We appreciate all the support that you and your team have given us, and we hope to effect change to better prepare students for life and the workforce."
Barb Egenhofer, Greater Rochester Chamber Director of Talent Strategy, said, "I was excited to hear about the passion and commitment that these Teacher Ambassadors embody every day, and as a talent strategy department that seeks to provide solutions for career seekers at all phases of their work trajectory, the opportunity to partner with our schools to educate, inform and engage our future generations on the many career options that are available to them are noteworthy."
At Greater Rochester Chamber of Commerce, we firmly believe in the strength of collaboration. Together, with the support of organizations like the NYS Department of Labor and dedicated educators from the Teacher Ambassador program, we can unlock the potential of our community and foster an environment where both businesses and job seekers can thrive.
Stay tuned for further updates and initiatives as we continue our work strengthening the workforce pipeline and setting our employers and region up for long-term success.