AstroFringe to Bring Stars Into Focus on Fringe Finale Weekend, Sept. 22-23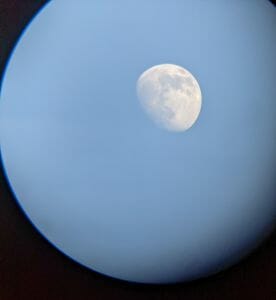 Rochester, NY, USA—As part of the 2023 Rochester Fringe Festival's Fringe Finale Weekend, Rochester Museum & Science Center (RMSC) will present AstroFringe: A Celestial Stargazing Experience at Parcel 5 on Friday, Sept. 22 and Saturday, Sept. 23, from 6 to 10 p.m. Each evening, this community adventure in astronomy will feature at least 60 telescopes, each staffed with a well-informed volunteer who will focus on planets including the Moon, Jupiter, Saturn, and other mysterious celestial objects for the participants' viewing pleasure.
The volunteers who will provide the telescopes and serve as guides are members of the RMSC Community Eclipse Ambassadors and the Astronomy Section of the Rochester Academy of Science, along with RMSC staff members. These professional and amateur astronomers will bring the stars and planets into focus, with close-up views most people have never had available to them before and can only imagine
In addition, the RMSC team will have on hand a scale model of part of the Earth's solar system, including a 10-foot-diameter Sun and a proportional Earth, to help attendees understand the vast difference in the size of these two members of the solar system. Attendees can look through a table-sized pair of solar viewing sunglasses to look at the Sun safely, and take home a free pair of special, normal-sized solar eclipse viewing glasses to use when the Total Solar Eclipse passes over Rochester.
This family-friendly event is free.
AstroFringe comes at an important time in Rochester's astronomical life, as a total solar eclipse will pass directly over the city on April 8, 2024. RMSC Eclipse Partnerships Coordinator Dan Schneiderman's mission is to prepare the Greater Rochester region for this once-in-a-lifetime viewing event.
"Holding a massive star party within the city has been a dream of mine," said Schneiderman. "There is a sudden burst of joy that you experience the first time you look through a telescope. It doesn't matter if you're a kid or an adult, when you gaze upward, you're overcome by the beauty and wonder of the universe. Having the opportunity to introduce a wider public to look deeper into the skies never gets old. Between solar viewing through our giant eclipse glasses and an orchestra of telescopes, these two evenings will help continue our goal of encouraging the public to look towards the skies in preparation for the Total Solar Eclipse in April."
Other special events on Fringe Finale Weekend include the annual Kids Day, with chalk art, pumpkin painting, Disco Kids, and many other activities; and the epic dance competition Fringe Street Beat at Dr. Martin Luther King Jr. Park. Spiegeltent events on Saturday, Sept. 23, include the final performance of Corazón by Circolombia, followed by the goth-folk duo Charming Disaster's Musical Séance, the final performance of Shotspeare,  and the late-night dance party Silent Disco. More information about these events can be found at rochesterfringe.com.
MORE ABOUT ROCHESTER FRINGE FESTIVAL:
The 12-day Rochester Fringe Festival is the largest multidisciplinary performing arts event in New York State. Since the festival's inception in 2012, nearly 670,000 people have attended more than 4,500 performances by regional, national, and international artists, from emerging to superstar. From drama to dance, comedy to children's entertainment, music to magic, and so much more, this internationally-known powerhouse encourages creative expression while nurturing the artistic process, all while supplying new audiences to established and emerging arts venues. The Rochester Fringe Festival strives to be diverse and inclusive, and to stimulate downtown Rochester both culturally and economically.
The festival is supported by a Market New York grant from Empire State Development, and I LOVE NY/New York State's Division of Tourism awarded through the Regional Economic Development Council initiative.
MORE ABOUT FRINGE FESTIVALS:
In 1947, eight theatre groups showed up—uninvited—to perform at the newly established Edinburgh International Festival in Scotland. Although not listed in the official program, the groups performed anyway, at venues they found for themselves. The following year, a Scottish journalist coined the term "festival fringe" to describe these non-curated shows that began turning up annually. The Edinburgh Fringe is now the world's largest arts festival and the third largest event after the Olympics and the World Cup.  Today, there are more than 300 Fringe Festivals worldwide, with nearly 50 in the United States. The Rochester Fringe Festival was the first in Upstate New York.
ROCHESTER FRINGE SPONSORS:
Sponsors include: New York State Council on the Arts; City of Rochester; University of Rochester; Monroe County; Ames Amzalak Memorial Trust; Daisy Marquis Jones Foundation; Rochester Area Community Foundation; Nocon & Associates; Max and Marian Farash Charitable Foundation; ESL Foundation; RIT; Elaine P. and Richard U. Wilson Foundation; Louis S. and Molly B. Wolk Foundation; Konar Enterprises; Mary Mulligan Trust; The Rubens Family Foundation; VisitRochester; Nazareth University; St. John Fisher University; Monroe Community College; The Pike Company; 13WHAM TV; CITY Magazine; D&C Digital; WXXI; Fred & Floy Willmott Foundation; Hyatt Regency Rochester; Aspire Transformation Services; Black Button Distilling; The Harley School; Canandaigua National Bank; Wegmans; Genesee Beer; City Blue; Hamilton A/V; Wilkins RV; McCarthy Tents & Events; Broccolo Tree & Lawn Care; Boylan Code; Bond Schoeneck & King; Yelp!; and the House of Guitars.