Join the Greater ROC Adventure Scavenger Hunt for an Unforgettable Experience!
Are you ready to embark on an exhilarating adventure that will challenge your wit, test your teamwork, and take you on a journey through the vibrant Greater Rochester area? Look no further! Greater Rochester Chamber of Commerce and Visit Rochester are thrilled to present the Greater ROC Adventure Scavenger Hunt, set to take place on Thursday, July 27, 2023 from 11:30 AM - 5 PM, including a networking happy hour. Get ready to unlock your inner explorer, discover hidden gems, and create lasting memories with colleagues and fellow adventurers!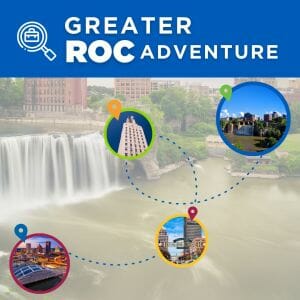 Explore the Heart of Rochester
The Greater ROC Adventure Scavenger Hunt is your ticket to explore the heart and soul of Rochester, a city rich in history, culture, and natural beauty. This event will take you on a thrilling expedition within a 5-mile radius of our starting point at Innovation Field.
Engaging Challenges for All
Get ready for an action-packed day filled with exciting challenges, brain teasers, and interactive tasks. Whether you're a history buff, a trivia enthusiast, or simply love exploring new places, the scavenger hunt offers something for everyone. Uncover hidden clues, solve riddles, and complete a mission that will unlock new experiences in our region.
Teamwork Makes the Dream Work
The Greater ROC Adventure Scavenger Hunt is not only about competition, but also about fostering teamwork and camaraderie. Gather your friends or coworkers and form a team to tackle the challenges together. Strengthen bonds, build trust, and celebrate the power of collaboration as you work towards a common goal.
Discover Rochester's Hidden Treasures
Prepare to be amazed as the scavenger hunt unveils the hidden treasures and lesser-known gems of Rochester. With clues leading you to iconic landmarks, historical sites, and local hotspots, you'll gain a deeper appreciation for the city's rich heritage and vibrant culture. Along the way, you'll also encounter friendly locals, who are always ready to share fascinating stories and insider tips about Rochester.
Mark your calendars and get ready to unleash your sense of adventure at the Greater ROC Adventure Scavenger Hunt, presented by Greater Rochester Chamber of Commerce and Visit Rochester, on Thursday, July 23, 2023. This extraordinary event offers an incredible opportunity to explore the hidden wonders of Rochester, forge unforgettable memories with your team, and immerse yourself in the unique spirit of the city. So gather your fellow explorers, sharpen your problem-solving skills, and prepare for an exhilarating experience that will leave you with a deep appreciation for the beauty and diversity of Greater Rochester. Get ready to embark on the adventure of a lifetime!