Genesee Land Trust Announces New Executive Director, Lorna Wright
Greater Rochester's land and water conservation organization promotes a proven leader to help write its next chapter.
(Thursday, June 22, 2023 – Rochester, NY) – Genesee Land Trust, a conservation organization serving Monroe, Wayne, and adjacent counties in the Greater Rochester area, today announced Lorna Wright has been named Executive Director after a national search. Lorna has served as Acting Executive Director since the retirement of Gay Mills in February 2023.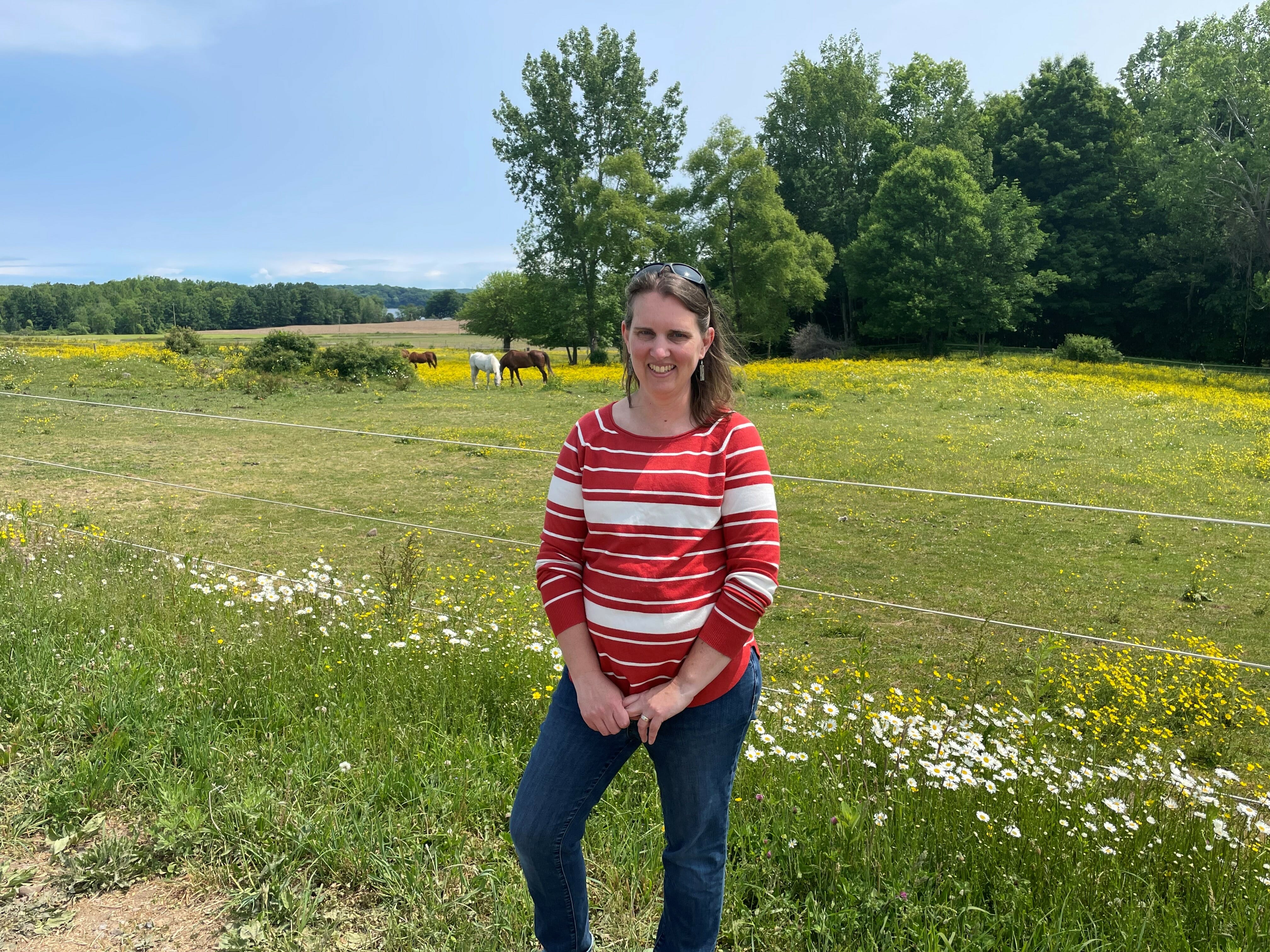 Lorna joined Genesee Land Trust in 2013 as Director of Conservation Programs and became Deputy Executive Director in 2019. As Deputy Executive Director, she oversaw the growth of farmland protection work to support local farmers like Gerlock Bros. Farm in Farmington. Since Lorna joined the land trust it has secured 18 farmland grants on behalf of local farm families worth $15.5 Million to protect more than 2,200 acres of farmland.
Lorna worked closely with Gay Mills, the land trust's prior executive director, and land trust staff to support the creation of some of the region's most beloved public conservation areas, including Cornwall Preserve in Pultneyville, Irene Gossin Nature Preserve in Penfield, Macyville Woods in Sodus Point, and Salmon Creek Nature Preserve in Hilton.
"Lorna is a thoughtful and collaborative leader with demonstrated success identifying community needs and creatively solving problems," said Genesee Land Trust Board President, Mary Hadley. "Lorna's bold vision for tapping into federal, state, and regional funding opportunities to increase the region's conservation work is timely. Her quiet compassion and persistence are exactly what's needed as we continue learning, adapting, and expanding our work to connect people to nature and conserve land that benefits everyone."
Before Genesee Land Trust, Lorna served as Tug Hill Project Director for The Nature Conservancy where she managed a large forest preserve.
Lorna becomes Executive Director of Genesee Land Trust at a pivotal time for the organization and the region. With development pressure increasing, in 2022-23 a record number of farmers requested the land trust's assistance to apply for state funding to protect their land. In the coming months a new conservation strategy for assisting local communities and partners to tap into innovative and timely solutions to slow down and adapt to climate change, support migratory birds and local wildlife, protect drinking water, and secure food supplies will be finalized.
The organization is also committed to expanding the impact and benefits of these efforts to people throughout the area. Genesee River Alliance – a project of Genesee Land Trust – is leading the effort to engage the river-adjacent El Camino and Edgerton communities on a proposed state park at High Falls in Rochester.
Lorna's love for nature began as a child watching ducks with her dad on the shore of Lake Michigan. She grew up in a wide range of environments – from busy cities to quiet rural farms – and always found comfort outside, especially hiking in the woods.
"I came to Rochester for school and stayed because I love the snow, the vibrant farm community, and the appreciation for Lake Ontario and clean water," Lorna said. "I'm grateful to work with a great team of people, including hundreds of volunteers each year, to do work that helps community members - young and old, from the city to the countryside - enjoy nature close to home."
"Lorna's demonstrated ability to build partnerships, and her focus on diversity, equity, inclusion, and justice, are especially important right now," said Miguel Melendez, Rochester City Council President and Genesee Land Trust board member.  "Increasing weather extremes from climate change place a significant and unequal burden on those who have modest means and communities that are often overlooked. I'm excited to support Lorna and the Land Trust's efforts to improve everyone's access to nature and its health benefits."
Lorna earned a BA in Biology from the University of Rochester, and dual Masters degrees in Environmental Management and Forestry from the Nicholas School of the Environment at Duke University. During her time at Duke, Lorna lead a class on land conservation skills and developed a management plan for Duke Forest focusing on invasive plants.
Lorna lives in Rochester with her husband, Lap Chung, and their 5-year-old twins Quinn and Zoe.
On Wednesday July 26th Lorna will host an online Zoom Q&A from 6:30 p.m. to 7:30 p.m.  The land trust welcomes all people to the event and looks forward to their questions. To register and submit questions go to the land trust's website:  www.geneseelandtrust.org/LornaWright. Genesee Land Trust also invites people to attend its free "Orchard Jamboree" at G and S Orchards in Walworth, Wayne County, on Saturday, August 12th from 5 p.m. to 7:30 p.m.
About Genesee Land Trust:
Genesee Land Trust, founded in 1989, conserves local farms and preserves and protects natural lands and waterways in the Greater Rochester region. Its mission is to conserve wildlife habitat, mitigate climate change, secure locally grown food, and offer free connections to nature for everyone. As a locally supported nonprofit, Genesee Land Trust serves Monroe and Wayne counties and portions of adjacent Genesee, Orleans, Livingston, Ontario, Seneca, and Cayuga counties. This region is a mix of urban, suburban, and rural communities. By working cooperatively with landowners and local communities, Genesee Land Trust has protected more than 7,500 acres of land, including 19 public nature preserves and farmland owned by 21 family farms. www.geneseelandtrust.org