Julianne Oehlbeck Joins MRB Group as Chief Legal Officer and General Counsel
ROCHESTER, NY – MRB Group President and CEO Ryan T. Colvin, PE, recently announced that Julianne Oehlbeck, formerly Vice President of Legal and Associate General Counsel for Chobani, LLC, has joined his team to serve as Chief Legal Officer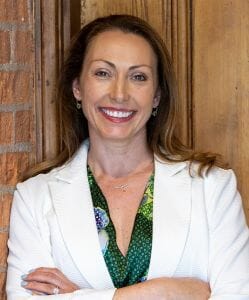 & General Counsel for the expanding Engineering, Architecture, and Municipal Services firm.  Oehlbeck will shepherd the legal interests of MRB Group as it continues its dramatic growth under Colvin's leadership.
"This is a significant step for MRB Group.  While the need to utilize in-house General Counsel has been apparent for some time, we waited for precisely the right person to fulfill this critical role," Colvin stated.
"Julie's broad expertise has guided Chobani through growth and expansion.  Before that, she was instrumental in guiding Eastman Kodak through service and product development in order to sustain the firm throughout an era of technological upheaval and sea change," Colvin said.
"Her business and legal acumen is exactly what is needed to help MRB Group innovate and advance to meet evolving needs and modern challenges.  She also understands and respects our core, client-focused values.  Julie's capabilities are renowned and it is with great pride that we welcome her to MRB Group," Colvin continued.
As Vice President of Legal at Chobani, Oehlbeck provided legal and business advice to the company. She most recently advised Chobani's Supply Chain (Engineering, Manufacturing, Operations, New Product Development, Procurement, Quality, R&D, Safety, Environmental and Sustainability), Information Technology (including data security) and Chobani Café on day-to-day operations, legal matters, business risks, contractual matters as well as strategic decisions.
Prior to her role at Chobani, Julie was Senior Counsel at Eastman Kodak Company, serving as lead counsel for all Retail Business Units and Kodak Gallery, while advising on all Marketing initiatives. Julie also was a Senior Attorney at Global Crossing Telecommunications, Inc., where she advised and supported their North American and Latin American Sales operations and Procurement team. Prior to those in-house positions, Julie was an associate at Nixon Peabody, LLP, and Woods Oviatt Gilman, LLP, in Rochester, New York.
Julie received her J.D. from Albany Law School and her B.A., Cum Laude, from Clemson University. In addition to her leadership role at MRB Group, she will continue her work with the Chenango Memorial Hospital, where she serves its Board of Directors as an Executive and Treasurer, chairing both the Finance and Audit Committees.
"I look forward to working with a strong multi-disciplined team at MRB Group," said Oehlbeck, who noted that she was drawn to a culture that supports innovation.  She believes that creative culture has been a catalyst for the firm's rapid growth and advancement.
"MRB Group has expanded its unique and comprehensive municipal services numerous times in response to local government needs," she said.
"The firm's agility, prospective planning, and client-focus are an indication of its greater potential.  More recent expansions have added an array of broader services such as architecture for the health care and education markets, creating opportunities to guide an evolving enterprise that is adapting to a changing – and challenging – world," Oehlbeck stated.
"I see many more opportunities ahead, and am thrilled to begin this exciting journey with MRB Group," she concluded.
MRB Group has served the greater Rochester and Central New York areas for more than 95 years, providing engineering, architecture and municipal planning as well as operational support services since 1927. For more information, visit mrbgroup.com.