CollegeFEST Returning for 3rd Year to Connect Students and Employers in Downtown Rochester with Food, Games, and Career Connections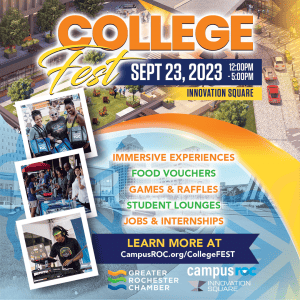 CampusROC, a Greater Rochester Chamber of Commerce program, is excited to host the 3rd Annual CollegeFEST on Saturday, September 23rd at Innovation Square in Downtown Rochester. Promised to be "the best five hours in #GreaterROC" for local college students and recent alumni, this event is back and better than ever by providing expanded opportunities to connect with students for internships, micro-internships, co-ops, and full-time employment.
Over 1,000 students from Greater Rochester's 19 colleges and universities are expected to attend. Greater Rochester's higher education organizations are world class and produce highly skilled students ready to enter the workforce.  The festival allows students and employers to connect in a fun, dynamic and engaging way that is anything but your typical career fair.
CollegeFEST 2023 is expanding to be inside and outside at Innovation Square this year in order to host more employers and students than in previous years. Outside will feature games for students, live entertainment, food trucks, and hands-on activities from #GreaterROC businesses and organizations, while inside will feature a revamped employer area as well as lounges for students and special interest groups including veterans and international students. A new employer workshop series is aimed at educating employers on how to hire diverse talent including veteran students, international students, and neurodiverse students. There will also be a top sponsor lounge and map to highlight the employers and activities present.
"We are thrilled to announce the return of CollegeFEST for its highly anticipated third year, providing an incredible platform for college students and employers to connect in a vibrant atmosphere," said Julia Pagano, Talent Strategy Manager, Events & Outreach at Greater Rochester Chamber. "With its dynamic lineup of networking opportunities and engaging employer showcases, CollegeFEST promises to empower students while offering employers access to a pool of exceptional talent from diverse academic backgrounds."
"CollegeFEST plays a vital role in bridging the gap between our talented college students and local employers, creating valuable connections that can lead to meaningful career opportunities," said Bob Duffy, President & CEO of Greater Rochester Chamber. "By fostering these connections, we not only strengthen our local workforce, but also enhance the overall economic development of Greater Rochester. Retaining college students in our region is crucial for our continued growth, and events like CollegeFEST provide a platform for students to explore the diverse array of career prospects available right here in our vibrant community."
CampusROC is one of several Greater Rochester Chamber of Commerce talent strategy programs aimed at strengthening the workforce pipeline. Learn more here.
Sponsorship opportunities are open now for corporate partners and higher education partners looking to support the event and connect with students at the festival.
Greater Rochester Chamber members can also attend the festival as a vendor. More information and registration is available here.
About CampusROC
CampusROC is an initiative of the Greater Rochester Chamber of Commerce, designed to promote Rochester both as an attractive destination for students to attend college and as a desirable community for them to live and work after graduation. Our vision is that the Rochester region will be known throughout the country and world as a center for college students. CampusROC.org was launched in 2020 as a one-stop hub for college students to connect with others, explore our region, and learn about what's happening out and about in Rochester, NY.