"Celebration of Sports" reception and panel kicks off 2023 PGA Championship at Oak Hill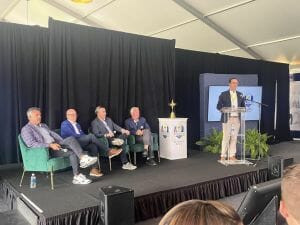 Greater Rochester Chamber of Commerce was pleased to help present the PGA Championship at Oak Hill kickoff event, a "Celebration of Sports" reception that marked the triumphant return of major championship golf in Upstate New York. The event aimed to showcase sports as a global unifier, bringing together government officials, business leaders, professional athletes, and special guests.
The reception took place at the Club PGA on Hole 6 on Monday, May 15, 2023. The evening commenced with offerings of local NYS cheese and other snacks, with media interviews providing journalists with the opportunity to gather insights and engage with key figures, including Monroe County Executive Adam Bello and City of Rochester Mayor Malik Evans. Following the interviews, a 30-minute speaking presentation began at 5:45 pm, featuring an impressive lineup of esteemed speakers.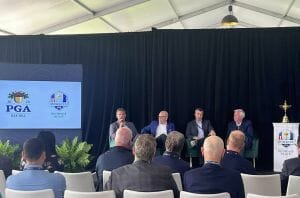 The speaker lineup for the program included Bryan Karns, Championship Director at PGA of America, who shared his insights and expectations for the 2023 PGA Championship, as well as the upcoming 2025 Ryder Cup on Long Island. New York State Comptroller Tom DiNapoli emphasized the significance of hosting a major golf championship in the region.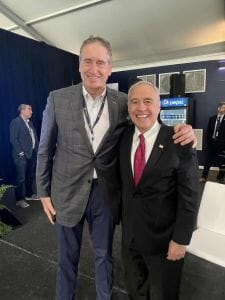 Jeff Price, Chief Commercial Officer at PGA of America, provided valuable perspectives on the commercial aspects and partnerships associated with the PGA Championship. Rich Gagliano, Senior Vice President of Marketing at Empire State Development for New York State, discussed the impact of major sporting events on the state's marketing initiatives.
Andre Frenette, Deputy Consulate General of Canada in New York, underscored the significance of sports as a means of fostering international friendships and collaborations. To further enhance the occasion, Ron Raccuia, Executive Vice President and Chief Operating Officer of the Buffalo Bills, shared his thoughts on the intersection of professional football and golf.
Following the official program, guests were cordially invited to join the reception to celebrate the return of major championship golf in Upstate New York and revel in the camaraderie and economic impact of the sports community.