Modernization of Cobbs Hill Village Affordable Senior Housing to Begin
4 additional affordable units to be added on same footprint; plans based on resident, neighborhood and city feedback
ROCHESTER, N.Y., May 11, 2023 — Construction on the three-year project to modernize Cobbs Hill Village Apartments will soon begin, as all financing has been secured, Rochester Management Inc. announced today.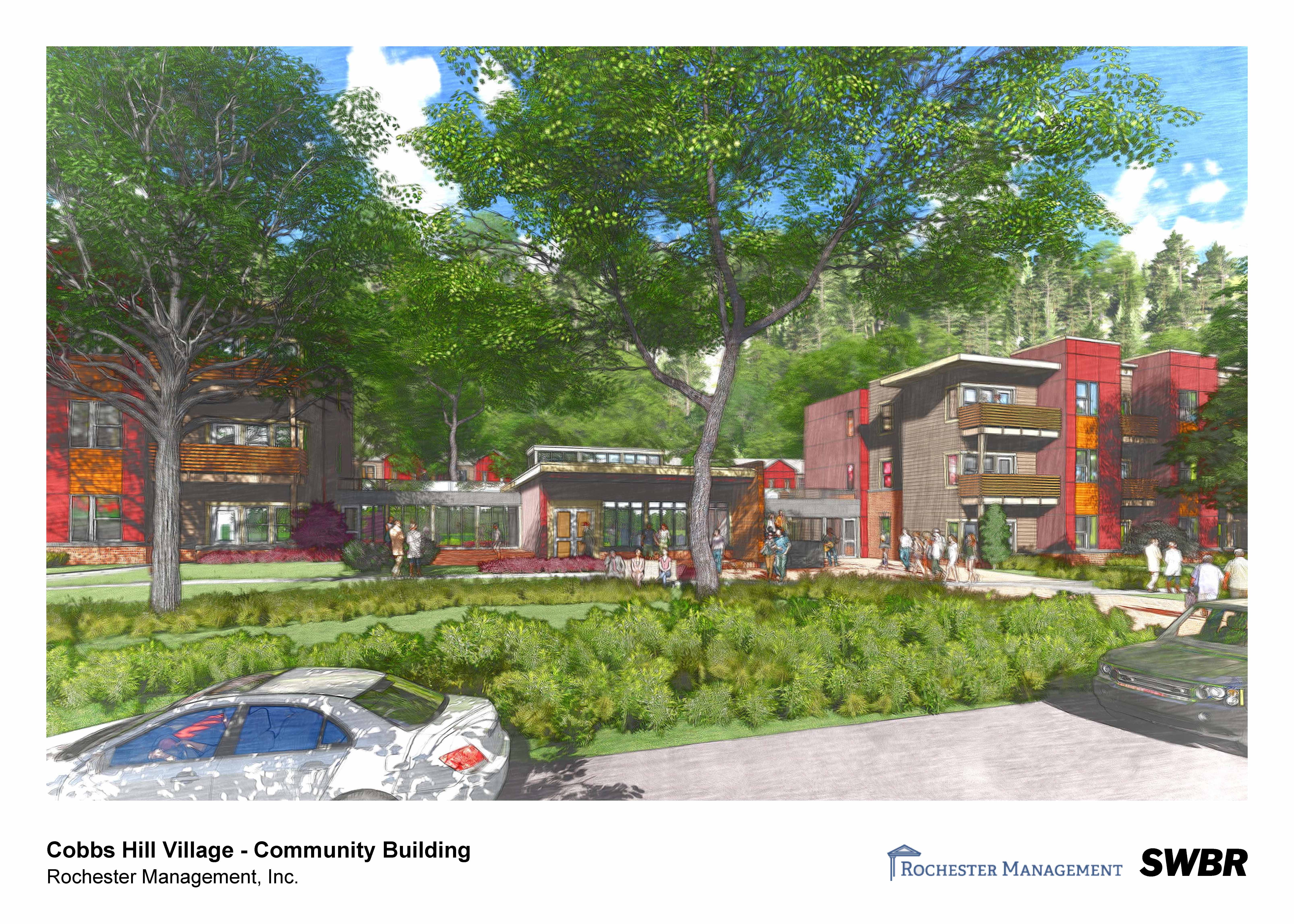 Cobbs Hill Village, located at 645 Norris Drive in Rochester, consists of 60 "motel-style" units built in 1957 for seniors aged 55 and above who meet income criteria required under the New York State Mitchell Lama program. The current units lack space, natural light, proper ventilation, the ability to be made accessible for people with disabilities and amenities to help seniors age in place.
The new buildings will include secured access, elevators, indoor and outdoor community space for resident activities, a library, on-site office and maintenance, a fitness area, laundry facilities and a computer lab. The apartments will be larger and were intentionally designed to be easily modified should a resident's needs change.
"We are thrilled to be able to modernize Cobbs Hill Village for our residents and for other seniors in need of affordable housing – within the same footprint we have occupied since 1957," said Peggy Hill, president and CEO, Rochester Management. "This project will help alleviate the critical need for affordable housing by adding 44 affordable units and significant amenities to enable our residents to age in place where they want to live. It also furthers our nearly 75-year history of providing quality affordable housing to those in need."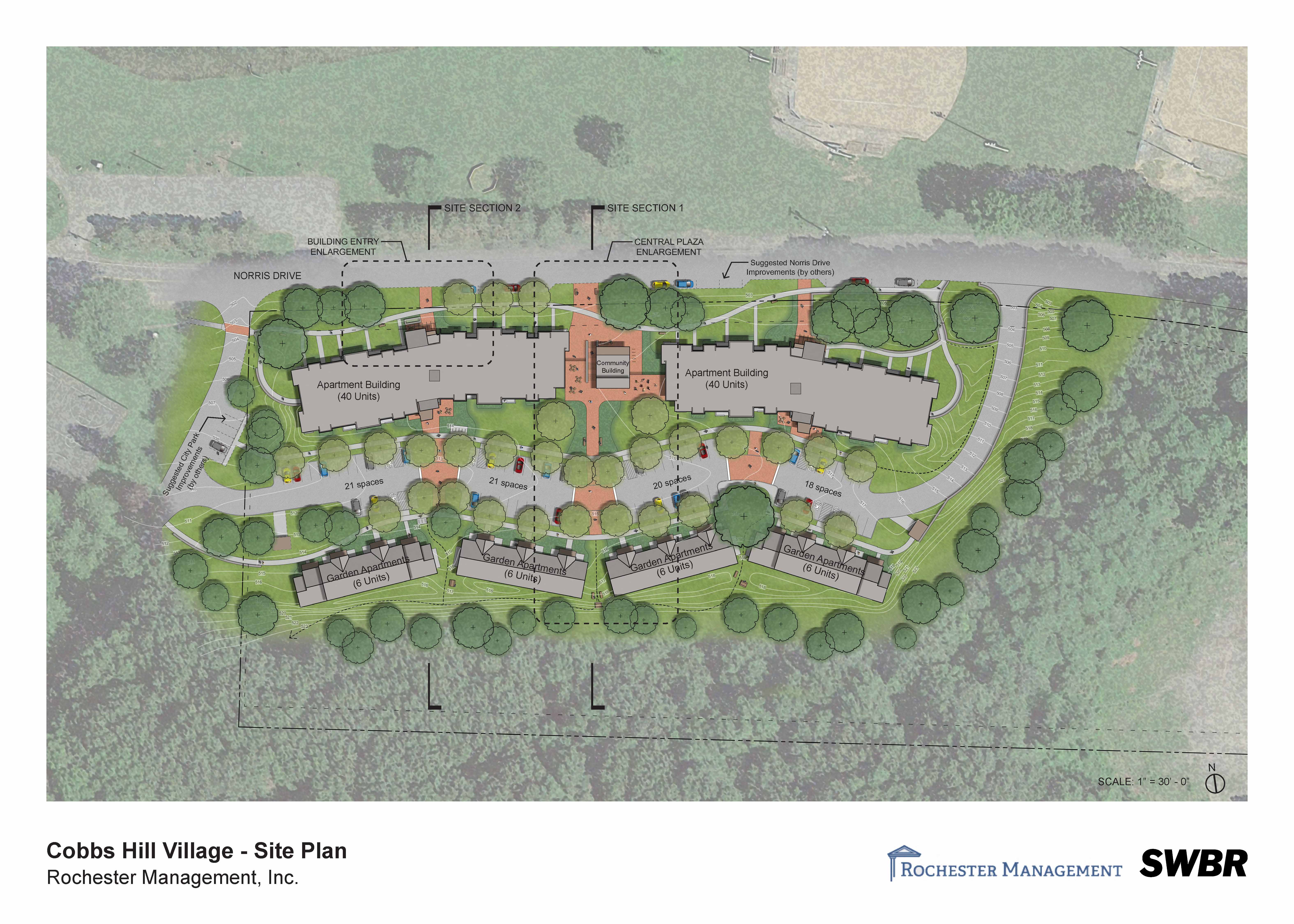 The modernization consists of three phases to be completed over the next three years. The phased approach will enable residents to move only once, into their new unit. Professional movers, as well as a Rochester Management move coordinator, will help ensure a smooth transition for the residents.
There will be no change in rent for the current residents for as long as they live in the community. Twenty of the lowest-rent units will remain at current rental rates for 40 years. Rochester Management believes that this unprecedented commitment to maintain extremely low rents demonstrates its desire to build an inclusive, diverse community that continues to serve those in need. The community will continue to operate within all the Mitchell Lama-mandated regulations. The new income guidelines have been memorialized in the New York State Regulatory Agreement as well as in the city of Rochester's Extension Agreement with the housing company. The redevelopment and resulting agreements will ensure that affordable housing remains sustainable on this site for the next 38 years.
Once constructed, the community will consist of 104 units: 16 studios, 56 one-bedroom apartments, 8 two-bedroom apartments, 4 one-bedroom townhouses and 16 two-bedroom townhouses.
Building and site-plan designs were modified from original plans based upon extensive feedback received from current residents, the city Planning Commission and neighborhood groups during a series of meetings and forums. Architectural and construction costs increased by $2.5 million as a result of implementing requested changes, including:
Reducing the building height by 25% by removing one floor of apartments from buildings on Norris Drive and creating a row of townhomes in the back of the site.
Changing from vinyl siding to a wood-like appearance with fiber-cement siding.
Adjusting colors, sidewalks, railings and positioning of the buildings to accommodate neighborhood and city input.
Preparing an inventory and analysis of trees by an arborist and creating a plan to maintain and protect healthy, mature trees on site.
Financing for the project was secured through the New York State Mitchell Lama Housing Fund, The Community Preservation Corporation, Rochester Management and New York State Energy Research and Development Authority (NYSERDA).
About Rochester Management Inc.
Rochester Management (https://rochestermanagement.com) is a nonprofit affordable housing development and management organization. Since 1949, the nonprofit has been a leader in affordable housing in Rochester and other Upstate N.Y. communities for those in need, including senior citizens, veterans, students, and low-and-middle-income individuals.